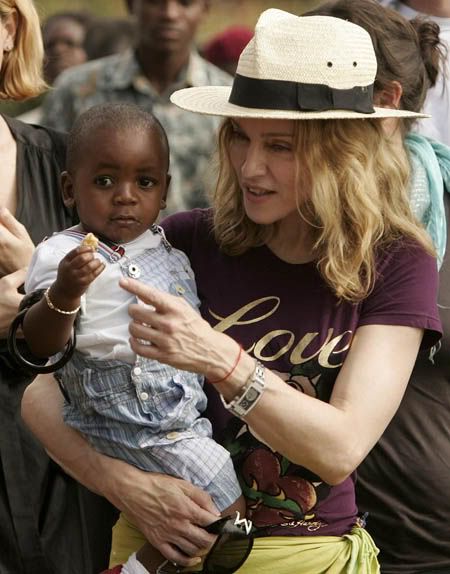 Madonna was in Malawai for a few days without her husband, Guy Richie, to make sure the kiddies in the orphanage she's revamping were wearing their red strings and touting the Kabbalah line. She was seen squiring her one year-old adopted half-orphan, David Banda, around while wearing different fashion-forward t-shirts and accompanied by her daughter, Lourdes. While it was widely reported that Madonna would let David spend some quality time with his father, a subsistence farmer who regularly biked over 23 miles to visit his son at the orphanage after his wife died, she ended up cancelling at the last minute.
Shortly after Madonna left Malawi with the boy last October, his father, Yohane Banda, said that he didn't understand the papers he signed, that they were in English, and that he was led to understand that Madonna would be caring for the child on his behalf. Banda said he thought that little Davie would one day return to Malawi to help him on his farm, and that he didn't know that Madonna would become his legal guardian. Banda is also a devouted Christian, and was told that Madonna was a "nice Christian lady." He had no idea that Madonna was a raunchy pop star who follows a Jewish cult, hangs herself on the cross and deliberately ridicules the traditions of the Catholic religion in her act.
Yohane Banda was looking forward to spending time with his son during Madonna's visit. Banda has not seen a picture of Davie or received word about him since he was taken by Madonna, who was somehow able to leave the country immediately instead of spending 18 months there as is legally required of adoptive parents.
True to form, the narcissistic pop singer shafted Yohan Banda at the last minute and cancelled a scheduled meeting between the father and his son:
But one thing that remained unclear was whether she met with Yohane Banda, the 32-year-old biological father of her adopted son.

A source at the orphanage tells PEOPLE that "[Banda] was told he would spend some time with his son," but the meeting was canceled.

Banda, an onion and tomato farmer, left the border district of Mchinji early Saturday expecting to reunite with David. But it was not to be. "They had reached the town of Namitete when the executive director got a call from Madonna's people telling her that the meeting had been called off," said the source. "They were not given reasons."

Although several British tabloids have reported that the father-and-son reunion took place Tuesday, orphanage sources say the peasant farmer had been waiting for the meeting.

Madonna's rep, Liz Rosenberg, says she did not know whether the reunion took place.
That sounds typical of Madonna and is not surprising. She'll probably come up with some lame excuse like something came up, while she planned to shaft Banda all along.
Madonna wanted to cap off her publicity stunt cult charity work by visiting with Nelson Mandela in South Africa, but his people said he's probably busy and doesn't want to be associated with that hag.
Madonna seems to have gone home empty-handed and did not adopt a baby girl named Grace as was rumored. Her rep says she doesn't even know a child name Grace.
Meanwhile, Madonna's newly-bald and hot-looking younger husband, Guy Richie, 38, was seen out dancing with a brunette in London while Madonna was away in Malawi. I would like to see those two break up, but Richie has put up with her so long that doesn't seem likely.