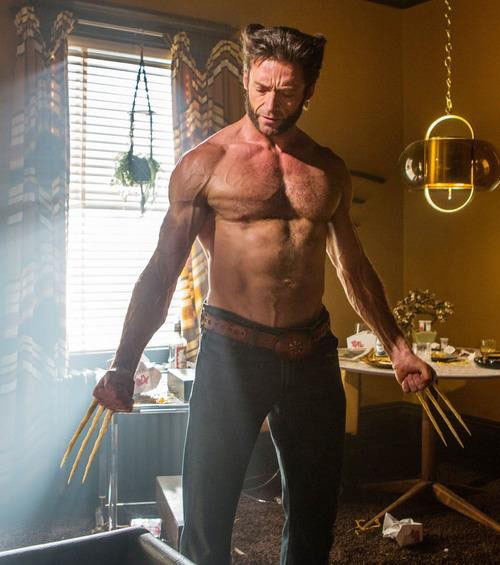 Hugh Jackman is all over the place promoting X Men: Days of Future Past. (It's not like the movie will need any publicity.) This is his seventh time playing Wolverine. Do you remember Hugh's awesome brief cameo in X Men: First Class? He told Xavier and Lensherr to go F themselves. Wolverine has a more prominent place in the new X Men, and so we're treated with more Hugh, yay! First off, here's Hugh doing a scooter cooler race with Jimmy Fallon. It's basically an excuse to act goofy on scooters, and it makes me irrationally happy.
On Fallon, Hugh said he's in training for his gig hosting the Tonys, which I'm definitely looking forward to, they're June 8. You can watch Hugh's Fallon interview in two parts here and here. The Fallon video is titled on YouTube "Hugh Jackman Teases a New Wolverine Movie," but he didn't do that! He didn't say anything to Fallon about another Wolverine movie. Hugh did tell the NY Daily News that there's a third Wolverine movie set for 2017. (It's supposedly not official yet though.)
In another appearance, On Kelly & Michael, Hugh talked about going commando for X Men. You know he's not going to be fully nude, but if he's shirtless it's good enough for me. Hugh said it was his idea to go naked for the scene (on camera at least, they did edit it out later). Here's what Hugh said about the scene, and you can see video of that interview here.
The scene has Wolverine, because the whole premise of the movie is it has Wolverine traveling back in time to prevent something cataclysmic happening in the future. So I land back in 1973. I wake up — this is what the script says — wake up next to a girl who I don't remember, and I get out of bed wearing boxer shorts.

I don't know about America, but in Australia, if you are next to a really good looking girl, you're not getting out with boxer shorts on or briefs, or anything!

So, yeah, I went commando and we just went for it.

There's a sock. They brought a bright green sock for me to wear and I was like, 'This is kind of drawing more attention than less.' And they said, 'No, no, no we need bright green like a green screen, so if you bend over, if you turn around, we need to erase it.'

By the end of the first take, I was like, 'Yep, it's gone, I don't know where it is,' So, yeah commando.
On Good Morning America (interview is here) Hugh talked about how he sticks to his rigorous training schedule. He said that when people ask him how he gets up so early to train two hours a day he answers "If you know on May 23rd you're going to be in the 3D cinema, 40 foot high, naked. Great incentive… so I prepare and I'm very scientific about that date." It definitely shows.
I have to include this video of Hugh calling out John Cena of the WWE during Hugh's appearance on Sportscenter. It's ridiculous and so funny. He looks incredibly hot with that beard. USA Today reminds us that Hugh made an appearance in April on WWWE's Raw when he "fought" Damien Sandow dressed as Magneto. Hugh is always game for anything. I love him. Honestly I wasn't that into seeing X Men, but now I want to see it this weekend.
Here's Jackman at the Chinese and Australian premieres of X Men: Days of Future Past with Peter Dinklage and Fan Bingbing. There are also photos from a press conference in Beijing on May 12.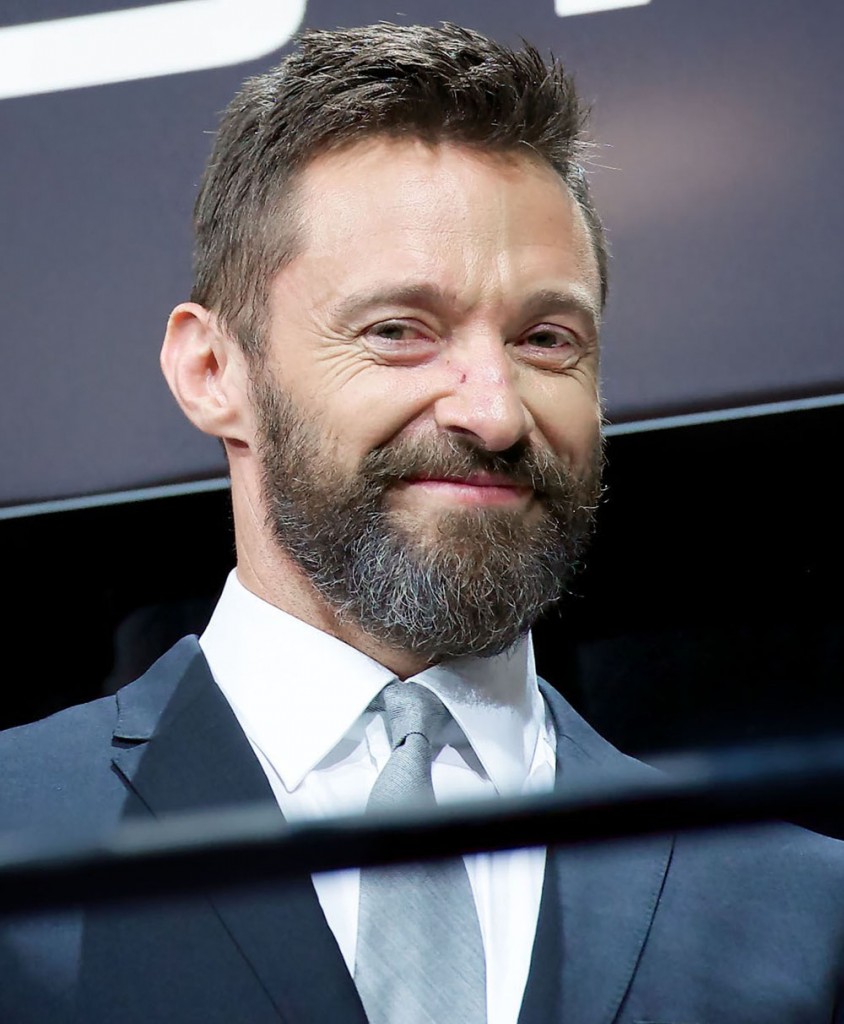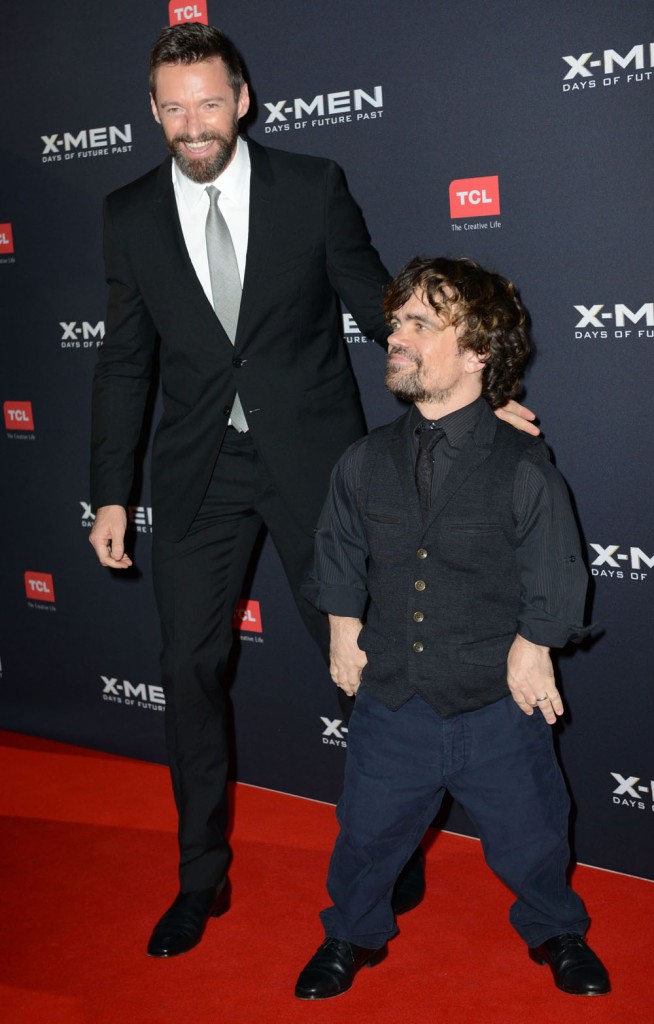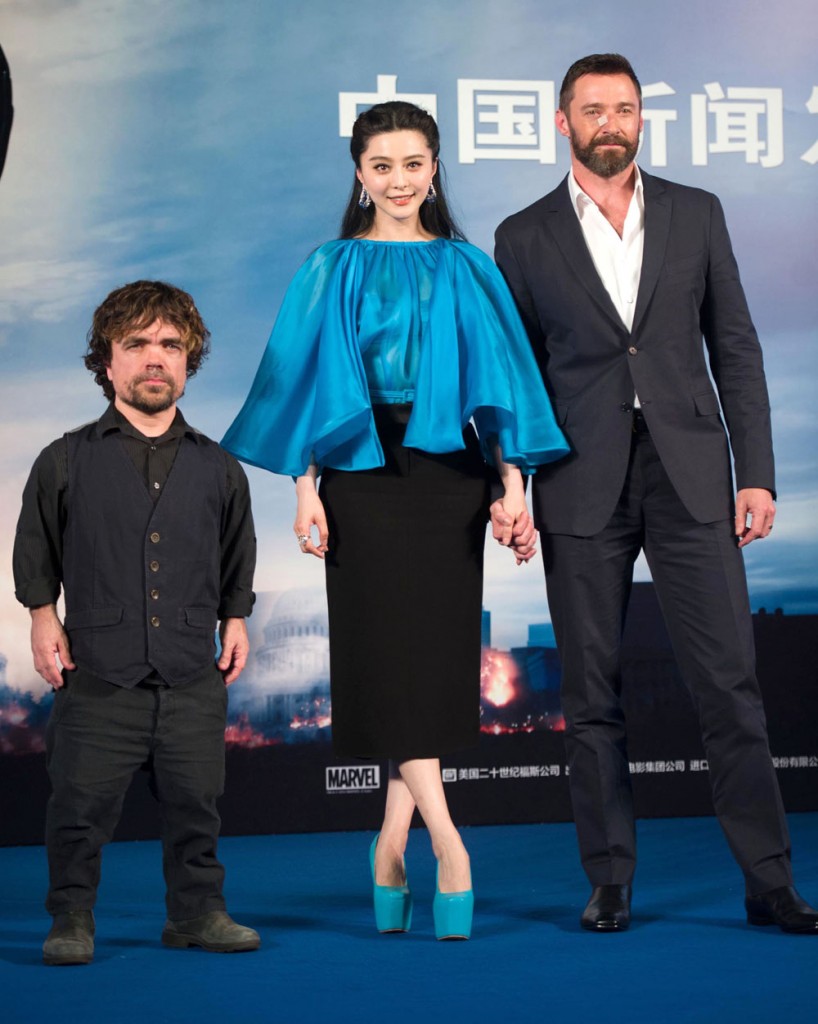 photo credit: FameFlynet