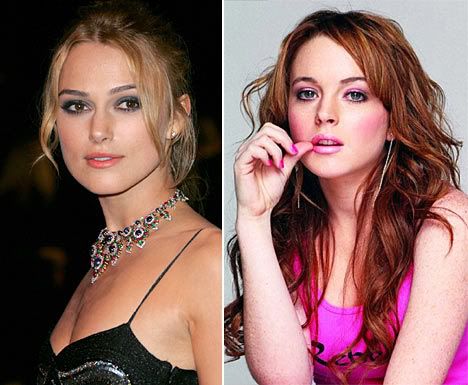 Another day, another person is pissed off at Lindsay Lohan. Except this time, it's an actual person with talent who has a genuine grievance against the flighty Li-Lo, and not just some celebutard who mentally has not left high school yet.
Lindsay Lohan again proves her reliability as an actress by pulling out of a movie she was to star in with Keira Knightley. Keira is said to be furious about Lindsay's last minute cancellation, as Keira had done her utmost in securing that Lindsay be part of the project.
From the Daily Mail:
Keira Knightley and Lindsay Lohan have fallen out after the 20-year-old American actress pulled out of Keira's new film The Best Time Of Our Lives, a dramatic biopic of Welsh bard Dylan Thomas.

According to sources on set Lohan, who has just finished a spell in rehab, quit days before filming was due to start.

Keira, whose mother Sharman Macdonald wrote the screenplay, is said to be 'furious' because she was instrumental in getting the Mean Girls star to play Thomas's wife Caitlin MacNamara.
The movie may sound like another boring biopic movie that is as much fun as watching paint dry, but it supposedly included a lesbian sex scene between the two actresses, as well as a threesome with actor Matthew Rhys. I've never heard of Matthew Rhys, but I'm sure he won't be crying himself to sleep over having to get a shot after filming a love scene with the infamous Firecrotch. Besides, Keira is too good an actress to be associated with Lindsay anyway. I'm sure she can phone up Scarlett Johansson to do it or something.
Are we even allowed to call Lindsay Lohan an actress anymore? I used to feel bad for her, what with embarassing Dina as a mom, but she's in the same boat as Britney now in my opinion. They are that new breed of celebrity that take public goodwill and just stamp on it with their Manolos, then expect everyone to understand them because they are young and grew up in the spotlight. They blame everyone else for their problems, when it's their own dumbass selves who cause them.
If Lindsay keeps this up, sooner or later people are going to stop hiring her for her acting and she'll find herself on The Surreal Life in a few years time trading "war" stories with Tara Reid. I think I'll start hedging my bets now on this happening and get my TiVo at the ready.
Update: Apparently Sienna Miller is replacing Lohan in this movie. Poor Kiera. Scarlett musn't have returned her calls.