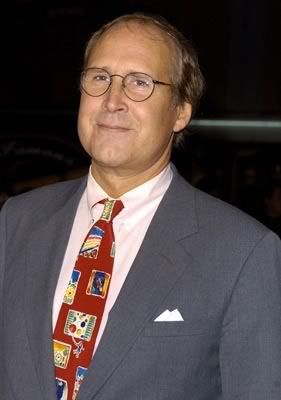 Chevy Chase has not done much lately, but he is still a great comedic actor in my book. Everytime I see that video with him and Paul Simon on VH1, a huge smile creeps up on my grumpy puss. He may have done some really stupid things –like turning down Forrest Gump and doing a horribly bad talk show in the 90's, but I still die laughing watching National Lampoon's Vacation.
So it was a shame that I read this morning that he had been severely abused as a child. Chevy's releasing an authorised biography about his life called I'm Chevy Chase…And You're Not, and in it he reveals dark secrets about his past that have tormented him as an adult:
Here's what he says to Page Six:
I lived in fear all the time – deathly fear," Chase says in a new authorized biography, "I'm Chevy Chase . . . And You're Not," by Rena Fruchter, out next month from Virgin Books. It reveals that Chase's concert-pianist mother, Cathalene, was a "very unhappy woman" who suffered from depression and panic attacks that could set her off at a moment's notice. They had her locking young Chevy in a closet for hours at a time and waking him up in the middle of the night to slap him "continually and hard, across the face," Chase tells the author. "I don't remember what it was for, or what I had done."

The comic, who starred in such flicks as "Caddyshack" and "National Lampoon's Vacation," is 63 now, and his tormentors are dead. But, he tells Fruchter, "I always turn to it in my mind . . . I'll never forgive them. At their graves I didn't. It was too hard for me. You would think a grown man could shake it off, as the coffin was being lowered, to say, 'I forgive you.' I don't forgive."
Chase mentions another incident in which his mother would tell him he was to receive ten lashes on the backs of your legs every day for a week at 5 p.m. He also mentions abuse at the hands of his mother's second husband, John Cederquist.
A lot of celebrities have grown up in abusive households and turn the negative into a positive by pushing themselves harder to succeed. No child should ever be a victim of physical or emotional abuse, but it's admirable when they go on with their lives and try not to let their past affect them too much as adults. I understand why Chevy says it's too difficult to forgive his parents for doing such horrible things to him. Everyone is expected to forgive and forget as they say, but it's refreshing to find someone who's honest enough to say "No, I can't forgive them, they have hurt me too much". It is more human to be honest with your emotions than forgive and not really mean it.
Actors like Chevy, who endured real hardships as a child, I feel genuine sympathy for. Britney and Lohan should take note, stop feeling sorry for themselves, and grow up.