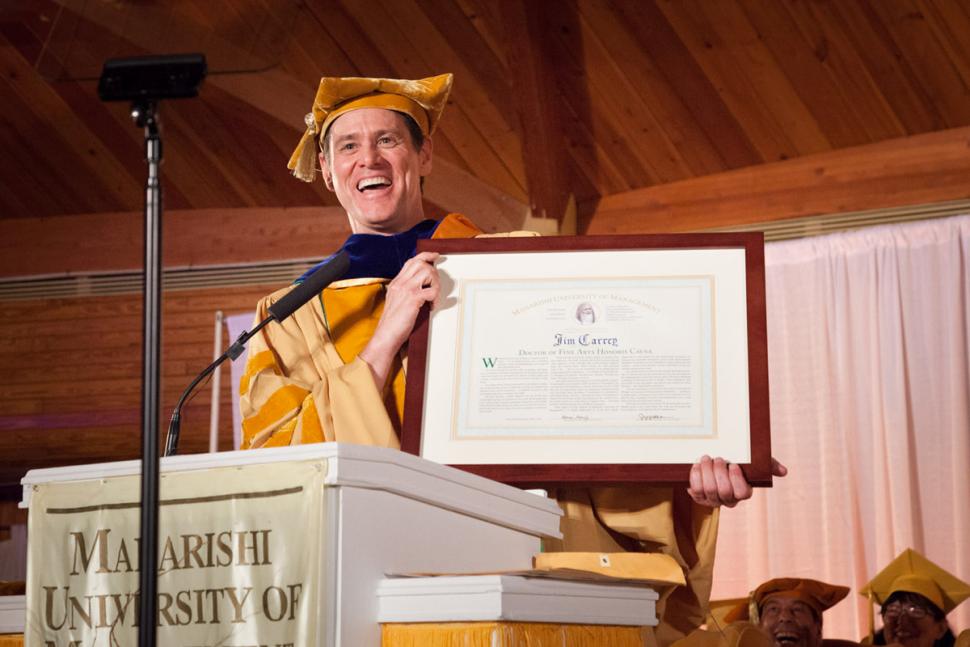 I don't know about you guys, but I'm thoroughly enjoying all the stories about celebrities graduating and giving commencement speeches. It's bringing me back many years ago (I'm not going to specify how many) to when I graduated, and to the heady feeling of accomplishment and pride I had. It's also making me want to continue my education. As many of you mentioned in yesterday's Emma Watson post, an education is something no one can take away from you.
Our latest commencement speech comes from Jim Carrey, who was given an honorary degree of Doctorate in film arts from Maharishi University School of Management in Fairfield, Iowa. When I tried to google the school, one of the recommended phrases was "Maharishi University School of Management cult." The school was started by Transcendental Meditation founder Maharishi Mahesh Yogi. Carrey is a practitioner of Transcendental Meditation, which definitely has its benefits as a practice. The TM organization has been criticized as a cult for the way that it traps employees and aggressively seeks money from followers. That's some minor background to Carrey's speech, which was much more esoteric than most but was geared at this crowd of TM devotees.
I am here to plant the seed today, a seed that will inspire you to look forward to life with enthusiastic hearts and a clear sense of wholeness. The question is, will that seed have a chance to take root or will I be sued by Monsanto? [crowd cheers]

Makes a TM joke
Excuse if I seem low energy… I slept with my head to the roof last night. You know how that is, right kids?

Life doesn't happen to you, it happens for you. How do I know this? I don't, I'm making sound… that's what I'm here to do. Sometime that's the only thing that's appropriate. Just letting each other know we're here. Reminding each other that we're part of a larger self.

On self identity
I used to think Jim Carrey was all that I was. Just a flicker of light… the great nothing masquerading as something with a name… seeking shelter in… fossils, an archer searching for his target in the mirror… blinded by longing and tripping over paradise.

I don't think you understand who you're dealing with. I have no limits. I cannot be contained because I'm the container.

I used to believe that who I was ended at the edge of my skin. That I had been given this little vehicle called a body in which to experience creation… then I learned that everything outside the vehicle was part of me too and now I'm driving a convertible.

You can spend your whole life imagining ghosts, worrying about the pathway to the future, but all there will ever be is what's happening here and the decisions we make in this moment, which are based in either love or fear. So many of us choose our paths out of fear disguised as practicality. What we really want seems impossibly out of reach and ridiculous to expect so we never dare to ask the universe for it. I'm saying, I'm the proof that you can ask the universe for it. And if it doesn't happen for you right away, it's only because the universe is so busy fulfilling my order.

I learned many great lessons from my father, not the least of which is that you can fail doing what you don't want so you might as well take a chance doing what you love…

Take a chance on faith… not religion, but faith. Not hope but faith. I don't believe in hope… hope walks through the fire, and faith leaps over it. You are ready and able to do beautiful things in this world… as you walk through those doors you will only ever have two choices, love or fear. Choose love and don't ever let fear turn you against your faithful heart.
Well that was strange. I get the gist, but there was a lot of filler. I think some of what he said is specific to transcendental mediation although it may all be pure Jim Carrey, I'm not sure. It sounds like "The Secret," which I read years ago with a lot of skepticism. It's like making a grocery list of everything you want and believing the universe will give it you. Carrey is definitely a unique guy, I'll give him that, and he's certainly entertaining. For my money, Elin Nordegren gave the best commencement speech so far. She was practical, heartfelt and down to earth.
Here's more of Carrey's speech. This is 10 minutes long but some was actually cut out. Fast forward to 6:45 to see him point out a bizarre huge art piece that he made. He even shows it under black light.

Here's a 1:00 excerpt with clearer audio: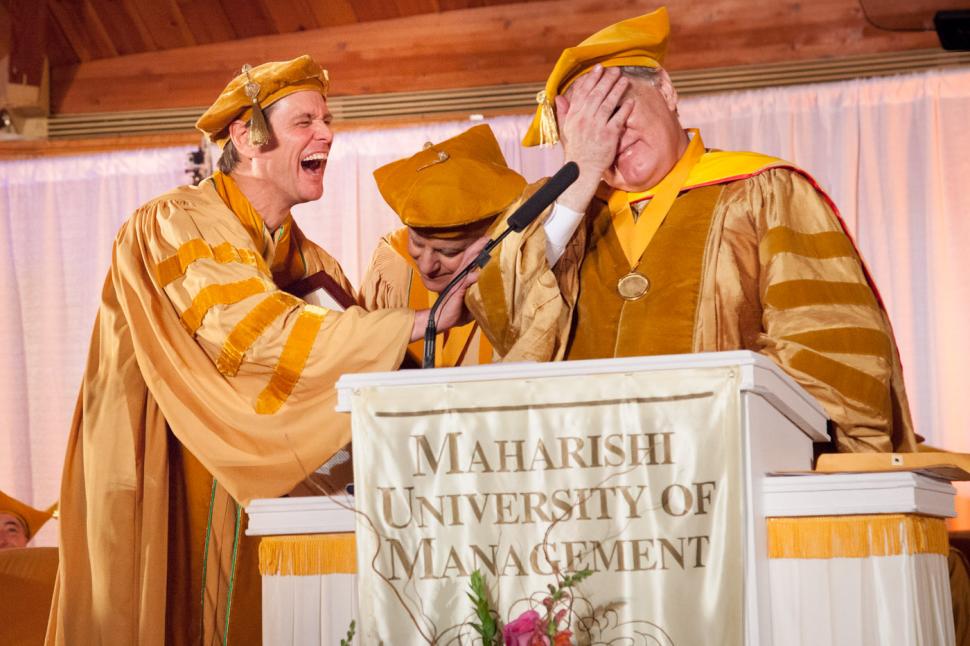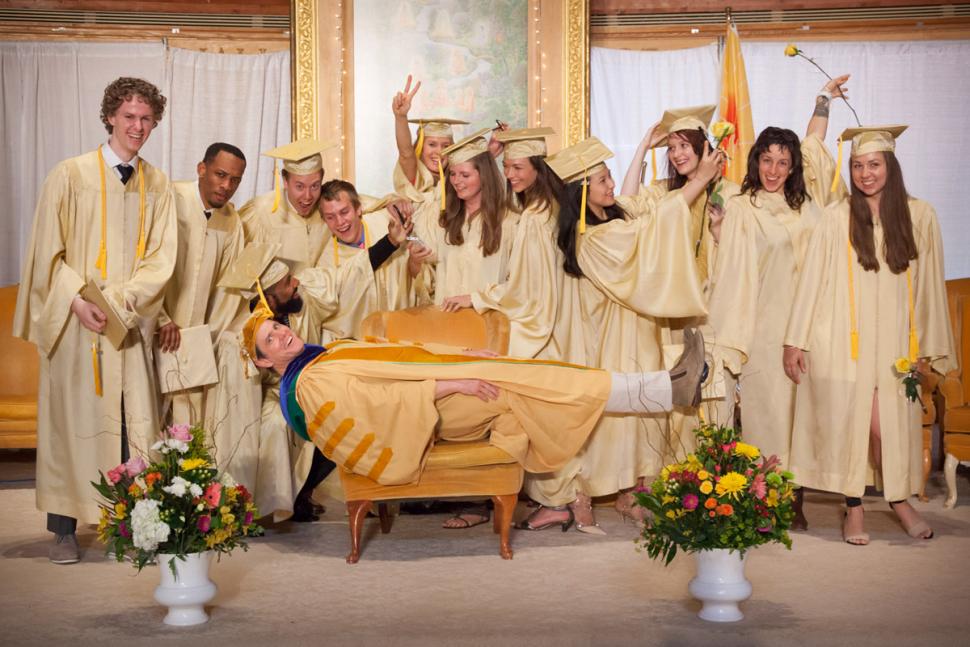 photo credit: Ken West Maharishi University School of Management via NYDN