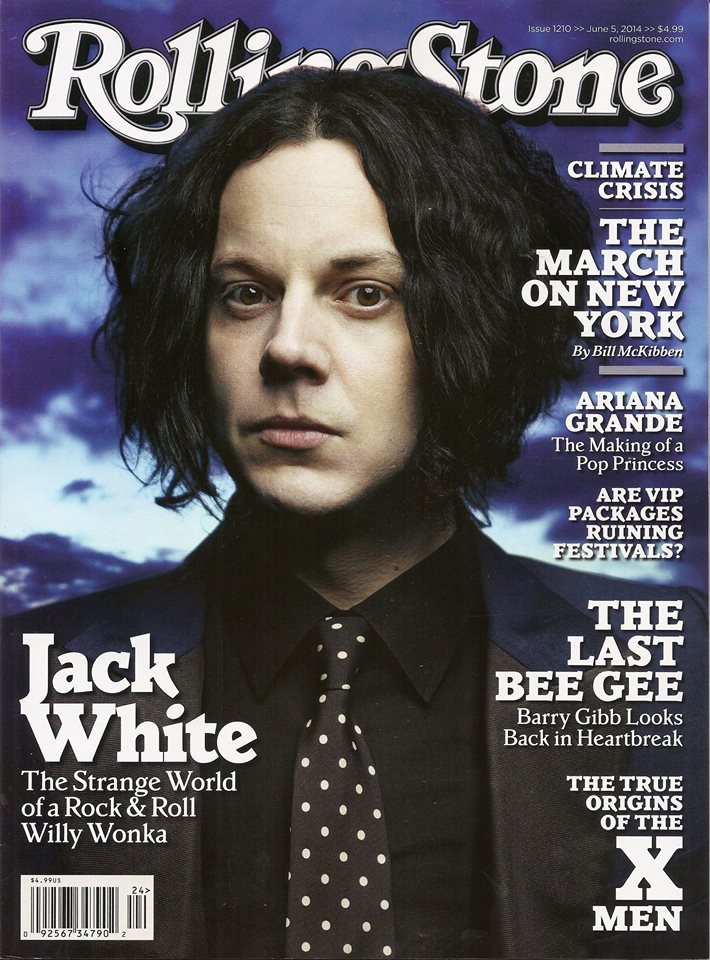 Last week, I covered the first excerpts from Jack White's bitchy Rolling Stone interview. Jack complained that Meg White never reciprocated his excitement over breaking ground with White Stripes' music. My take was that Meg has always had an understated personality. She doesn't get overly excited about stuff, and she suffers from social anxiety. Jack seemed offended that Meg didn't bounce off the walls when confronted with his genius. It also sounded like Jack missed Meg.
The rest of the RS interview has surfaced, and Jack is in fine snarky form. He whines about the Black Keys again. I'm always fascinated when rock gods get into fights with other rock gods. That statement would probably upset Jack White, blues god, who is behaving like he's the only blues god that ever existed.
Jack's been feuding with the Keys for years. He was upset with ex-wife Karen Elson for letting their children be in the same school classes with Dan Auerbach's kids. Jack has a real problem with the Keys. That school-kid spat happened over a year ago, but Jack is elaborating on the issue with Rolling Stone. He basically thinks the Black Keys copied the White Stripes. Here is Jack's explanation:
"There are kids at school who dress like everybody else, because they don't know what to do, and there are musicians like that, too. I'll hear TV commercials where the music's ripping off sounds of mine, to the point I think it's me. Half the time, it's the Black Keys. The other half, it's a sound-alike song because they couldn't license one of mine. There's a whole world that's totally fine with the watered-down version of the original.

"Some people will hear that and say 'Oh, Jack White thinks he's the first person to play the blues.' But certain acts open up a market for a certain style. Amy Winehouse: Did she invent white soul? Wearing a beehive? No. But she did something brand new and fresh, altogether as a package, and you see who's in her wake, from the Duffys to the Lana Del Reys. Adele selling 20 million records? That would not have happened if Amy Winehouse was alive. The White Stripes did the same thing, and in our absence, you're gonna find someone to fill that. And you get a band like the Black Keys, who said they never heard of the White Stripes? Sure."
[From Rolling Stone]
I don't know why Jack is picking upon Adele, and I don't know if anyone remembers Duffy. She was big for a year or so, and I agree that Duffy followed in the lead of Amy Winehouse. Adele is different. She is one of a kind. Not every retro-based act copies from other retro-based acts. I don't think the Keys are Stripes copycats. Jack doesn't consider that his bluesy influences might also be the same artists who influenced the Keys. I also think the Keys borrow a lot more from funk-rock artists like Jimi Hendrix than they take from the blues. Then again, I'm not an expert on musical genres. Feel free to educate me.
The Black Keys seem pretty perplexed about Jack White's problem with them. Patrick Carney admits that White, "obviously sounds like an a–hole," but he and Dan Auerbach both "actually feel embarrased for him." The Keys are referencing Jack's non-amicable divorce and custody battle with Karen Elson in relation to outlets like TMZ, who leaked Jack's private emails with Karen.
I think Jack has a problem with the Keys because he truly DOES think they copied the Stripes. Jack let his belief seep into his divorce battle, and the band-fight continues long after the custody fight ended. Rolling Stone won't let it go, and both Jack and the Keys keep talking. Jack decided that things went far enough, and he posted an "apology and explanation" on his website:
Why Jack said all that crap: "I felt in a way forced into talking about very private opinions of mine that are very much in the realm of 'behind the curtain' show business conversations. Remarks I've made about the state of the music business and about how certain acts create new markets in the minds of music lovers are also very difficult to clarify without exacerbating the issue. In an attempt to not give the music magazine Rolling Stone a 'no comment,' because I thought they would use that to convey some sort of pettiness on my part, I decided to try to explain a tiny portion of what they were asking. I should've been smarter to know that it would be pointless to use comparisons like I did to readers who most likely don't understand the scenario and that my words would seem very negative in nature. That's not me trying to sound like I'm above anyone, it was just 'shop talk' and it sounded a lot more negative than it was meant to."

He loves Adele: "I wish no slight to the talents of Winehouse, Duffy, Lana del Rey, and Adele. All of whom are wonderful performers with amazing voices. I have their records and I hope for more success for them all as the years go on. They deserve all they've gotten. And, I also would love to state that I personally find it inspiring to have powerful, positive female voices speaking out and creating at all times in the mainstream."

On Meg White: "She is a strong female presence in rock and roll, and I was not intending to slight her either, only to explain how hard it was for us to communicate with our very different personalities. This got blown out of proportion and made into headlines, and somehow I looked like I was picking on her. I would never publicly do that to someone I love so dearly."

Jack blames the tabs & blogs: "We live in a sound bite, sensationalized age. The 'non apology' has become a lawyer's dodge for celebrities themselves, given to a public that usually doesn't want to hear it as it disrupts the tabloid 'dirt' that we all want to occur. Because the conversations I've had that have been made public and recontextualized are difficult to clarify without making it seem even more petty and strange, this is an apology to anyone I've offended with my comments about my creativity, their creativity, and the music business in general. I wish for a long, fruitful, healthy family of creative people to continue to grow around me and the musicians I work with, the city of Nashville, America and the world of listeners that this music can reach."
[From JackWhiteiii.com]
I do give Jack credit for not saying, "I'm sorry IF you were offended." He realizes that he said some douchebaggy things. But he still blames the "sound bite, sensationalized age" when he doesn't realize that sound bites have always existed. He also argues that what he said has been "recontextualized," which sounds a bit Goopy. Here's the thing — the White Stripes became huge right before blogs became huge. Jack has no idea how to deal with bloggers. He's only used to select outlets publishing quotes with no reaction from the void.
Jack is fine with getting quoted by Rolling Stone, and he's alway spouted off to the trade pubs. What Jack can't deal with bloggers reading his quotes and interpreting them. Jack doesn't like the internet because he's getting called on his sh-t. He wants to have his bluesey cake and to eat it too. Another example? He complained to Rolling Stone about how fans bring iPhones to shows, but Jack forgets that he designed a custom iPhone case a few years ago.
Jack? If you're reading … the internet is here to stay. Don't fight it. Adapt. The internet will love you right back.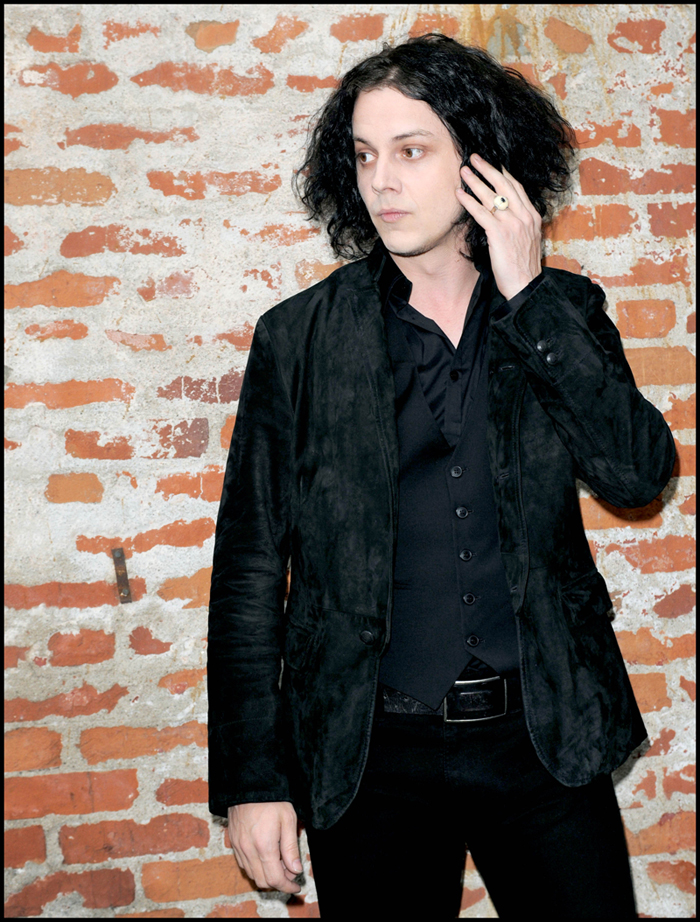 Photos courtesy of Rolling Stone & WENN