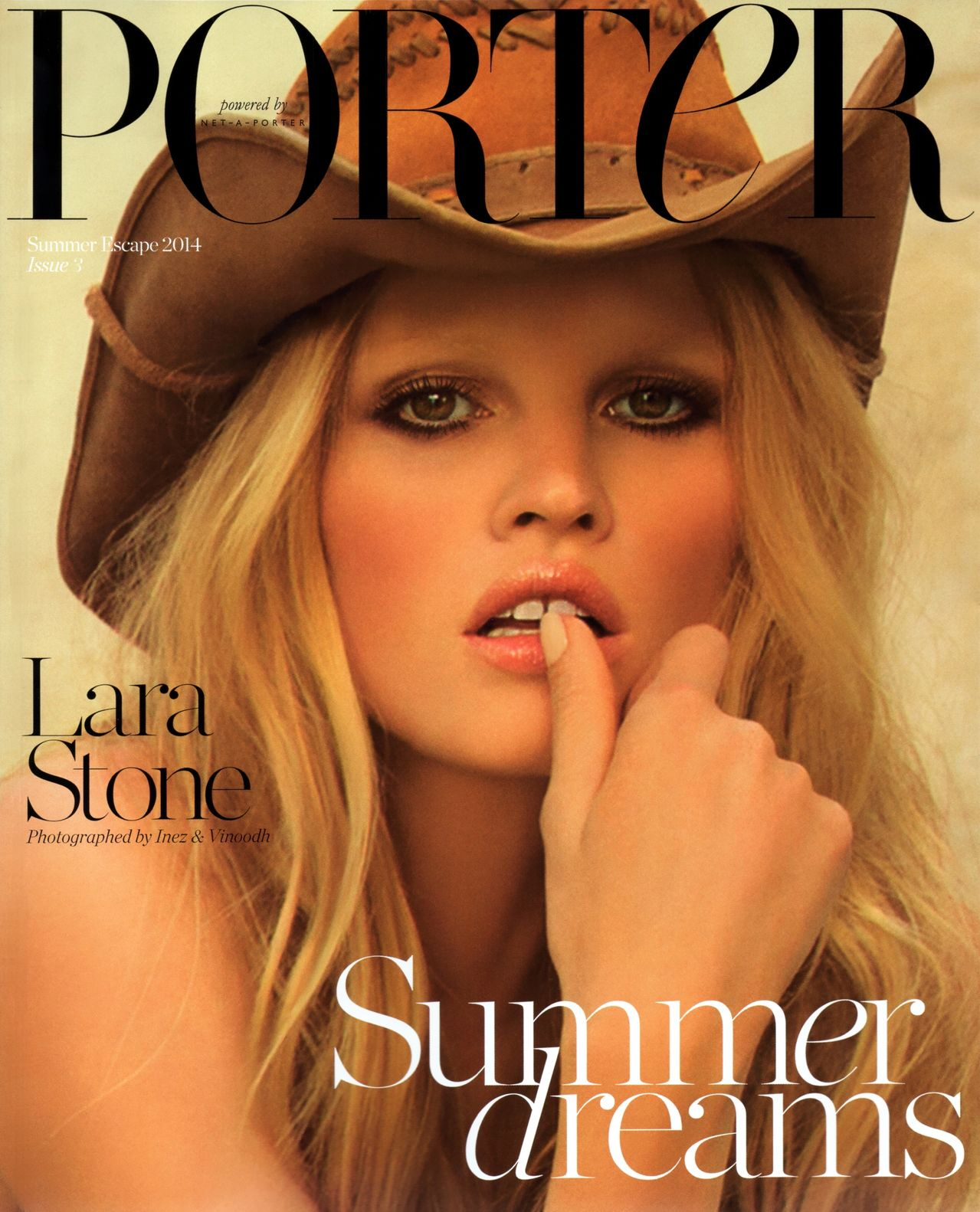 I like Dutch model Lara Stone. Not as much as I like Doutzen Kroes, but I do like Lara. Incidentally, I'm only now realizing that I might have a thing for Dutch women (????). 'Sup, Dutch ladies? Anyway, Lara is regularly featured in the UK papers because A) she's a pretty successful model, B) she's a pretty blonde with great boobs and C) she's married to British actor/comedian/reality show host David Walliams and they live happily in London. I'm including some new shots of Lara covering Porter Magazine– the cover is particularly good.
Anyway, I'm talking about Lara's Porter cover because she gave a very interesting interview about her pregnancy (she gave birth last year) and trying to get and keep modeling work while pregnant and afterwards. It's a reminder that not all models have Gisele-like pregnancies and post-pregnancies. It's also a reminder that the fashion industry hates women who are above a size 2 (and even then, size 2 is considered "hefty").
Lara Stone was turned away from a modelling job after revealing that she was pregnant. The Dutch model, who was less than three months pregnant and hadn't even had her first scan, told the booker that she was expecting her first child before heading to the shoot. But when she arrived, she found that another model had replaced her. While Lara received no explanation as to why the change had been made, she assumes it was due to her size.

"I was really upset at the time," Lara told The Evening Standard. "I hadn't yet had my three-month scan and I felt really vulnerable about everything. I no longer had a job. That was it — I had to just stop everything that I knew; the way my life was."

Since giving birth to her and David Walliam's child, Alfred, in May 2013, she has adopted diets and the help of a personal trainer to get back in shape.

"Once the baby was out," she says, "I was like, 'What the hell is going on?' My arms don't fit into my sweaters. I couldn't get my jeans over my knees. I couldn't find a bra that fitted me. I had body dysmorphia but the wrong way round."

She is now back to work but admits that it is harder trying to fit into sample sizes.

"I've had a few meetings because when they hear pregnancy they freak out a bit," she says. "So they need to see if I fit in their clothes."

She is considering having another baby but isn't yet convinced. "Everyone's like, 'it's fun, they can entertain each other.' But I think it would be 20 years of war, then they move out," she says. "My sister and I, we get on great now but when we were little we fought all the time." Added to which Walliams took time to adjust to pregnant Lara. "'What do you mean you have a headache and you feel nauseous?' he'd say. 'You didn't feel like that a week ago'."

She, too, found the process of pregnancy hard to cope with. "I was in maternity jeans from 11 weeks," she says. "Who needs buttons when you can have elastic?" She tugs at her jeans to demonstrate but laughs — she's no longer wearing pregnancy ones but her regular skinnies.
[From Porter Mag via HuffPo]
Surely there must be a happy-medium, right? Somewhere between the two extremes. On one side, you have the elite, top-shelf models like Gisele, who can still model and get magazine covers when they're six months pregnant. And the fashion industry embraces that version of pregnancy, the version where a woman only has a modest bump and the rest of the woman is the same size. On the other extreme, you have Lara's sudden firing from a job because, what? She gained a few pounds in her first trimester? How is that even legal to fire a model because she's two months pregnant?! Anyway, I would really appreciate it if the fashion industry would figure out a happy-medium between these two extremes. Thank you.
Also: it doesn't sound like she wants to have another baby, but it sounds like she's being pressured into thinking she should want to be pregnant again. Here's a dirty little secret: not all women enjoy being pregnant. For some women, it's not all glowing skin and happy hormones.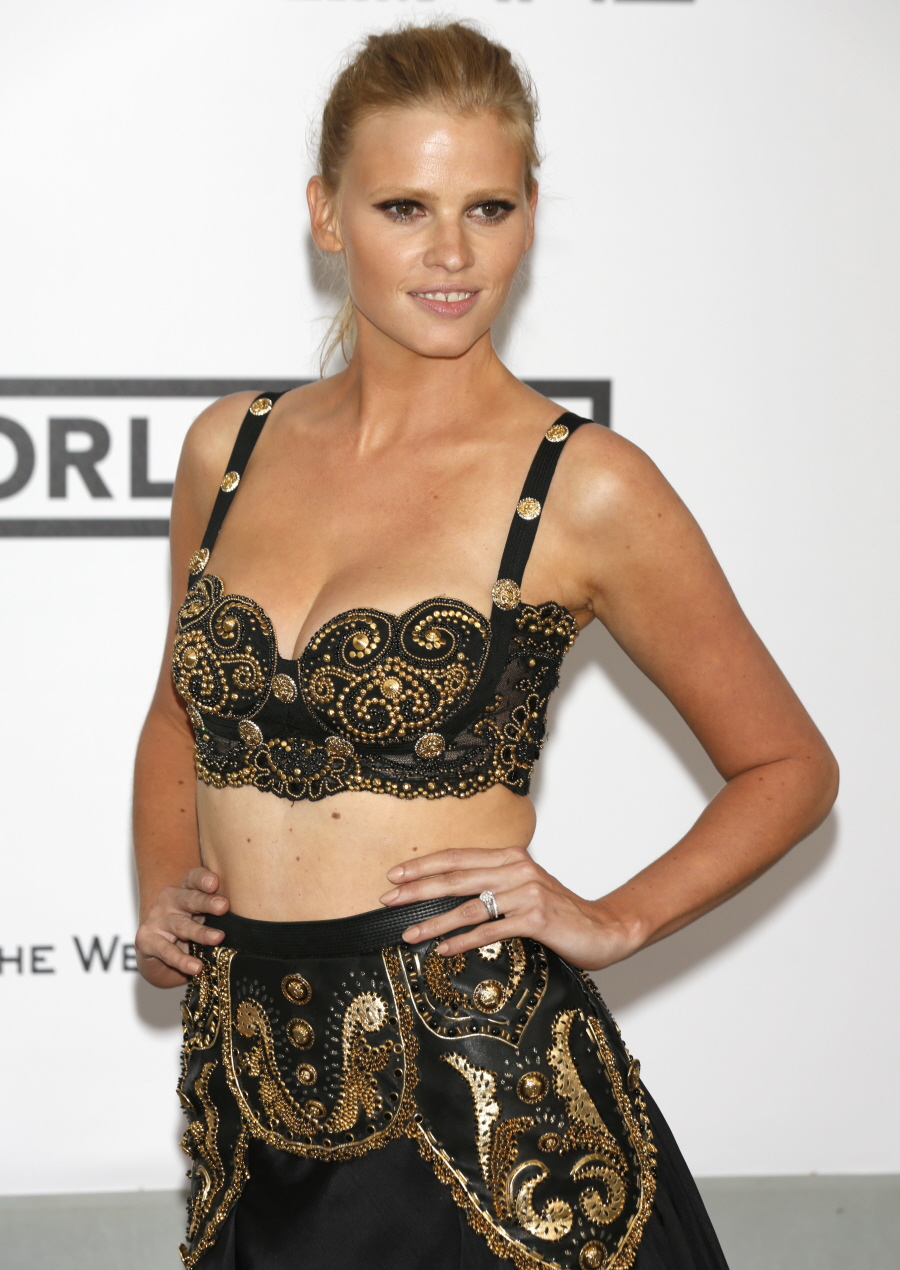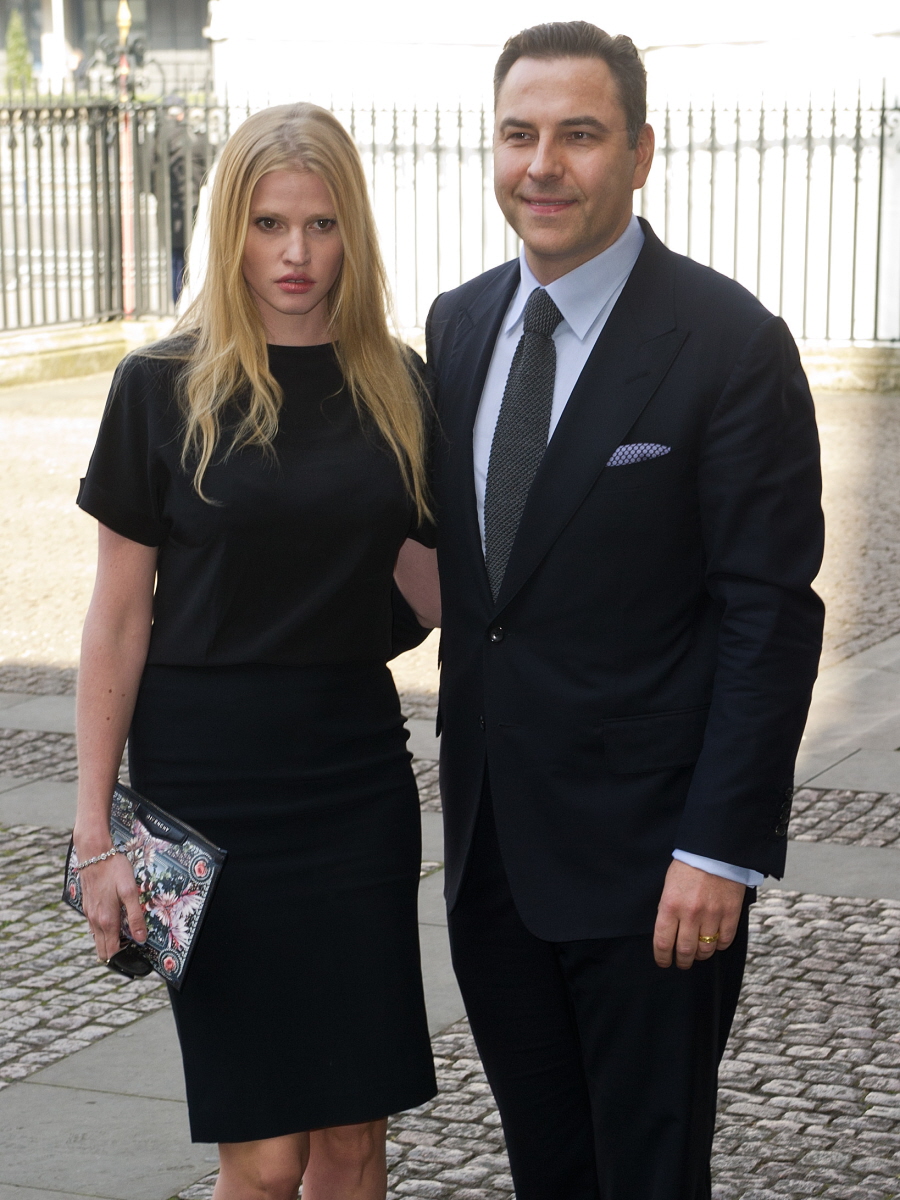 Photos courtesy of WENN, Porter Magazine.