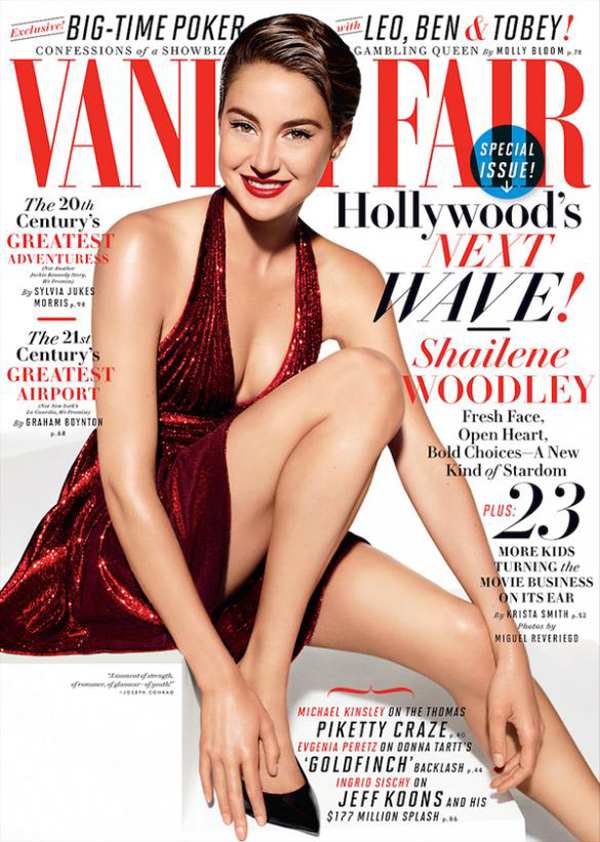 Everyone's favorite forest nymph, Shailene Woodley, covers the July issue of Vanity Fair. This is a good moment for her to take this cover. Her movie, The Fault in Our Stars, grabbed $48 million at the box office this weekend. That's four times its budget. Shailene beat the latest Tom Cruise vehicle, Edge of Tomorrow, which pulled in $28 million on a $178 million budget. (Tom may reach the 250% threshold for breaking even, but it will take international sales to get there.) Translation? Shailene is here to stay for quite awhile. How do you feel about that?
Shailene has dialed it in a little bit for this interview. I had to chuckle when she talks about all of the big issues in this world, and she thinks her particular gift is to change the world with smiles and hugs. To be pregnant with the world. Sometimes I have no idea what she's talking about with these sound bytes. All I know is that Jennifer Lawrence is somewhere breathing a sigh of relief. Here are some excerpts:
She almost quit acting after The Descendents: "Somebody came to me and said, 'I can't wait to see what you do next.' I took that as pressure–that I had to live up to somebody else's expectations. There were a few months where I was like, 'I don't want to act anymore.' And then I got over it and realized it's none of my business what other people think of me."

Using her public stature: "As much as this industry is a platform for talking about big issues, there's also so many f—in' issues. You could talk about Russia, or Argentina, or fracking, or G.M.O.'s. Maybe the only thing that I'm supposed to do is just show up and be me in every moment. Because I do feel like one of my gifts is to be open and lovely–simple things like smiling at strangers and having kind, small interactions. I think that is what's going to ultimately shift things."

Getting cut from Spider Man 2: "For a few hours it was literally like, 'Oh, my God, was I awful? Why did they cut me? What are people going to think?' I woke up the next morning and I was like, 'O.K., it makes total sense.' I'm a pretty spiritual person, so I can just sit back and trust that everything happens for a reason, even if my ego doesn't like it."

Does she date co-stars? "I'm never going to say never. I love acting, but I also really love nature and most actors don't want to get dirty."

Her special friendship with Miles Teller:"I look at Miles and, like, I'm sort of Julia Roberts in the same way she is to George. Their relationship I could see being our relationship in 20 years, and that really is special."

George Clooney on Shailene: "We'll be talking about Shailene Woodley 40 years from now. I've never seen anyone so young that has so much together. Shailene can do whatever she want. If she wants to be a movie star, she has it. If she wants to change the world, she will. Her talent and kindness go hand in hand."
[From Vanity Fair]
And with that … George Clooney has publicly said more about Shailene Woodley than he has about his own fiancée. I do think it's cool that they have a father-daughter rapport.
I'm also interested in how Shailene calls out Miles Teller, her co-star on The Spectacular Now and Divergent. They're not romantically involved even though some outlets are going with the notion as a headline. I've included some pictures of Shailene and Miles. He seems (like many people) surprised by her habit of sudden red-carpet hugs.
Here's a photo from Ansel Elgort's Instagram of himself and Shailene watching The Fault in Our Stars this weekend. Shailene was "in disguise."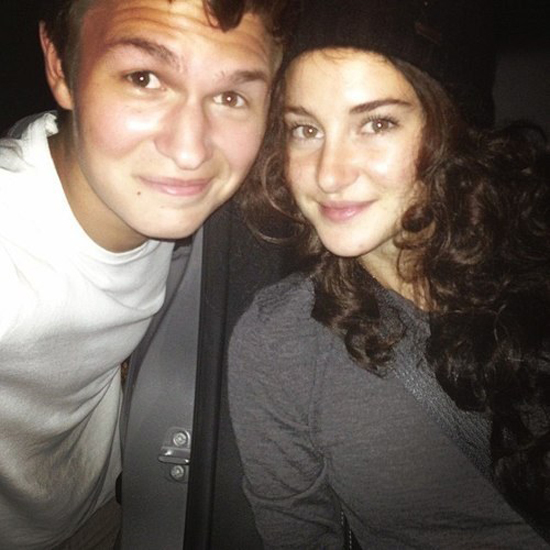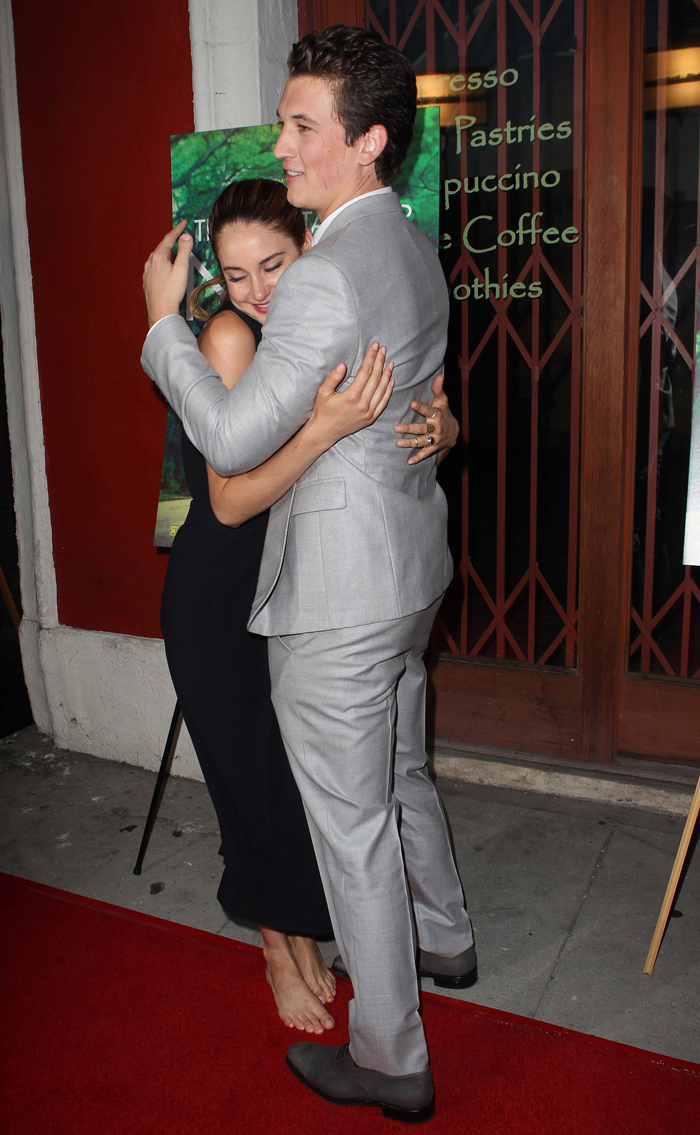 Photos courtesy of Vanity Fair, Ansel Elgort on Instagram & WENN