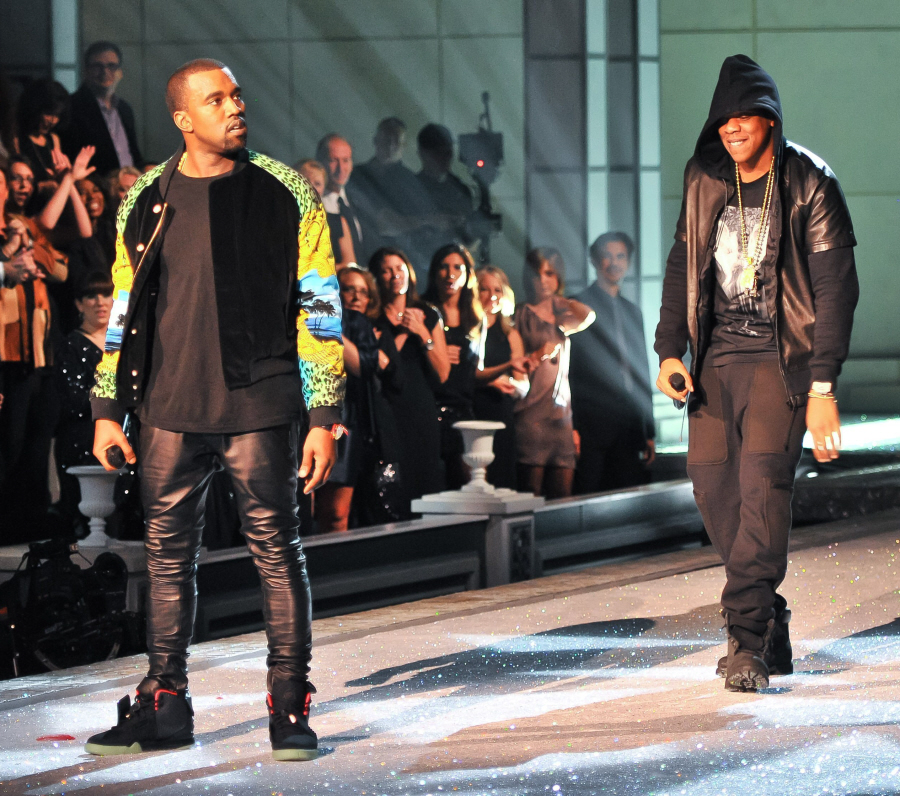 After Kim Kardashian was bored to fake Botox tears during her sad Irish honeymoon, she and Kanye West decided to go on a "second honeymoon" to Mexico to celebrate his 37th birthday. You know what surprised me? They didn't go to Cabo. Instead, they're in Punta Mita and "they're staying in a private house on the beach," claims one of People Magazine's "insiders." Just before they went to Mexico, Kanye performed at Austin's X Music Festival. And that was where some MAJOR boy drama went down. You know how Yeezington name-drops Jay-Z in every other song? Well, following Jay's notable absence at The Kimye Wedding, Kanye has omitted Jay's name from all of his lyrics. OH NOES. Gurl, that is a subtle shade of bitch.
Kanye West appears to have started omitting Jay Z's name from the lyrics to his songs. As noted by one of the rapper's hyper-observant fans, West repeatedly skipped Jay's name during his recent performance at Austin's X Music festival.

Have Jay and Kanye fallen out? Less than a month after Jigga and Beyoncé did not attend West's wedding to Kim Kardashian, rap fans have put forward a theory that West is expressing his indignation by censoring Jay Z's name. Suspicions were first raised by a user called okstatetw on the online forum Kanye to the (via Consequence of Sound), who noticed something peculiar about West's X Music gig. "First time he [skipped Jay Z's name], I [thought], 'Ehh that's odd, maybe he's just letting the crowd finish it whatever,'" okstatetw wrote. "Then [Kanye] skipped his name again … Definitely obvious and intentional."

Okstatetw found fan videos of two different songs where West had left out Jay Z's name. The lyrics to Cold normally go, "Lucky I ain't had Jay drop him from the team"; on Saturday, West instead rapped: "Lucky I ain't had … drop him from the team."

In the song Blood on the Leaves, the recorded version includes the lyrics: "I don't give a damn if you used to talk to Jay Z / He ain't with you, he with Beyoncé, you need to stop actin' lazy". Performing the song in Austin, West again left out Jay's name, and shouted the second line with a slightly revised lyric: "You need to stop actin' crazy!"

Our own sleuthing has uncovered a third Jay Z snub: in West's song Touch the Sky, the first verse usually ends by quoting "Jay's favourite line". Again, West omitted the shout-out to his Watch the Throne partner.

The easiest explanation for West's behaviour could be that he's angry at Jay Z for weekending in the Hamptons while West and Kardashian were getting hitched in Italy. The two rappers are long-time friends and frequent collaborators, and Jay Z was a mentor to West when his career was just starting. It was on Jay Z's The Blueprint that West had his first breakthrough, producing four songs.

Jay Z and Beyoncé have yet to explain why they missed West's wedding. They were allegedly invited, and in the months leading up to the event, tabloids reported that Jay Z had even been offered the role of best man. "[I] just assumed [Jay and Beyoncé] were working," Kardashian's mother, Kris Jenner, told E Online this week. "There was so much commotion and excitement, I never really gave [them] a second thought."

Whether or not West is actually angry at Jay Z, this bizarre self-censorship is definitely a new development. Jay's name was present and accounted for during West's concert sets last year. At the very least, Beyoncé's reps still seem friendly toward West: following an Instagram message with congratulations on the rapper's marriage, the singer's official website repeatedly wished him a happy birthday. West turned 37 on 8 June.
I have no doubt that Kanye has omitted Jay's name from his lyrics. I also have no doubt that the omissions are entirely intentional, and they are the height of BOY DRAMZ. Seriously, #NoDisrespectToBenAffleck, but this might be the Beef To End All Kanye Beefs. Kanye went insane over absolutely nothing while he was promoting Yeezus: what do you think he'll do when he has a legit grudge against someone he's known and loved for a decade? #Immaletyoufinish but it's about to get REAL.
Photos courtesy of Getty, WENN.