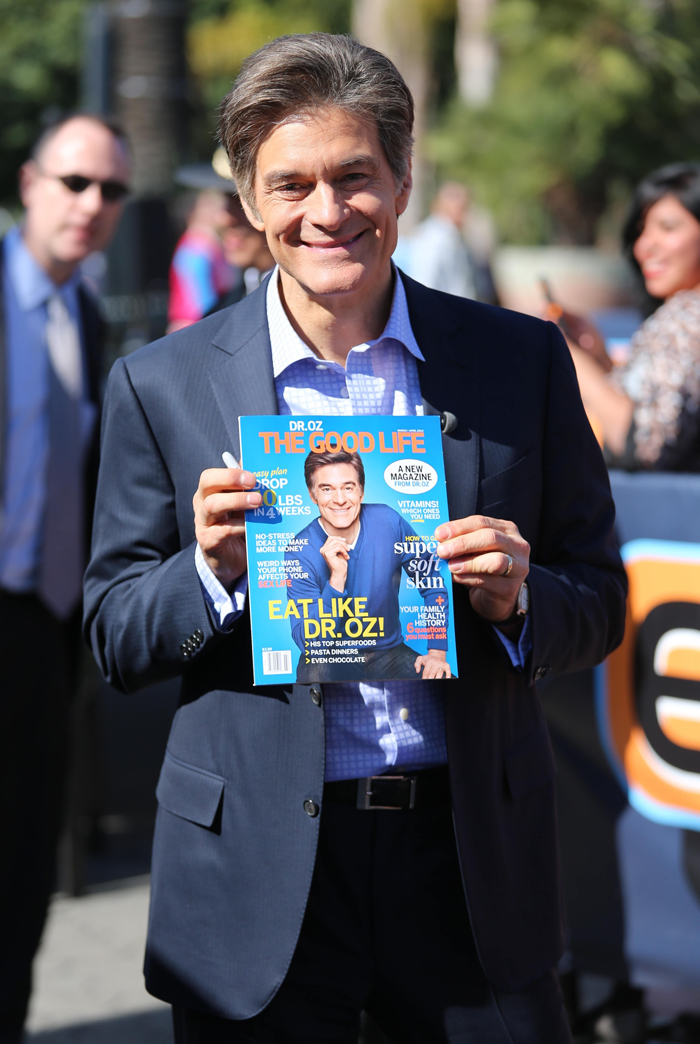 Dr. Mehmet Oz is an interesting character. I don't watch his Dr. Oz show all the time, but it's usually playing at the gym. When USA network isn't playing reruns of my beloved Chris Meloni (his undercover episodes are the best), Dr. Oz helps me sweat it out. He's such an enthusiastic guy, and I always giggle at the ladies who burst onto his stage and say stuff like, "Dr. Oz, I love you so much. And I always look at my poop."
Dr. Oz's audience follows him much like Oprah's audience did for her. He's always promoting some product like red palm oil, brown seaweed, or green coffee extract as a sure-fire weight loss cure. NBC compiled a list of Oz quotes. Stuff like raspberry ketone being "the number one miracle in a bottle to burn your fat" or Garcina cambogia as "the simple solution you've been looking for to bust your body fat for good." Of course people buy this stuff. Buying a solution in a bottle is so much easier than counting calories or working it at the gym.
The US Senate has taken an interest in Oz's claims. He has been duly "scolded" for the Dr. Oz Effect, which helps boost sales for scam artists that create infomercials based upon Oz quotes. The really bad thing is that most of Oz's claims are not backed by any type of scientific study. He claims to use the stuff himself or give it to friends and family. That's all. Oz has owned up to his accountability:
He's learned his lesson. Dr. Mehmet Oz owned up to his mistakes after being scolded Tuesday, June 17, by members of the U.S. Senate. Though he was chastised, Oz told Us Weekly in a statement that he was "pleased that the hearing today [about falsely advertised diet products] dealt with some complicated issues."

The TV show host, 54, also expressed his relief that the session on Capitol Hill "had all the players present whose cooperation will be necessary to move forward in protecting the consumer." Oz was called to the Hill on Tuesday, for making claims about "miracle" weight-loss products on his popular Dr. Oz Show.

"For years I felt that because I did not sell any products," admitted Oz, "I could be enthusiastic in my coverage." Added the cardiothoracic surgeon, "I believe the research surrounding the products I cover has value. I took part in today's hearing because I am accountable for my role in the proliferation of these scams and I recognize that my enthusiastic language has made the problem worse at times."

Oz was called out specifically by Sen. Claire McCaskill, the Democratic chair of the Senate's subcommittee on Consumer Protection, Product Safety and Insurance, who said Oz was sensationalizing diet products on his show. "I don't get why you need to say this stuff, because you know it's not true," McCaskill said to Oz in the hearing. "So why, when you have this amazing megaphone," she asked him, "why would you cheapen your show by saying things like that?"

Further admitting his failings as bearer of the "Dr. Oz effect," Oz told Us: "To not have the conversation about supplements at all however would be a disservice to the viewer. In addition to exercising an abundance of caution in discussing promising research and products in the future, I look forward to working with all those present today in finding a way to deal with the problems of weight loss scams."
[From Us Weekly]
At least Oz has admitted his responsibility on this issue. I don't know if this incident will change his show because (unpaid) product promotion makes up so much of his airtime. He's stuck in a niche, and his audience expects him to stand there in his cute little scrub outfit and tell them the latest miracle cure. He may have to revamp his entire show at great expense. That option seems much better than promoting products that are not only useless but could be very dangerous to his audience.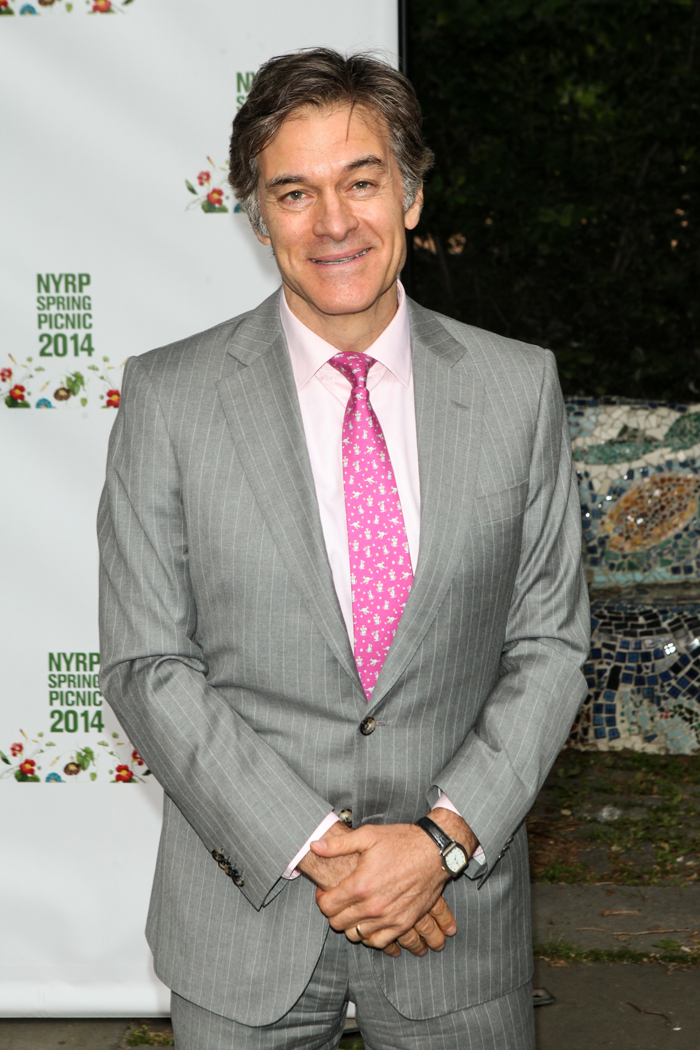 Photos courtesy of WENN