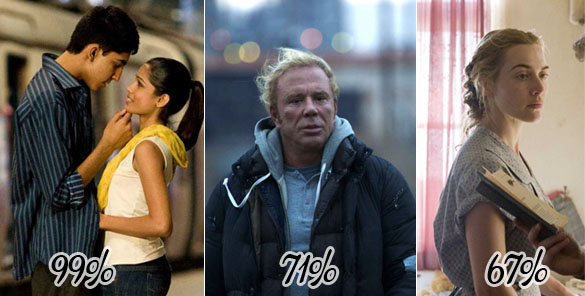 Nate Silver is a Geek God. He started out as a baseball statistics fanatic, then became a political polling fanatic, and now, just for fun, he's handicapping the Oscars. And his predictions are interesting! And Nate is usually right, so you should pay attention – during the campaign, Nate Silver was right about how 49 out of the 50 states would go. He was also the statistician/blogger/poll watcher who predicted most accurately the actual popular vote/electoral college vote in the general election.
Just for simplicity's sake, I'll just give you the basics. Slumdog Millionaire and Danny Boyle are a lock to win Best Picture and Best Director at 99%. Heath Ledger leads in the Best Supporting category with 85%. Kate Winslet wins over Meryl Streep with 67%, and Mickey Rourke beats Sean Penn with a 71% chance. The biggest gamble (according to Silver, who appeared on Keith Olbermann's "Countdown" last night) is Best Supporting Actress – Silver gives it to Taraji Henson for The Curious Case of Benjamin Button. I don't agree with this (even though I would like to see Taraji or Viola Davis win) – I think Penelope Cruz will get it. Here are the breakdowns from Nate:
Supporting Actor
Heath Ledger………………………85.8%
Josh Brolin……………………………5.0%
Philip Seymour Hoffman……..4.4%
Michael Shannon………………….3.6%
Robert Downey Jr. …………………1.2%

Supporting Actress *
Taraji P. Henson…………………..51.0%
Penélope Cruz……………………..24.6%
Viola Davis…………………………..11.6%
Amy Adams………………………….11.6%
Marisa Tomei………………………..1.2%

*Most of the major awards in the Supporting Actress category have been won by Kate Winslet for The Reader—a role the Academy misguidedly considers a lead. That's nice for Winslet, not so nice for our computer. Penélope Cruz, who won the BAFTA for her role in Vicky Cristina Barcelona, would seem the logical default. But computer sez: Benjamin Button's Taraji P. Henson! Button, which looks like a shutout everywhere else, is the only Best Picture nominee with a Supporting Actress nod, and Best Pic nominees tend to have an edge in the other categories.

Lead Actor
Mickey Rourke…………………….71.1%
Sean Penn……………………………19.0%
Brad Pitt……………………………….5.9%
Frank Langella……………………..3.4%
Richard Jenkins……………………0.5%

Lead Actress *
Kate Winslet………………………..67.6%
Meryl Streep………………………..32.4%
Anne Hathaway……………………0.0%
Melissa Leo…………………………..0.0%
Angelina Jolie ………………………0.0%

*While Streep has won both the SAG Award and the Critics' Choice for Doubt, Winslet has amassed even more hardware for The Reader (albeit as Supporting Actress—Silver resolved this dilemma by giving Winslet half-credit for awards she won as a Supporting Actress). Equally important: Winslet is due. She's sitting on her sixth nod without a win, while Streep has won both Best Actress (Sophie's Choice) and Best Supporting Actress (Kramer vs. Kramer). One thing's for sure: Anne Hathaway's going home empty-handed.

Best Director
Danny Boyle, Slumdog Millionaire……………………………99.7%
Gus Van Sant, Milk……………….0.1%
David Fincher, The Curious Case of Benjamin Button………………0.1%
Ron Howard, Frost/Nixon……0.0%
Stephen Daldry, The Reader..0.0%

Best Picture
Slumdog Millionaire…………..99.0%
Milk…………………………………………1.0%
Frost/Nixon……………………………..0.0%
The Curious Case of Benjamin Button…………………..0.0%
The Reader…………………………….0.0%
From New York Magazine
When Silver appeared on "Countdown" last night, he said the biggest gamble he made was on Best Supporting Actress. That's the one category he's really not sure about. It would be really surprising, awesome and heartwarming if Taraji Henson won, because she hasn't won any of the critics or industry awards. I tend to think the Best Actress race is a lot tighter as well – but the backlash against Kate Winslet might have started too late to make a difference.