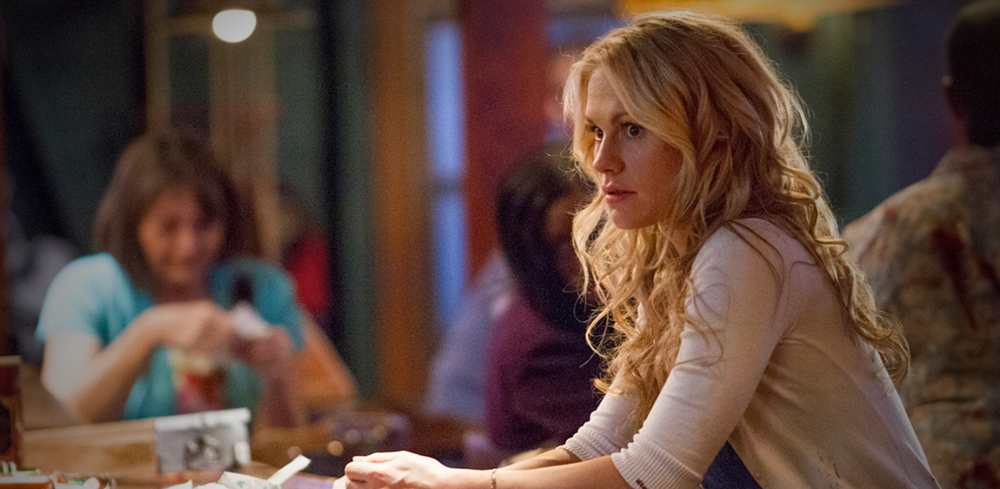 Spoilers for the seventh season premiere of True Blood, which aired last night, are below. Stop reading now if you haven't seen it yet and would like to avoid it.
True Blood premiered last night, and it was about the same as I remember it. There were some dumb moments, like every interaction between Sookie and Alcide, but overall it was as highly watchable and entertaining as we've come to expect. My favorite scene was an unexpected one, when Jessica's new Vietnam-era boyfriend, James, shared his story with Lafayette. It was a treatise on the futility of death at a time when Lafayette was reeling from yet another personal loss.
Some of our favorite human residents from Bon Temps were kidnapped by evil vamps, Jason finally got laid by his vampire girlfriend and Sookie finally stood up to the people of Bon Temps.
Of course the big spoiler is that Tara was killed, allegedly, by one of the Hep-V infected vamps who crashed the big mixer party. BUT we only have Tara's mother's word to go on, right? I watched the beginning section at the party a couple of times, and there's no direct view of Tara's true death. We saw Tara's mom covered in vampire goo wailing about how her daughter was killed, and that's it.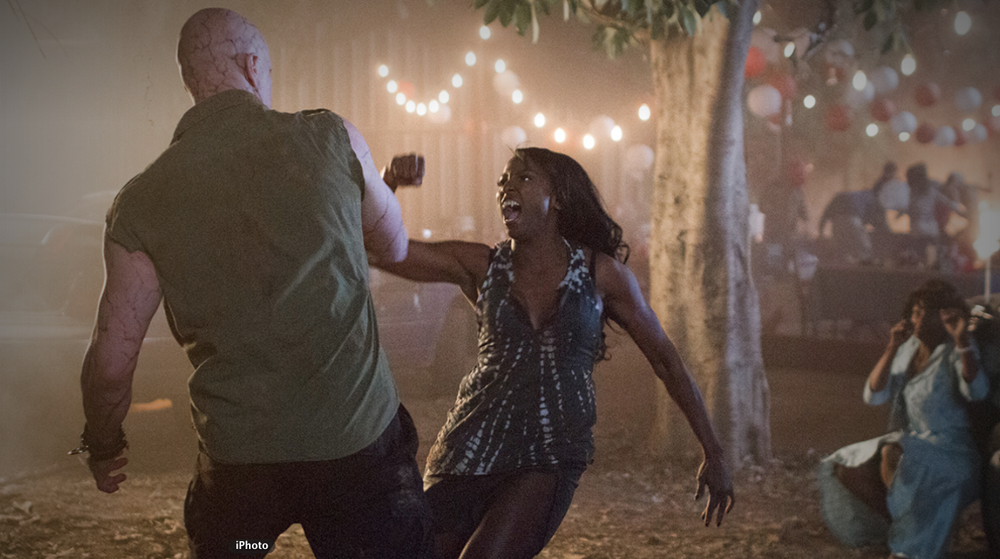 EW, which has True Blood on the cover this week, has an interview with actress Rutina Wesley, who plays Tara. (They also have a lot of excellent True Blood companion material, like their exclusive portraits of real life married couple Stephen Moyer and Anna Paquin, and Stephen's photo album from behind the scenes.)
Rutina says that she didn't learn that her character would be killed off until she was on hiatus, and she sort-of confirms that Tara is dead. She does say it might not be final, though. "[Tara's] dead. But I can tease that dead doesn't always mean gone on True Blood." So does that mean flashbacks, some kind of look into the vampire afterlife or that Tara isn't really dead? I wasn't attached to Tara so I can't say I'll miss her if she's really gone.
Unlike Tara, I'll definitely miss Eric if they kill him off. We didn't hear much about his fate, but we did see Pam acting all badass in Marrakesh playing vampire Russian Roulette at some kind of rowdy bar. She "won" and got a chance to meet a guy who gave her a map to find Eric. That didn't make much sense, but I didn't care because we got to see Pam and there's news that Eric might still be around. It may be a while before Eric graces us with his presence, in whichever form he's taken.
I'm not going to do a full recap, you can check out a quick recap on HBO.com, and E! has a briefer recap. (EW's recap is more thorough if that's what you're looking for.) I'm glad another there's decent show to look forward to on Sunday nights. True Blood may not be as eventful as Game of Thrones but it's familiar and oddly comforting despite the violence. I'll miss these characters.