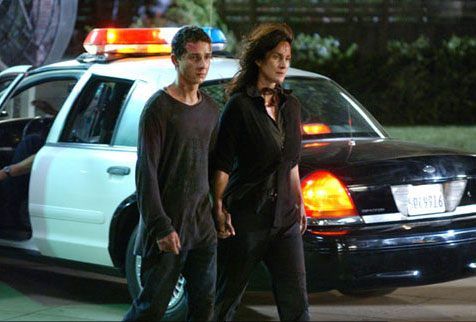 Former Disney star Shia LaBeouf's career is on the rise. He has the lead in box office hit Disturbia, but things weren't always so rosy for the handsome 20 year-old. He once rammed into a neighbor's car on purpose and went after him with a knife. He also has admitted to coming from a very chaotic home life. He said he grew up with a heroin-addicted drug-dealing father, who left his mother when Shia was five. His mother worked multiple jobs to try to make ends meet.
Shia eventually reconciled with his father, who now serves as his manager. When he got his first big break in the Disney series "Even Stevens," a then 12-year-old Shia was required to have a guardian with him on the set. His mother had a full time job, so he asked his recovered father, who he had not seen in years, to step in.
"I got to grow up in a situation where drugs were demonic. To watch your dad go through heroin withdrawl is something that would keep you from doing any of that yourself…"

Due to union regulations, young Shia needed to have a legal guardian on the set [of "Even Stevens"] with him. And since his mother was working, he offered his dad the job!

"I didn't have a relationship with him beforehand," Shia has said. "After the heroin thing, he went into the Veteran's Administration hospital to kick [his habit], and he was out of my life until Even Stevens. He needed a job, so this was his occupation. 'He Dad, come be a dad again – here's $800 a week.' That's how it started. After that, we created a relationship."
[From Star Magazine print edition, March 7, 2007]
The article goes on to say that his dad is his biggest fan and that they maintain a good relationship to this day.
Shia has faced trouble with the law since receiving his big break, though. In February, 2005 he was charged with assault with a deadly weapon after deliberating ramming his car into a neighbor's vehicle and then threatening him with a knife:
[Shia LaBeouf] allegedly plowed his car into a neighbor's vehicle and then reportedly went after the guy with a knife.

The young actor was hauled off in handcuffs and charged with assault with a deadly weapon.

"Shia was a raving maniac," a witness told The Enquirer. "First he rammed his car into a neighbor's car, and then he went to the guy's door with a large kitchen knife and threatened to stab him.

"He shouted at the neighbor: 'What are you going to do now? You think you're so tough!'"
[From National Enquirer print edition, May 7, 2007]
The neighbor got the knife away from Shia and pinned him down until the cops came. The charges were eventually dropped.
I don't know much about this actor but it seems we're about to see a lot more of him. He will play Harrison Ford's costar in the upcoming Indiana Jones film, which starts shooting this summer.
Here are stills of Shia in Disturbia. Thanks to AllMoviePhoto for these pictures.