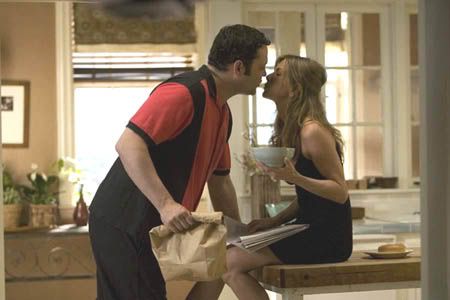 Star Magazine has Jennifer Aniston and Vince Vaughn secretly seeing each other for months after they split while The National Enquirer says they only hung out one night for a few hours and then met up the next morning. Star reports that same incident as a sleepover, though, so their source is probably a different paparazzo.
Here's The Enquirer's take:
After a four-month split, Vince Vaughn and Jennifer Aniston are again spending quality time together.

The "Wedding Crashers" star arrived around 8:15 p.m. at Jennifer's Beverly Hills home on April 21 and stayed for more than two hours.

He showed up again the next morning and spent the day at her house.
[From The National Enquirer print edition, May 7, 2007]
The Enquirer goes on to tell the story about how Jen and Vince were both together at her birthday party in Februrary while Jen showed up at Vince's birthday party in late March. They also have a supposed insider quote that "Jen's always been like a magnet to Vince. He was always pushing for marriage when they were together."
They go on to characterize their breakup as a "small break" to test their feelings for each other.
Star says they've been sneaking around dating this entire time, though, and turns that two hour evening into a night of steamy passion:
Star has learned that [Jen and Vince] are more than friends – they've been having secret trysts for several months!

On April 21, Vince was spotted driving up to Jennifer's Los Angeles house, and he didn't leave until the next day, according to Star's eyewitness…

Another friend tells Star that these secret get-togethers date back to December, soon after the couple announced their split, but Jen, 38 and Vince, 27, have been careful to keep their recycled love quiet…

"Jen's the resistent one," confirms a friend. "She's let Vince back into her life, but only to a point – it's obvious she's going out with other guys as well, which drives him crazy." It was Vince who wanted to take a step back from Jennifer last fall, "but things didn't turn out as he expected," the source says, "Vince thought he could just move on, but he hasn't. He said that he 'really took [his] eye off the ball with her.'"
[From Star Magazine print edition, May 7, 2007]
So The Enquirer has Jen and Vince hanging out for a few hours and testing the waters, with Vince the one pushing for marriage. Star has them sleeping together and seeing each other in secret for months, with Vince taking a step back.
I think the only thing known is that Vince and Jen hung out April 21st at her place, probably for just a few hours, and then again the next day. All the other details are made up, but I would bet that something is going on there. Vince doesn't seem like the type that would pass up a free refill.
All pictures are from The Breakup because it's pretty hard to find candids of these two together. [via]