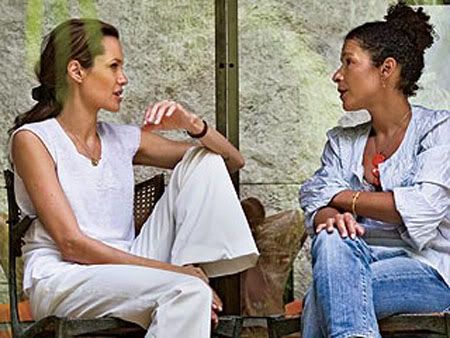 In the new issue of Glamour, Angelina Jolie and Marianne Pearl speak candidly about how they became friends. After reading an interview with then single-mom Jolie, Pearl sent her a note asking her if she would like to have a playdate for their two boys, aged three at the time. Angelina says she was tentative about it, as she hates talking on the phone, but that she took Pearl up on her offer and they became fast friends.
Brad Pitt approached Pearl about making a film based on her book about her fallen journalist husband, Daniel Pearl, "A Mighty Heart." Pitt wasn't Jolie's boyfriend at that point, and Pearl says it was an easy decision to go with Pitt's production company as he was the only one who had pitched the idea and had actually read her book.
Jolie is playing Marianne Pearl's role in the film amidst controversy over the fact that Jolie's skin was darkened to more closely resemble Pearl, a light-skinned woman of color. Portraying Pearl on the day she learned that her husband was murdered by kidnappers was "the hardest thing I've ever done," Jolie says:
Mariane Pearl: "One day a few years ago, I was alone in New York with Adam, still having a rough time [after Danny's death]. I read an interview with Angie in a magazine, about her and Maddox and her life as a single mom. And I thought, this woman could be my friend…. I'd never experienced anything like that before in my life. It was something in her tone, in the answers that she gave. I felt also that Maddox and Adam [then both about three] could be good friends. So I sent her a note saying, do you want to have a playdate?"

Angelina Jolie: "And I, on the other side of it, had been aware of you through the time that everything went down. I remember being amazed by your courage and your grace…And when I got the note, I was thrilled. Later I realized that Mariane and I are the two worst people to plan a playdate in the history of playdates."

Glamour: Why?

Angelina: "Because she hates the phone as much as I do. So it almost didn't happen! But when it finally did, I remember being really nervous, thinking, she's such an intelligent European woman—what are we going to do together? So we went to this serious, European, existential play—it seemed like the right thing [and it was supposed to be OK for kids]. But Adam and Mad got antsy, and finally halfway through, to each other's relief, we were both like, do you want to get out of here? And we ran out and went back to Mariane's place…"

Mariane: "We cooked pasta; it was actually good. And then we started talking about changing the world…"

Angelina: "…and about all the things we were passionate about. Her instincts were right—we did have so much in common. And all the kids are great friends now. Zahara is madly in love with Adam."

Glamour: And was the movie a thought for either of you at that point?

Mariane: "…I had met with Brad separately about the movie, [but] he wasn't connected at all with Angie at that time. To be honest, I wasn't even sure I wanted to do a movie…Everybody was using terrorism for their own political agenda at that time, and really, this is a story about Danny. But when I met Brad –well, out of all the studios, he was the only one who had actually read the book!"…

Glamour: So Angelina, here you are, knowing Mariane, being friends with her—and then you take on this role. That must add a layer that doesn't usually exist for an actress.

Angelina: "Yeah, and it's horrible. I was so nervous! I mean, it's like you're in a roomful of your closest friends and somebody says, "Why don't you get up and imitate the friend to your left?" Nobody would want to do that, ever!….I had to express the worst time in her life and [in the scene where Mariane is told of Danny's death] the moment when she received the worst information of her life. It became the worst acting day of my life — and really, the hardest thing I've ever done."
[From US Magazine]
Angelina fainted three times in three days on the set of a A Mighty Heart in Pune, India. On the day she was working on that fateful scene where Pearl learns that her husband has been killed by terrorists, Angelina "literally collapsed."
Marianne Pearl has a "global diary" available on Glamour's website, which details her experiences with pioneering women who are affecting change throughout the world. I would love to see Angelina take a similar approach and start a blog about her charity work.
A Mighty Heart is out in theatres on Jun 22, 2007, and will premiere at Cannes in May.
Header picture from Glamour.com. Inset pictures from Gawker.