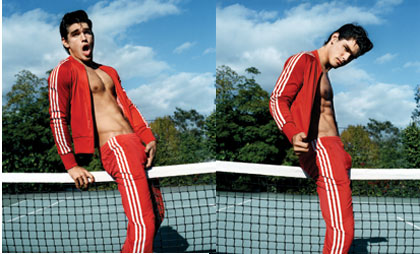 Miley Cyrus's public image is still smarting from her racist photo scandal, her subsequent non-apology, and then finally, her real apology. You'd think that coming out of the firestorm, she and everyone around her would be on their best behavior for a few months to let the media cycle run its course. Unfortunately, the people around her are morons.
Miley's 20-year-old boyfriend, Justin Gaston, is the cover boy for the magazine VMAN. In the photos, Justin is seen grabbing his rather large, bulging crotch in a crude way. But no fear! He's still a "Christian"! We know this because Justin quotes from the Bible in the interview. Radar Online has the exclusive:
Miley Cyrus may be the bigger name in the relationship, but her model boyfriend Justin Gaston is hot on her heels. A source gives RadarOnline.com some exclusive details behind his racy spread for VMAN magazine.

"It took place in mid-December in Los Angeles and Justin was very personable and free of handlers." says the source. "He was clever, funny, had lots of energy and was up for anything!"

In the photos, Gaston- in a retro, red track suit- straddles a tennis net and playfully grabs his, well, bulging nether region. Shot by photographer Doug Inglish, Gaston was apparently a "real pleasure to shoot" and was simply "lovely" to work with.

As for the theme behind the edgy pictorial, the source says "[Justin] reminded us of 90′s gorgeous Versace-type models so that is how we decided to treat the shoot with Doug's certain spontaneity and easiness."

In the interview, Gaston opens up about being Miley's man. "I look up to her," Gaston revealed. "It's nice to have someone there who already knows what's going on. It helps you plan your next steps."

In fact, Cyrus was at his side during his spin in the spotlight, even chiming in during the interview to add a quote from the Bible. The source adds: "The interview took place on New Year's Eve while Justin and Miley were in Nashville."

Read the whole interview in the magazine's Spring 2009 issue which hits stands later this week.
From Radar Online
To be fair to Justin and Miley, this photo shoot happened before the racist photo scandal. And yet, I still think it's a bad idea, but maybe not Miley's bad idea. I get the argument that she's a naive, bratty, self-absorbed 16-year-old, and how was she to know, blah, blah, blah. It's totally possible that Justin is using her to establish some sort of half-assed "career". But the people around Miley should be vetting this stuff. Justin looks like a track-suit-wearing pseudo-pimp, and Miley looks niave and used for being with him.
Here's Justin out with Miley and her family on 1/4/09, out with Miley on 1/21/09 and on the runway for Christian Audiger on 2/18/09. Header image via RadarOnline. Other photos credit: WENN