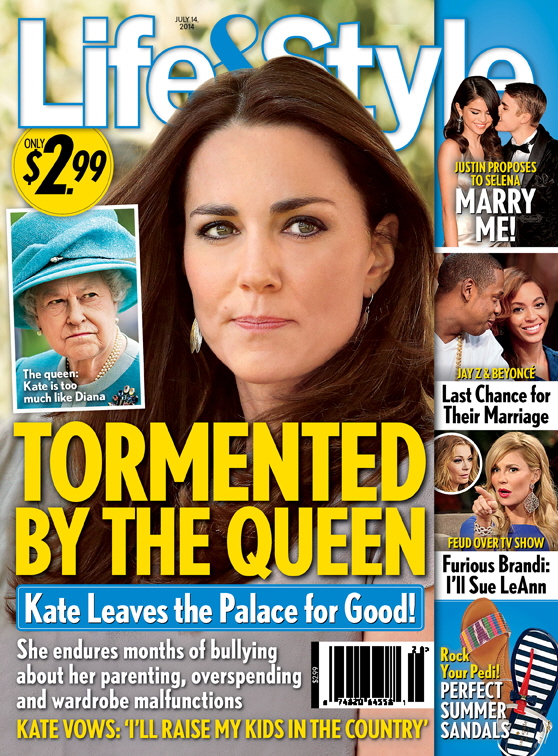 This might be the best Life & Style cover ever!! Duchess Kate – TORMENTED by the Queen. Why is Queen Elizabeth tormenting poor Kate? Well, for all of the reasons that we've already covered time and time again. The bum-flashing, the inappropriate clothes, the endless shopping, the expensive (and at times unnecessary) renovations. The only thing that would make this story better is if the Queen also had some thoughts about Kate's hair-twirling. As is, the Queen thinks Kate is too flashy and too petulant. Off with her head!
Since tying the knot with Prince William in 2011, Kate Middleton has been criticized by Queen Elizabeth II for her high profile wardrobe malfunctions and even parenting methods.

Now sources tell Life & Style the queen is coming down hard on Kate for her "excessive overspending" on renovations to their 10-bedroom Anmer Hall house in Norfolk, England, which the Duchess of Cambridge plans to turn into her family home.

"The queen is famously careful about not being flashy," a source tells Life & Style. But thanks to Kate — and a $2.5 million overhaul — the estate now boasts new roof tiles, $800,000 in fresh landscaping and a sitting room. The duchess also shopped around for new fireplaces and William's grandma isn't happy.

"She's shocked about Kate's overspending. She thinks it doesn't make Kate or the royals look good to be splashing out millions on redecoration."

Kensington Palace — where William and Kate have been assigned a four-story flat — can feel like a fishbowl, with much of it open to the London public. So, against the queen's wishes, Kate's moving her family to the countryside estate, which is two-and-a-half hours away from Buckingham Palace — and the royal family.

"The queen feels it's important for William, Kate and [Prince] George to be based in London. But Kate is completely going against her wishes," adds the source. "It really gives them a lot of privacy," royal expert Yvonne York tells Life & Style.
If William does end up taking that royal ambulance job, he and Kate will probably be moving to Anmer Hall for a while, which means all of those Kensington Palace renovations were rushed for no good reason, and there was no need for that second kitchen because no one will be at KP but staffers. And I could totally see the Queen being legitimately mad about it. Plus the bum-flashing and too-short skirts. Kate's been with the Firm for more than three years, there's no reason for her to keep getting it so wrong.
PS… Please look at this close-up of Kate's makeup job. That eyeliner is so sloppy!! Good God.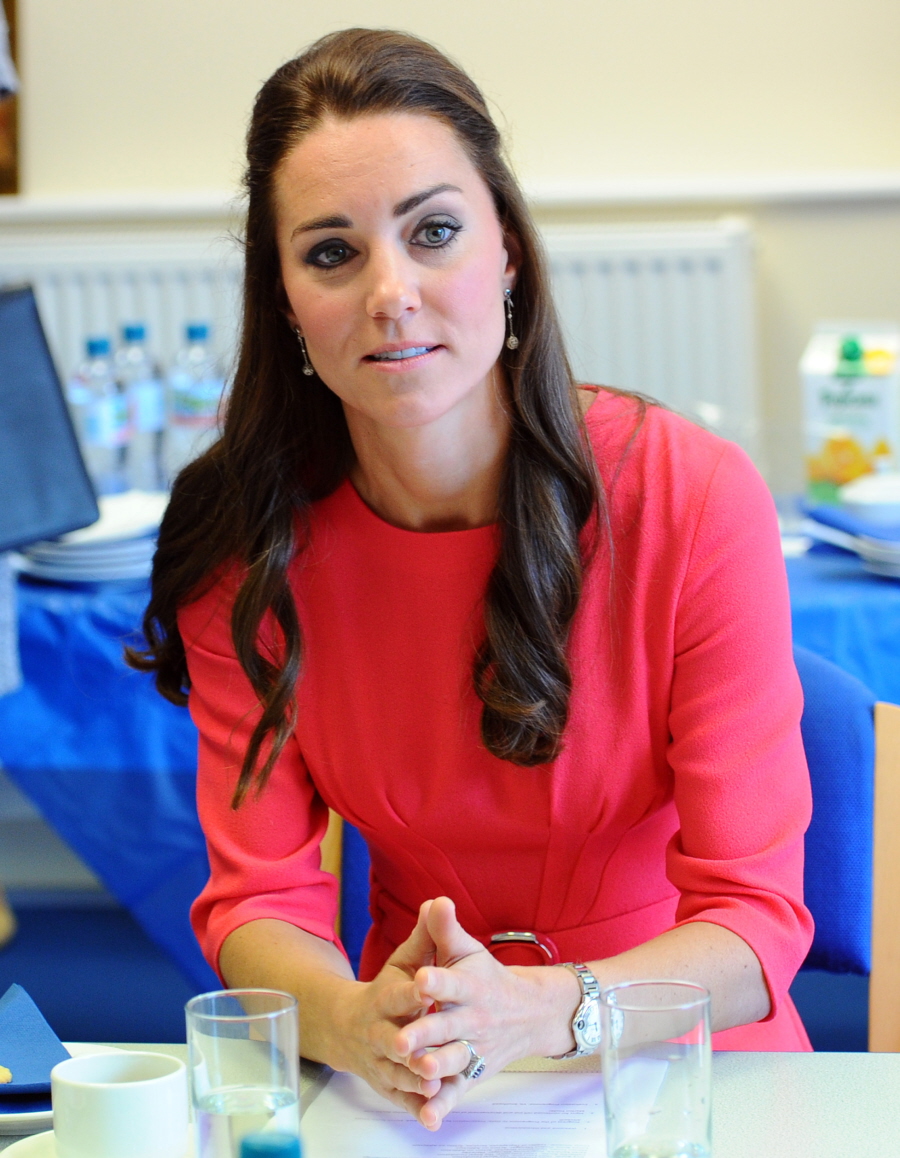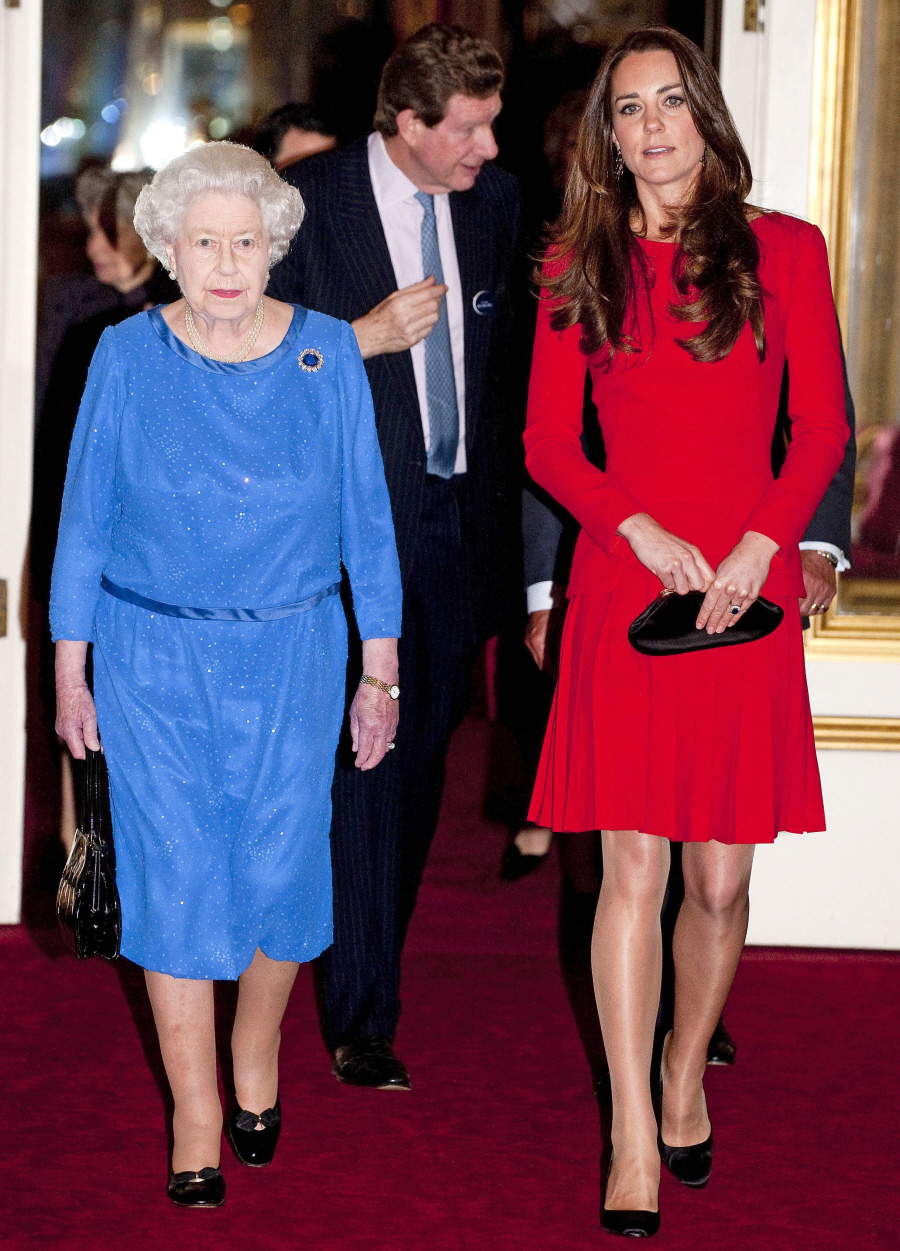 Photos courtesy of WENN.