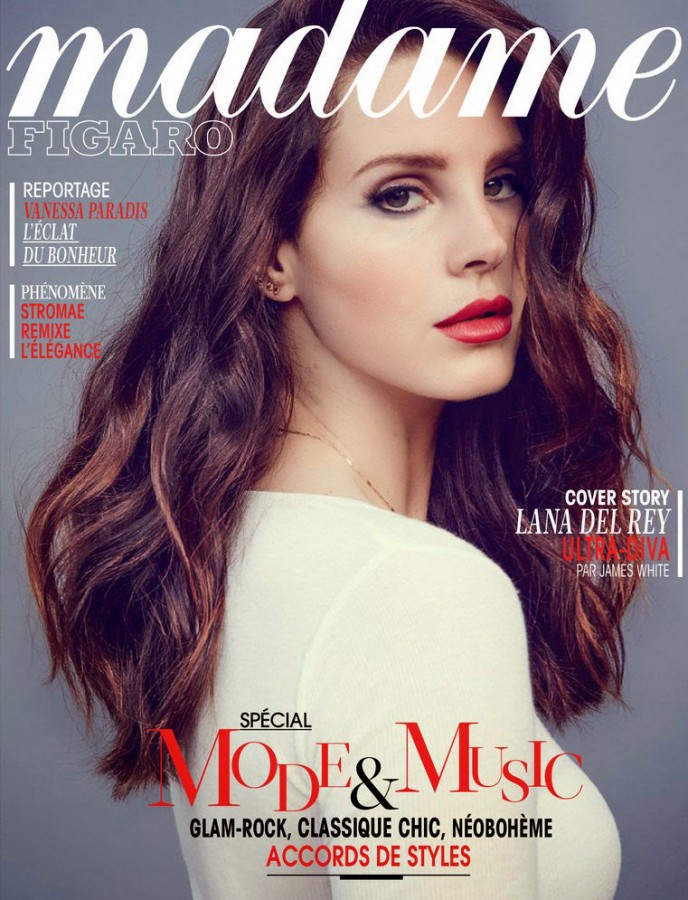 Lana Del Rey covers the August issue of Madame Figaro. She looks beautiful and is styled very well. Much better than the fur and snakeskin-covered shoot from her last Madame Figaro appearance (when she talked about wanting to be the next Angelina Jolie). Lana is still promoting Ultraviolence, which hit #1 on the Billboard chart last week. Lana sold 182,000 records straight off the bat. Is that surprising? Those aren't Beyonce numbers, but it's more than I expected (and much better than Robin Thicke's Paula. Lana scored her first #1 record. Will that make her any less apathetic and depressed than she's shown herself to be during recent promotion? These excerpts say "no way":
Is image more important than music? "With the first record, I didn't have the feeling that I interested people musically. The project was dictated thus more by the images. This time, I hope that the public won't focus on appearances. I felt controlled by the blurred perception that people had of me, but I don't feel dependent from it now.

Her voice is less "fragile" now? "I feel like a warrior. A tired warrior, but a warrior. The difference was that I was singing live, in the same room as the band, and recording everything in a single take. It sounded more natural. We kept numerous imperfections. I worked with the same team, began to produce in Electric Lady Studios, in New York. Then I went to Nashville during six weeks to restructure the songs."

Is she more prepared for the public now? "Being rather a solitary kind of person, I don't feel more prepared, but at least I'm fighting. The last three years were very hard, they changed me. Even writing became difficult to me, because I was too much surrouded. When everything around you works as the same speed as you and bores you, suddenly the energy of a meeting an unknown can be rather powerful to give you back the desire and the idea of a melody. These moments became rare, I don't live that many fantastic experiences. For that, I need to take my old car, drive to the beach, and wait."

The album title: "I try to remain reasonable and healthy, but, inside, I carry many contradictions. I have peaceful moments and a great deal of torments. It is tempestuous. As I adore the color of the words, I chose Ultraviolence as a title for the sound that it creates under the tongue, but also for the juxtaposition of a luxurious tone with the hardness of 'violence.' It pleases me."

More talk of death: "I care a lot about my songs. When I was in Nashville, I rented a farm and, every day, I sat down for hours and listened to the band. I was in my place. When it's over, I feel empty and I wait for new signs. I've always looked for signs in everything. I think ceaselessly of death, the concept of mortality is a vagueness that is constantly threatening. I find it to be heavy, crushing, really. What is the purpose? And what if there's nothing after? I believe in a power bigger than us, who can guide us and help us to find the answers. But it is difficult to perceive it when you are constantly in movement."

Is she happy? "Not really. It is difficult to be happy, I always feel a kind of malaise, and I'm stuck, always expecting something. I am a little disorientated. When I finish something, I am very annoyed."
[From Madame Figaro]
This interview mixes the self-important vibes that Lana projected when talking about her last album with the more morose mood she's been sporting for the Ultraviolence discussions. She feels like a "warrior"? Lana really lets criticism and internet chatter upset her. I guess on a large scale, that's understandable. Maybe if she sticks with the music biz for a few more albums, it will bother her less in time.
Lana does have a new man in her life. She's been spotted vacationing with Francesco Carrozzini, an Italian photog. The Mail has photos of them laughing and smooching. Lana only recently announced her split from fiancé Barrie-James O'Neill. Barrie doesn't think that his breakup with Lana is for real. he just told TMZ that it was all for publicity: "That's just papers man, she's got an album." Man … poor Barrie.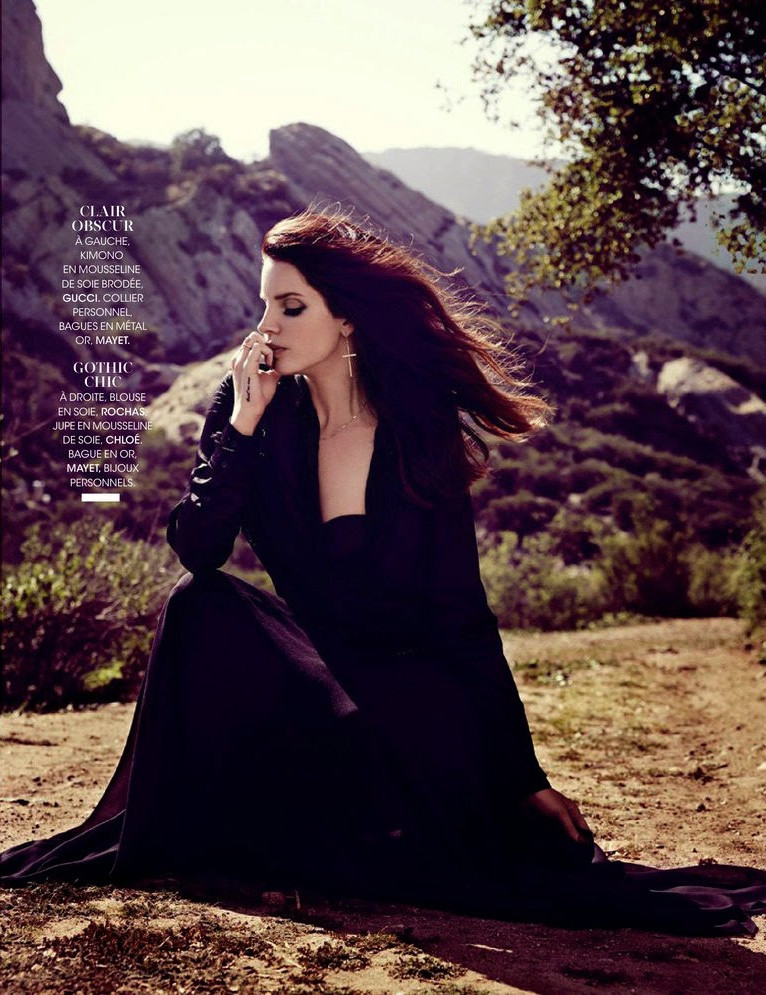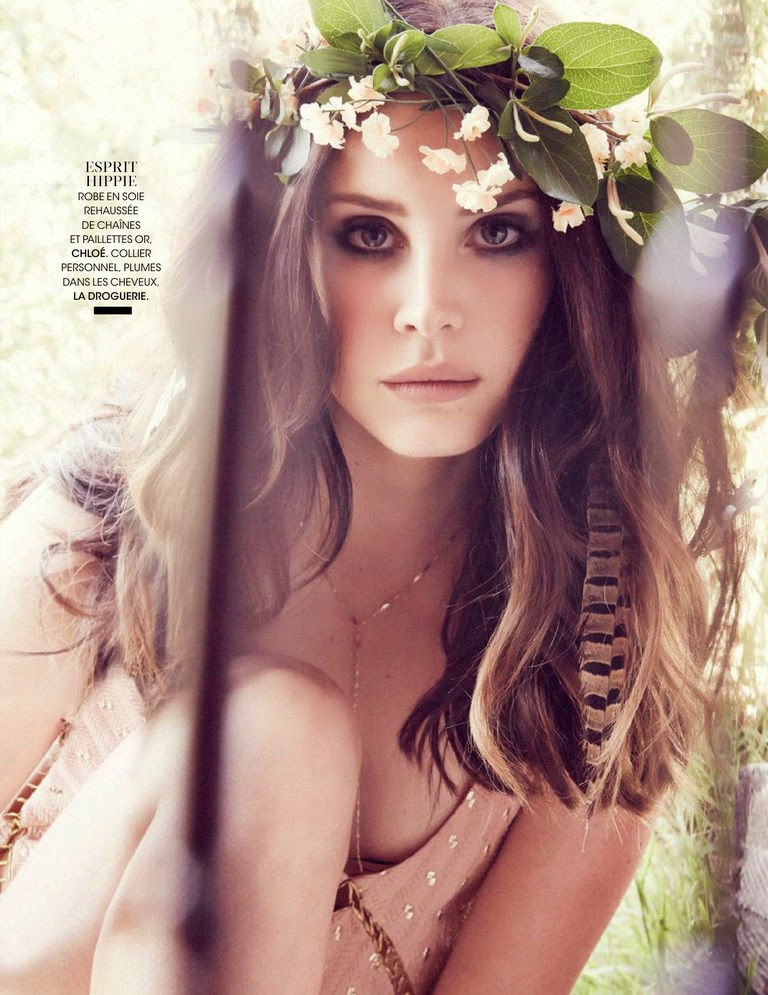 Photos courtesy of Madame Figaro