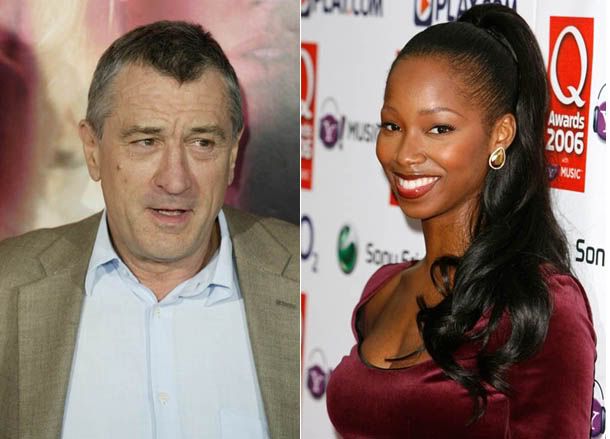 Robert De Niro, 63, tried to "chat up" 26 year-old British chart topper Jamelia, but she wasn't having it. The hot songstress, sometimes called the "British Beyonce," said his lines were tired and she's dating someone else:
When we bumped into her at the Sony Radio Awards at Mayfair's Grosvenor Hotel on Monday night, she said De Niro had tried it on when she sang at a private party for a French Connection boss.

"I'd heard he's got a thing for black women, but I thought it was just a rumour," she told us.

"So I was amazed when he told organisers at this party that he wasn't leaving 'til he met me.

"At the end of the night we were finally introduced, but he was so full on, straight away – talking about how I was a delicious chocolate thing.

"Then he started to churn out more chat-up lines, like, 'Don't you want to be my leading lady?' And, 'Come on, I'm not leaving here until you agree to let me take you out'."

But Jamelia, who is dating Millwall footballer Darren Byfield, wasn't having any of it.

"He was very persistent, but I had to put a stop to it," she added. "I could see where he was going. I was flattered but I told him in no uncertain terms that it was not going to happen. I said I had a boyfriend and that he would go mad. I'm not like that.

"He's a nice guy, though, and said he'd like to see me again, so has invited me to a party in Cannes."
Jamelia shouldn't diss De Niro so openly. She's trying to break into acting and will appear in an upcoming film about an all-girls' school, St. Trinian's, with Rupert Everett.
The Sun quoted Jamelia complaining three years ago about how guys never hit on her, and imploring readers to give her a try:
"I never get chatted up.

"I think it's because people feel I'm famous, but I don't think like that at all.

"I really hate the fact that no one ever chats me up.

"So, if anyone reading this sees me out and about, please, please come over and talk to me"
[From The Sun print edition, March 16, 2004 via Shalitglobal.com]
Maybe De Niro's information was old, because she certainly seemed open to cheesy pick up lines then.
Jamelia is shown in a tan dress at the Spiderman 3 premiere in London on 4/23/2007. She is also shown performing at G-A-Y nightclub on 3/17. Header image of De Niro is from The Godsend movie premiere on 4/22/2004. Thanks to Photorazzi for these pictures.