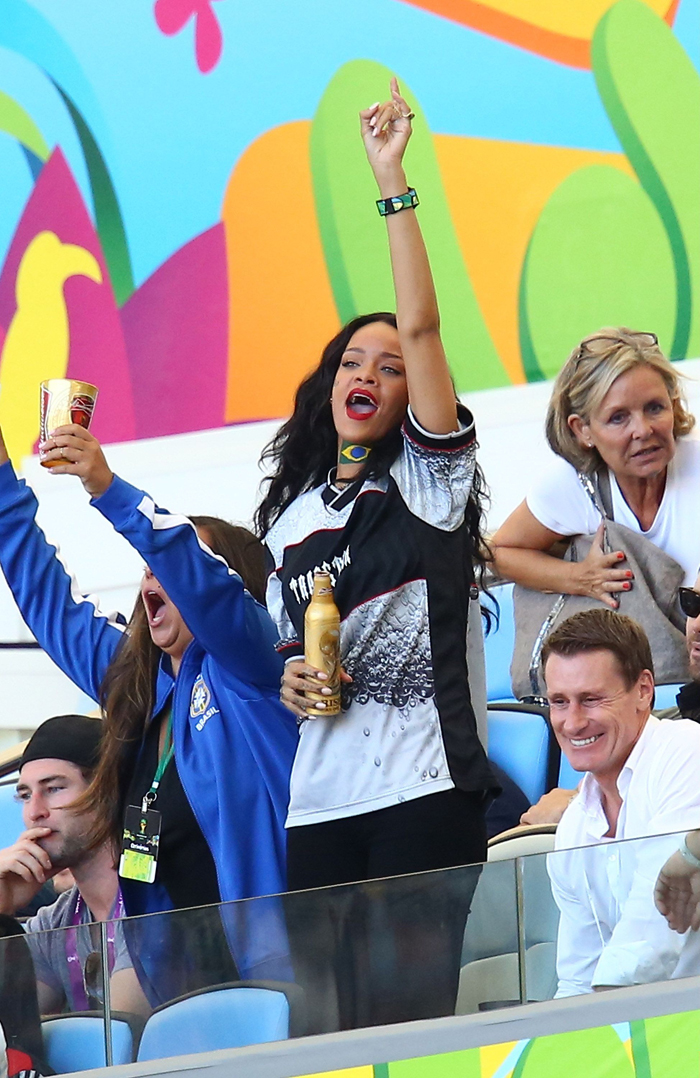 By now, you must be aware that Germany won the World Cup on Sunday. I'm not going to pretend to know much about the games. CB caught World Cup fever, and Kaiser found a new boyfriend in Team USA goalkeeper Tim Howard. I tried to stream one of the big USA games (on delay) and got spoiled by Twitter and kind of gave up watching. I did notice Rihanna's constant trolling of the games. She also attended the final in Brazil and had a blast supporting Team Germany.
Rihanna went crazy in the stands, whooping and hollering. I don't know if Rih was a fan of the sport before this World Cup, but she sure got into the groove for each game on Twitter. Germany won of course. Several of the players celebrated on the field and in the stands with Rihanna. She tweeted this photo of herself clutching the cup while being smooched by both Lukas Podolski and Bastian Schweinsteiger.
Podolski x RiRi x Shweinsteiger pic.twitter.com/Sq0HDFDcaB

— Rihanna (@rihanna) July 14, 2014
Podolski and Schweinsteiger didn't just kiss Rihanna. They pretended like they were going to kiss each other too (you can see the video here.)
The Mail is stirring the pot by pointing out that it's against FIFA rules for anyone to touch the cup — unless they're a member of a winning team, a head of state, or a select FIFA rep. The players did bring the cup to Rihanna, or so she says.
They brought me the cup!!! I love these guys!!! Congratulations!!!! pic.twitter.com/6K9sr56uHt

— Rihanna (@rihanna) July 14, 2014
The players were thrilled to celebrate with Rihanna. Mesut Ozil even gave her the shirt off his back. She was pumped.
) pic.twitter.com/3TFbsiB5rC

— Rihanna (@rihanna) July 13, 2014
Is it rude of Rihanna to put her fingers all over the cup? I see a winning team and a pop star caught up in a great deal of excitement. Rihanna didn't plot to get her hands on the cup. It just happened. I could be wrong though. Is touching the cup controversial or disrespectful of Rihanna?
I touched the cup, held the cup, kissed the cup, took a selfie wit the cup!!! I meeeaan…… what is YO bucket list looking like bruh?

— Rihanna (@rihanna) July 14, 2014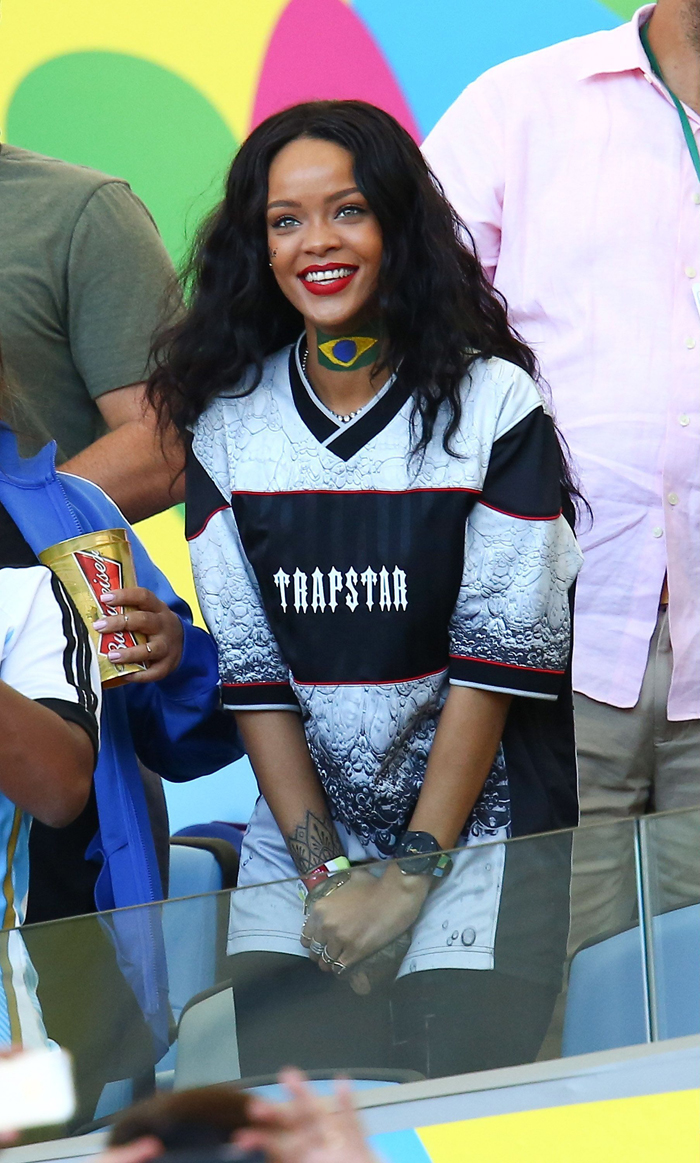 Photos courtesy of WENN