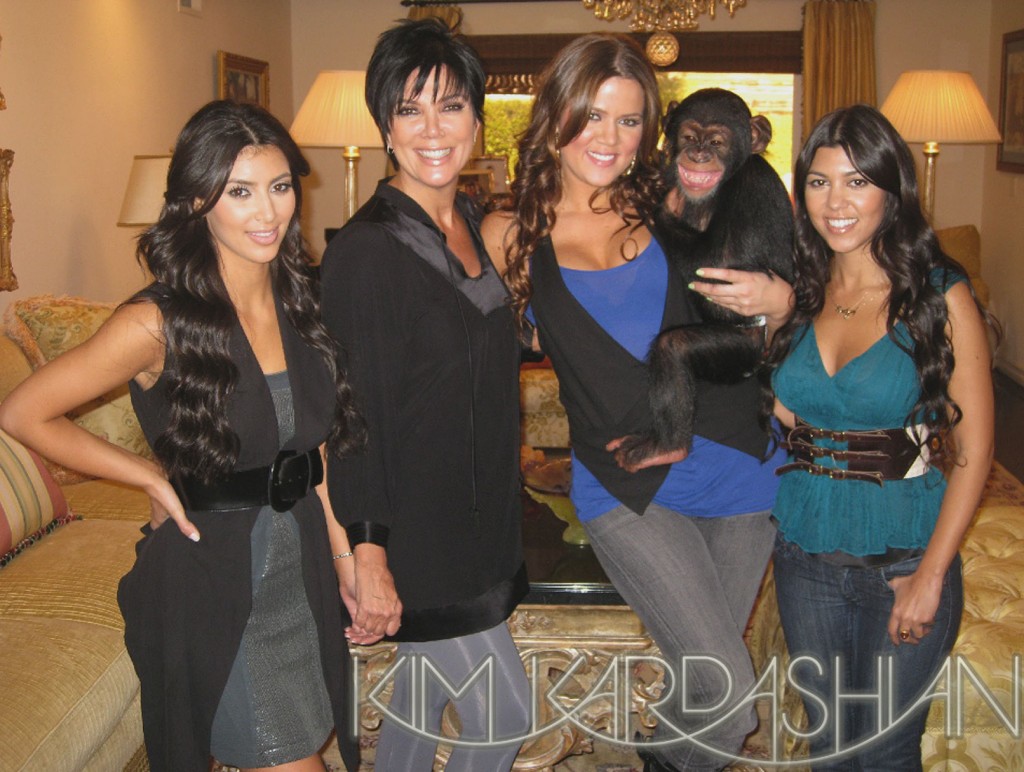 Kim Kardashian and her family have made the incredibly stupid and careless decision to adopt a three year old chimpanzee. This is especially obnoxious in light of the high profile case last week of a pet chimpanzee needing to be put down by police in Connecticut after it seriously mauled a woman who was a friend of the owner. It will surely get her family plenty of attention for their reality show, though, and isn't that more important than setting a bad example for other stupid people who might want to adopt a chimp?
As you guys know season three of Keeping Up with the Kardashians is close to airing and we have some crazy surprises.

One of them is…

WE GOT A MONKEY!!!!

Her name is Suzy, she is three years old, and she is a handful!

She steals our BlackBerrys and climbs up my mom's bed.

Having a monkey is a lot of work. Suzy always has her diaper on and we are the ones who have to change it!

It's just like having an infant but worse because Suzy runs around like a teenager! She always needs to be fed, drinks out of a bottle and she loves Capri Sun juices!

You have to check out the new season to get all of the details… but how cute is she!?
[From Kim Kardashian's Blog]
The comments on Kim's site are overwhelmingly negative. People point out that a chimp is an ape, not a monkey, and that she has "no business raising" one especially if she can't tell the difference between them. This sounds like a stunt to drum up interest in the family's reality show, and it's an irresponsible one to say the least.
I saw a segment on CNN about the issue of chimpanzee adoption by humans. They interviewed the head of Save The Chimps which is "the largest sanctuary for rescued chimpanzees in the world." Jen Feuerstein said that she doesn't allow humans much contact with the chimps in her care and strives to keep their environment close to the wild. She warned against adoption of chimps. "There's no question that a baby chimp is adorable… but when grown, they are seven times stronger than an adult human and capable of causing some very serious harm."
CNN also spoke to the head of the Humane Society, Wayne Pacelle, who said "these animals are ticking time bombs." While Pacelle wasn't directly addressing the asinine Kardashians, he had some harsh words for people who adopt chimpanzees:
"If the owners are stupid enough to allow this animal into their home, they shouldn't be allowed to jeopardize the rest of the community."
Except in Kim's case she's not just jeopardizing her community, she's setting a terrible example to all the fans who watch her show. As hard as it is to believe, people emulate her and this isn't just a pair of $700 shoes. Chimps are wild animals, not pets, and not only is it unsafe to have them around your family it's also unfair to the animal. What an irresponsible, thoughtless stunt that is. That entire family is full of fame-hungry dimwits.
Photos from Kim Kardashian's website.