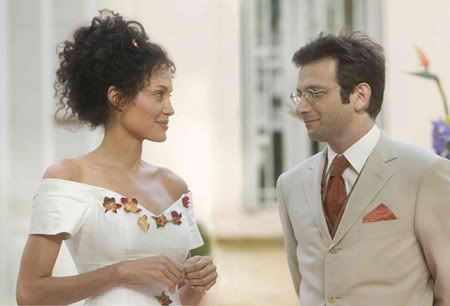 Here's the trailer for A Mighty Heart, the movie starring Angelina Jolie as Marianne Pearl, wife of murdered South Asia bureau chief for the Wall Street Journal, Daniel Pearl.
A lof of controversy has been made regarding Angelina playing this role, as Marianne Pearl is of mixed race and people thought a mixed race actress should have been picked to play the role. I've seen the trailer, and I'm not usually an Angelina fan personally, but she looks rather good in the clip below.
Jennifer Aniston was rumoured to have wanted the part while she was still married to Brad Pitt, but I think the right decision was made when they chose Angelina for this project.
Picture note by Celebitchy: Here are some stills from the film from AllMoviePhoto. One was also e-mailed to me from the PR company for the film, along with the movie poster, which looks rather amateurish. Maybe that's what they were going for. There are some more pictures on the official website. (site has automatic music)