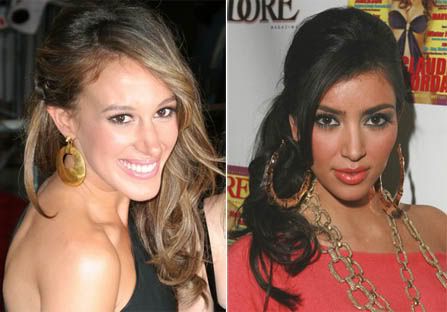 Haylie Duff and Kim Kardashian have joined the list of (C-list) celebrities who are using MySpace to have a war of words with each other.
The story goes like this: Haylie wanted to bury the hatchet with Kim over some feud they had going on and asked Kim whether she wanted to hang out with her. Kim agreed, said she was cool with chilling out with Haylie, and added that Paris is a lesbian. Haylie agreed that Paris was doing some muckraking (but refused to be dragged into it herself) and tried to get Kim to agree to hang with her. Kim then went all snotty and called Hayley a slut and a horse. Haylie got mad and called Kim a bitch. Then they had a catfight outside of Parc, pulling out their hair extensions and scratching their eyes out with their fake nails, while Paris watched in the background and laughed like Mutley out of the Wacky Racers (OK, I admit I added that last sentence).
Here are the screen shots from Haylie's MySpace Blog. She seems to have posted screenshots of their myspace mail from her Mac computer, and added the comment "Stuff like this REALLY PISSES ME OFF. I try to reach out and be nice and instead it just gets shoved back in my face. This is why you should never move to Hollywood, the place is full of arrogant, immature, and offensive bitches who can't hold their liquor and can't keep their legs closed."
Here are screenshots of her blog post in reverse order so you can follow the messages. The first three are the individual messages and the last one is a screenshot of the entire page: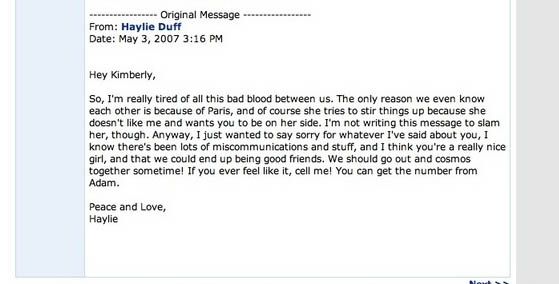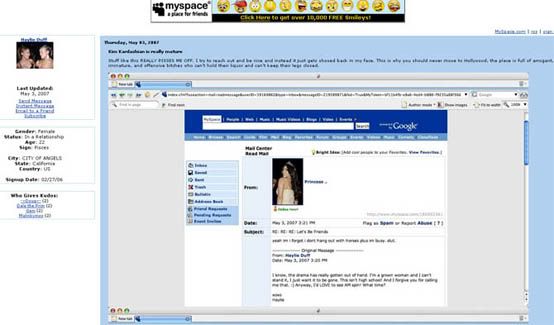 If this is authentic (a lot of MySpace celebrity accounts are created by other people or are just hacked into), then poor Haylie. All she did was try to be nice to Kim, and Kim dissed her for no reason. I hope Hayley isn't smarting too much about the rejection — it's not like Kim is known for doing anything other than making a nasty sex tape and being Paris's BFF.
I hate to admit it, but I have a MySpace account that I am absolutely addicted to. I use it to keep in touch with my family and friends. However, I do not use it to publicly bitch out my frenemies. I find it's far more effective to scribble nasty things about them on the bathroom wall before gym period.
Update by Celebitchy: The account "KimsaPrincess" that supposedly sent those messages is Kim Kardashian's official myspace, and has been for some time. It could be a poser as Haylie, but I think this is legitimate as it's a supposedly official myspace page for her. (Site has automatic music) We'll have to see. I would bet she removes this post and issues a statement once it's morning on the west coast.
Thanks to Cindy for e-mailing me this. Jessie picked it up on her own though.