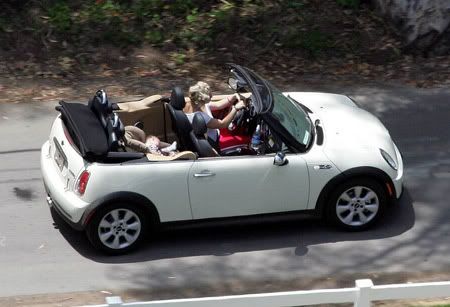 Britney Spears' record label says she didn't break the law by having her son in a forward-facing childseat:
In a statement, Sony BMG said state law required that "all children under the age of six or weighing less than 60lbs be in safety seats in the back seat of the car".
It added rear-facing car seats were compulsory neither in California nor many other parts of the US.
"In fact, there are only 10 [states] that require a child to be in a rear-facing car seat, and in two of those states it is not required if the infant is more than 20 lbs. Britney's son Sean weighs over 20 lbs."
It looks like she got off on a technicality. This wasn't as much as a snafu as driving with Sean in her lap, but it still makes her seem like a neglectful mother.
Britney is working on a new album and has hired R&B producer Jonathan 'JR' Rotem, who produced Rhianna's hit "SOS." Rotem has said that Britney will have a song about the paparrazi on her new album, and he reveals how difficult it is for Britney and K-Fed to deal with:
"She wrote a song with me that's kind of introspective about how people and the paparazzi are constantly following her around," reports the latest "It" megaproducer, J.R. Rotem, who's been in the studio almost daily with Spears, who is expecting her second child.
Just as an innocent bystander, Rotem says the media frenzy that follows Spears "is annoying.
Their life is crazy. I'm also working with K-Fed, her husband, quite a bit on some hip hop stuff, and literally every time he comes over, he's followed by like five to eight paparazzi trucks. They just camp out in front of my place while we work and try to take pictures of anything. They cannot go anywhere without being followed. It's amazing and very aggravating."
Being followed everywhere seems to be the price of extreme fame and wealth. If Britney and K-Fed would lay low for a little while, they might get some peace.