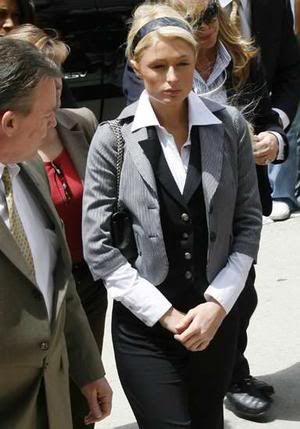 Paris Hilton showed up ten minutes late to a hearing in which the judge sentenced her to an incredible 45 days in jail for violating the terms of her DUI probation by driving twice with a suspended license. Paris was crying, her mom brazenly asked the lead prosecutor for his autograph afterwards, telling him that it was "pathetic," and her lawyer called it "outrageous."
The judge told Paris' talking head, Elliott Mintz, that his testimony was "worthless," and it seems that all the circus surrounding Paris coupled with her extreme celebrity helped prompt the harsh sentence.
Before the judge announced the sentence, Paris realized that the hearing didn't go well and it wasn't going to be easy for her. She struggled to hold back tears and said "I'm very sorry and from now on I'm going to pay complete attention to everything. I'm sorry and I did not do it on purpose all."
Paris' crime, just barely a DUI
Paris was pulled over in early September, 2007, after she was seen driving "erratically" at 12:30 a.m. in LA. She was given a breathalyzer, and blew a .08, which is the minimum level for DUI in the state of California.
Paris said she had just on margarita, and that she had nothing to eat that day and was tired after spending all day working on a music video.
Paris kept driving on a suspended licence, did not enroll in alcohol education program
The real reason Paris is going to jail is because she was pulled over twice for driving with a suspended license, once on January 15 and again on February 27. Her license was suspended for a full three years after her DUI, and while that suspension was recently lifted, it was still in effect both times she was busted driving. The judge said she was fully aware that she was not permitted to drive, and it seems that's why he made an example of her for violating probation.
Another term of Paris' probation required her to sign up for an alcohol education program by February 12. As of April 17, she had not signed up for one.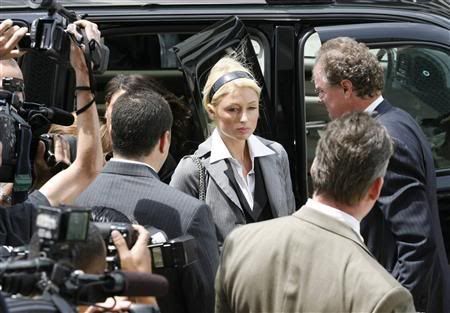 Where Paris will do time
Unlike Martha Stewart, who was able to select where she would do time in exchange for paying room and board, the judge ruled that Paris must do time in the Century Regional Detention Center, which is LA County's women's jail, and cannot buy her way out of it.
She must report for jail on June 5, and if she fails to show up her sentence will be doubled.
What Paris' days in jail will be like
Paris will be segregated from the rest of the prison population for her own safety, and will either have her own 12-by-8 foot cell or one other roommate. The cell where she'll spend 23 hours a day doesn't have a television, and is outfitted with just a sink, toilet, and a 6 inch wide window. There is one mirror made of polished metal.
Paris will only be allowed one hour of freedom outside her cell a day. In that hour, she'll have to cram in a shower if she wants one and all her telephone and television time. Cell phones and Blackberries are forbidden in prison, and she'll have to make all her calls using a prepaid phone card in the time allotted.
The prison serves three low-sodium meals a day, with dinner being the only hot meal. Hopefully Paris likes chicken because it's the only meat they serve.
Paris will wear a prison jumpsuit that is either white, blue, brown, or orange.
Paris might get out within hours or days
We all talked a lot of smack about this, but I never thought that the twit would have to go to jail. This was her first DUI, and her real crime was continuing to drive in violation of her parole conditions. I think she should have had to do a few days at most, and indeed that may be what happens.
TMZ reports that Michelle Rodriguez was given even more time, a full 60 days, in the same facility. Rodriguez only served four hours in prison for that sentence, although she did spend nearly three days in jail out for an earlier 5 day sentence. Paris should take heart, Michelle Rodriguez claims she loved jail and bragged about how she sang showtunes and made crafts with her fellow inmates. If Paris wants to make friends, she can help the other inmates with their hair and makeup.
I really do feel sorry for her and hope she'll learn some humility in jail without having to cope with bullying or intimidation. No one deserves that. Maybe she'll get a much-needed taste of what it's like to live without having your every frivolous whim met.