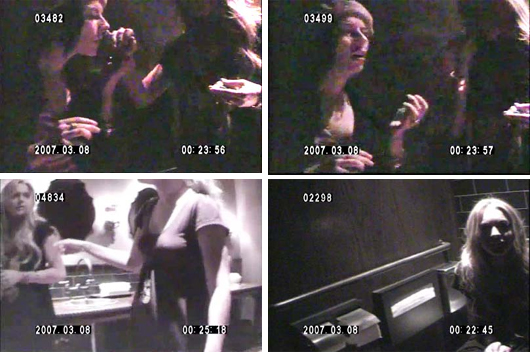 It's like all my tabloid Christmases came at once this weekend. First the Lord heard my prayer on Friday and sent Paris to jail. I must have been an extra good girl as he's thrown me a bonus by having Lindsay Lohan caught on tape getting higher than a kite.
A "friend" of Lindsay's has gone to the press and confirmed to them what we all knew: that she is a drug addicted, sex addicted, attention whore. It's still good to have the photographic evidence, though.
The News of the World reports:
Lindsay's friend says: "Lindsay does not care who sees her do coke and where she does it." And she has not managed to stay off the booze either.

"She carries round a water bottle to try to fool everyone into thinking she is clean but she tips the water out and refills it with vodka and soda."

But she was caught out by a secret film made as she snorted the Class A drug at the exclusive Teddy's nightclub in Hollywood's Roosevelt Hotel.

The video shows her arriving at 11pm and skulking round the toilets before creeping inside a cubicle.

Wedged inside the loo with two friends, Lohan pulls a small bag of white powder from her jeans pocket.

She dips her finger in and shoves the substance up one friend's nose before snorting some up her own.

And this was filmed just 20 days after she proudly emerged from therapy.

Lindsay, who starred with Jamie Lee Curtis in Freaky Friday, booked herself into the £20,000-a-month Wonderland treatment centre in Los Angeles earlier this year saying she wanted to get off booze.

She checked out after a month and was back doing drugs at a Hollywood party within a week.

Her friend said: "That night I saw her do more than 20 big lines of cocaine. She was still up doing drugs at 11am even though she had started about 8pm the night before.

"She wasn't even trying to hide it and was blatantly doing it off table tops, keys, books and in the wardrobe, where she was hunched over with her legs crossed almost bent in half doing it off some magazine on the floor.

"When she is on coke, which is most of the time, all the attention has to be on her.

"I have lost count of the number of times I have watched as she stripped naked in front of everyone.

"Then she loves to check herself out in the mirror as she parades around with her boobs hanging out.

"One night we had gone back to her place and, as always, as soon as she walked through the door she stripped down to her thong, bent down and snorted cocaine off her coffee table and then off her toilet seat."

But Lindsay is not only addicted to booze and drugs, she is also hooked on sex with some of Hollywood's hottest men, says our insider.

"She has told me that she has slept with James Blunt, Jude Law, Calum Best, Joaquin Phoenix, Benicio Del Toro, Jared Leto and James Franco," admitted the friend.

"She loves Brits and has told me she has slept with the singer James Blunt a few times over the past month.

"The last time was on April 15 after another house party. I think they went back to a hotel together afterwards. She is very protective over him and when she heard I had met him she sent me a text saying, 'Stay away from him Bitch, he is mine.'

"Lindsay told me she has messed around with Leonardo DiCaprio a while ago too but claimed that she didn't sleep with him.

"She also flew to New York about two months ago to go to bed with Jude Law.

Last November she slept with Calum Best. She didn't tell me if he was any good but she is usually too wasted to know what is going on anyway."

Lindsay was living it up with old pal Paris Hilton at the Coachella music festival in Palm Springs last week and almost falling out of her dingy grey bra top.

She said: "Going to rehab was all for publicity. She wanted people to see her seeking help but it hasn't got her off the drugs at all.

"In an average night Lindsay will do two and half grams of coke on her own.

"She doesn't buy it—she is given it by friends and acquaintances, and it turns her into an angry monster. I have watched many a time Lindsay treating her staff like cr*p."
Before I go on, I just wanted to ask: James Freaking Blunt? What kind of mojo is that man carrying? And what kind of girl would want to sleep with Paris Hilton's sloppy seconds?
Back to the subject at hand: Reading this article reminds me of that bit in the movie Cruel Intentions, where Sarah Michelle Gellar's character Katherine gets caught out after they read Sebastian's diary and make her empty her shallow crucifix to find her secret stash of coke. On one hand, I want to shout "Ha-Ha!" like Nelson Muntz, and on the other I feel sorry for her because this means her life as she knows it is officially OVER.
Had Lindsay actually shown genuine contrition (like Paris should have done), she might be spared the embarassment of being ousted out of the Hollywood A-list on her ear. As she only went to rehab because she was forced and then continued showing no remorse for her actions, she is going to find it incredibly hard to get anyone to take her seriously now.