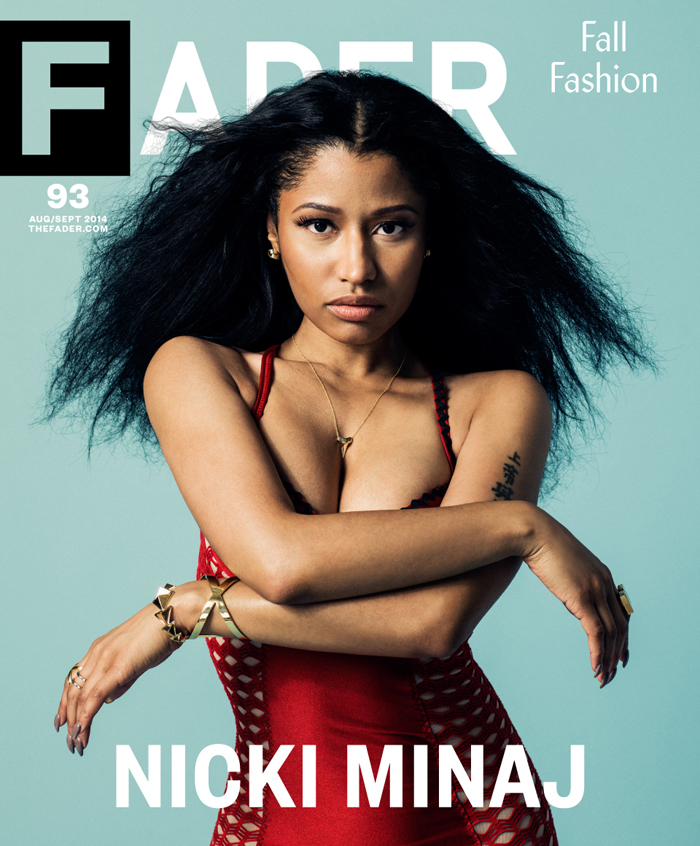 Nicki Minaj covers the fall 2014 issue of Fader magazine to promote her upcoming album, The Pink Print. Despite that album title, Nicki has moved to a much more natural look lately. She's dropped the technicolor locks in favor of more natural hair. She looks like a real person in this shoot instead of someone who fell into a vat of makeup and puff paint. Does anyone remember that puff paint? I practically covered my bedroom walls with it in elementary school.
Nicki's interview focuses a lot on her recent BET acceptance speech, which you can see here. It was a lengthy speech. The media zeroed in on the part where Nicki shaded Iggy Azalea. Nicki stood there and talked about how her lyrics were authentic, unlike some other ghostwritten female rappers. Nicki then tossed her hair and said, "No shade." Everyone knew she was dissing Iggy — they have a lengthy history of feuding.
What got lost in coverage of the speech was how Nicki discussed a medical emergency. She had a health scare and was afraid to call an ambulance because she didn't want to be spashed all over TMZ's homepage. Nicki reckons that a lot of celebs feel the same way. She tells Fader this and much more:
Her new self-editing skills: "I think early on in my career, I was … I was … just a little bit crazy. I took everything personally. That's just not good, and it's not healthy. I think one of my best attributes now, as a businesswoman and an artist and a professional person, is being able to think before I speak. I've learned that everything I think doesn't necessarily need to be stated."

She didn't "shade" Iggy at the BETs: "My point of saying what I said was that women need to have a perspective. If we're out here saying that we're so confident, and we're so this and so that, but we don't even trust ourselves to write down our own thoughts and spit it on a beat? It just doesn't add up." Then she launches into a verbal love letter to The Miseducation of Lauryn Hill: "I knew those were Lauryn's words, and it made me fall in love with her mind."

The health care scare in her speech: "I was making a point to say that the business kills so many people and we don't even realize it. I can only imagine how many people in this business have died because they may not have wanted to … to be embarrassed publicly. We care so much about what the world thinks that we don't live, really." But what had happened to her? Had she fainted or had a panic attack? "I don't even want to talk about it," she says, avoiding eye contact.

On leaving NYC: "LA makes me feel good inside. New York is too cold, too rainy, too compact. I ain't got time for all of that, child."

Her career tranformation: "My pop music made me have to retell my story, my credibility as an MC. I never thought I would have to explain that. I remember when I started doing mainstream stuff, and I was like, 'Oh my god, are they gonna like me, or are they not gonna like me?' At the beginning, I was very nervous. Looking back now, I love that I was pushed to reinvent myself because when I sit back and I really look, I need hip-hop, and hip-hop needs me."

On her business endeavors: "It's important that corporate America can see a young black woman being able to sell things outside of music. Every time I do a business venture or something that isn't the norm for a female rapper, I pat myself on the back. It's important that corporate America can see a young black woman being able to sell things outside of music A female rapper! With HSN!"
[From Fader]
Nicki makes sense. We really have no idea how many celebrity deaths were a result of not calling an ambulance. That's a scary topic. Really though, when it comes down to it, what's more important … saving face or saving your life? It's difficult to understand that conflict from a civilian standpoint.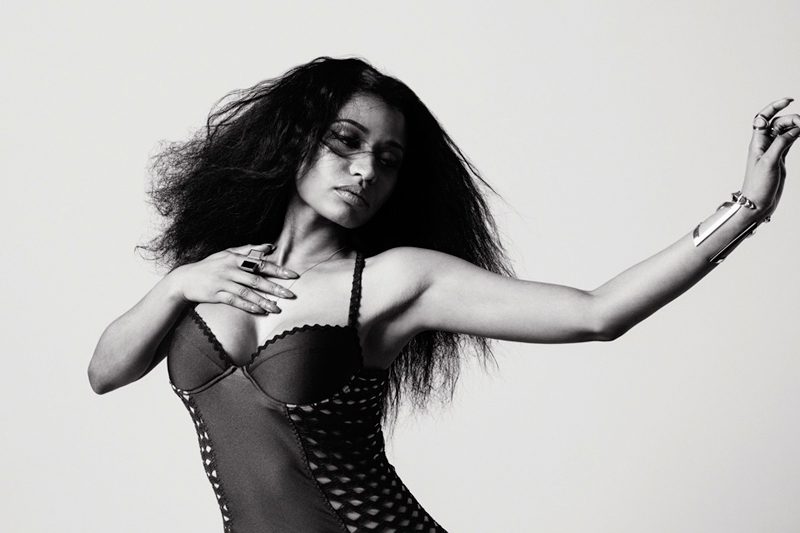 Photos courtesy of Fader