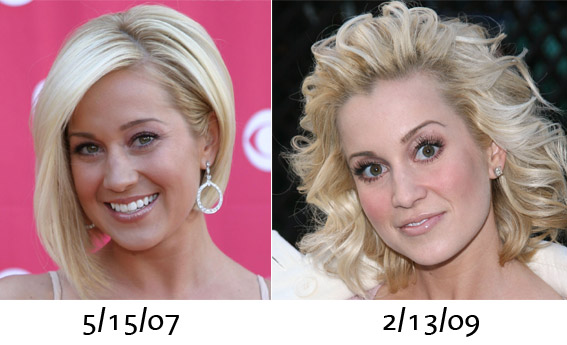 In Touch has an article this week that compares country star and former American Idol contestant Kellie Pickler's very surprised appearance to her cute normal look in the past. I couldn't find the exact comparison pictures they use, but these are pretty close and you can see how clownish she looks now. You could guess that in the second picture Kellie is just lifting her forehead up, but In Touch has a photos from another series in which she looks even worse.
They quote a plastic surgeon as saying she's had botox and lip filler while Kellie's rep denies she's had "facial sugery":
According to cosmetic surgeon Dr. Peter Gelder… (who doesn't treat the star), Kellie, 22, may have gotten Botox around her eyebrows as well as her lips plumped. "Her expression looks very unnatural and exaggerated," says Dr. Geldner. "And her lips were very likely plumped with a filler. We see a lot more of her lower lip now."

Kellie's rep denies that she's had work – "She has not had any facial surgery of any kind," he says – and Kellie tells In Touch that she doesn't worry about what people say about her: "As long as you're happy with what you see in the mirror, that's all that matters."
[From In Touch, print edition, March 2, 2009]
If you look at photos of Kellie taken four days after the surprised pics, on 2/17/09 at Fashion Week, (the photos with the red dress underneath her coat below) she's not as surprised-looking and looks almost normal, so her rep is probably telling the truth that she hasn't had "surgery." This woman is just 22 and she got Botox. The doctor who did it to her probably gave her enough for a much older woman, but it just ended up making her look ridiculous. Maybe she learned her lesson and won't be getting injections for another decade or so.
Kellie Pickler is shown on 5/15/07 (pink dress with no coat) and on 2/13/09 (pink dress with white coat) and 2/17/09 (white coat with red dress). Credit: WENN