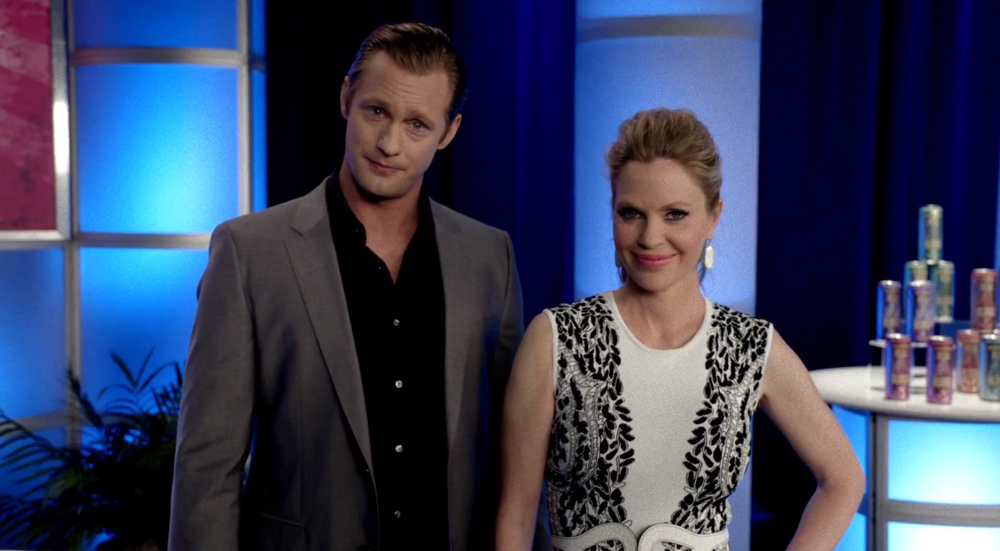 Major spoilers for previous episodes of True Blood follow
True Blood ended its seven year run last night with a finale I found frustrating in many respects. I'm sad that True Blood is over, I was so attached to the characters and I devoured every episode of that show. That's not to say that it was excellent or consistent throughout the years, it wasn't. It still had wonderfully campy, brilliant moments and I will miss it like an old friend. I've already watched the first two seasons twice. I'll probably rewatch the entire series at some point.
Here are my highlights/recap from last night's episode.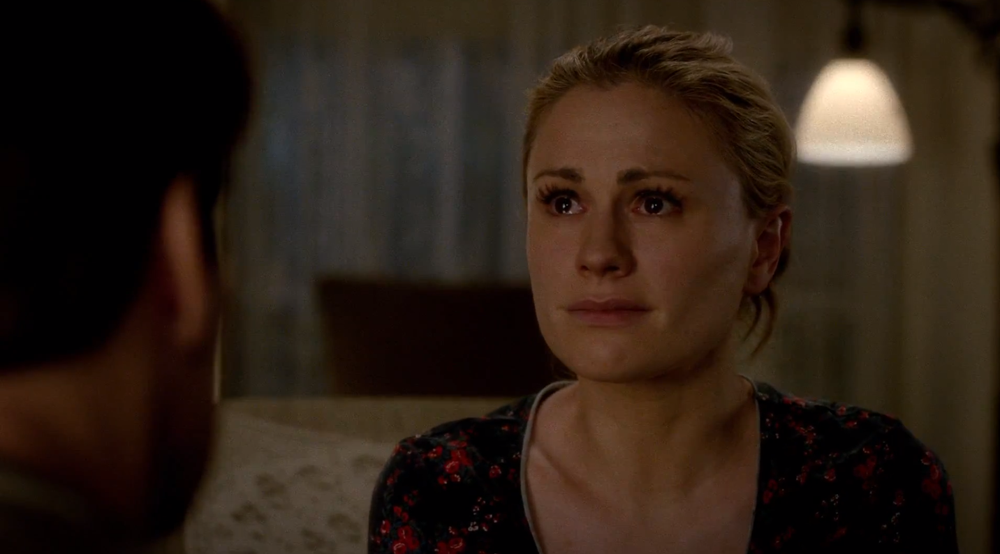 To open this final episode, Bill pays a visit to Sookie and asks her to help him commit suicide. "You're choosing to die because I have no self respect?" It was unexpected and I found it out of character for Bill. That whole plotline pissed me off so much, and I guess that was the point.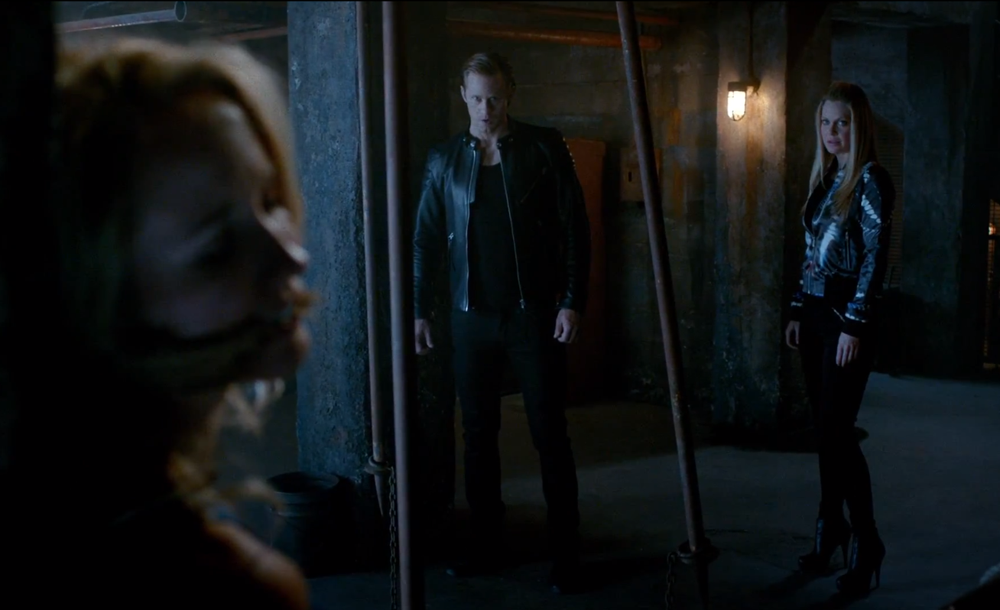 Next our Nordic hero Eric decides to kill Mr. Gus and take control of New Blood. Pam and Eric first let Sarah Newlin escape, having fed her Pam's blood so she can be tracked. Then they let Mr. Gus go after Sarah, quickly dispatching his bodyguards and setting fire to the tunnel through which he was leaving. Mr. Gus gets fried. "Humans are slow."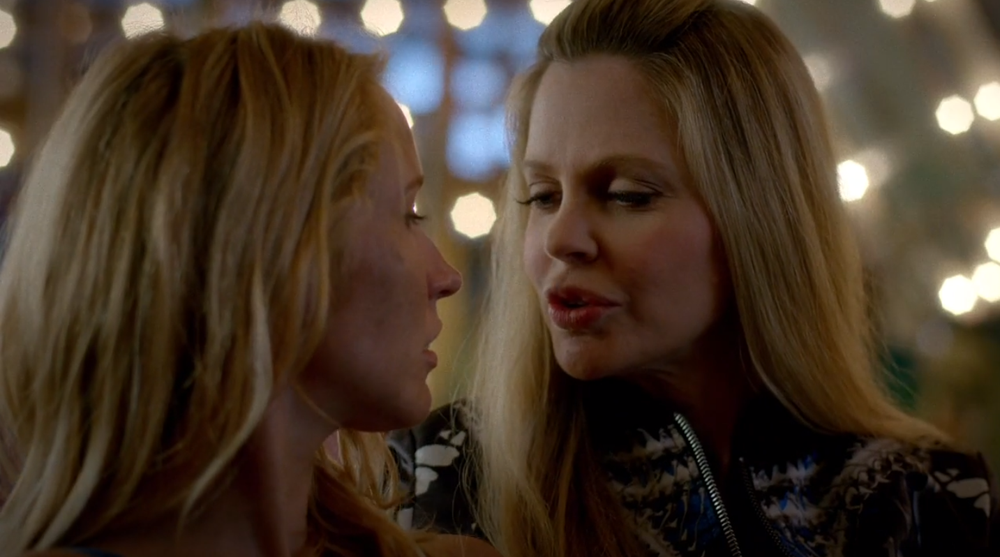 Sarah Newlin, devouring leftover fast food and sitting on a merry-go-round, begs Pam to make her a vampire and promises to be her bitch. Pam's answer is priceless. "I wouldn't go down on you for a billion dollars."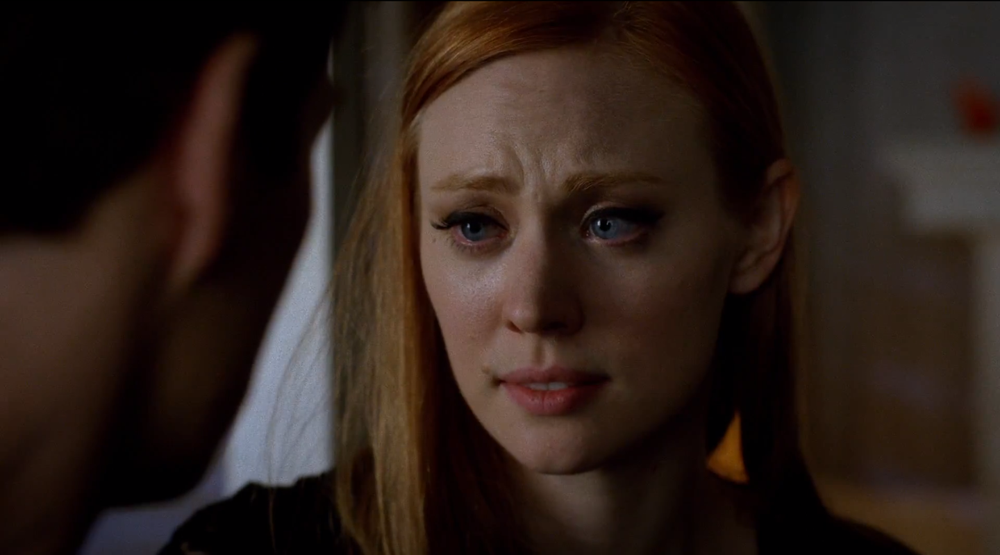 Jessica brings Hoyt to visit Bill to tell him she will be ok after she dies. Bill promptly guilts Jessica and Hoyt into getting married, claiming that he didn't get to give his daughter away at her wedding. Jessica tells Bill she'll marry Hoyt that day.
Sookie sits at her table in her PJs, having a flashback to when she was a child, sitting with Tara at her kitchen table. In her memory, Sookie tells Tara she never wants to have a family, prompting Gran to say "you can have anything you want, there are no limits on you if you don't put them on yourself." I took this to mean that Sookie was going to save Bill somehow, but it was in fact a reference to her faerie powers.
Sookie goes to Jason's house and meets his new piece, Bridget. She approves because Bridget is thinking nice thoughts about Jason. Jason and Sookie both get calls from Hoyt and Jessica telling them about the wedding.
Guests Andy, Arlene and Holly arrive at Bill's for the wedding. Bill calls Andy into his office and tells him he's his oldest heir and he has to leave the house to him. Bill asks Andy to rent the house to Jessica and Hoyt for a dollar a month and Andy agrees. Arlene wanders around Bill's house amazed at how fancy everything is.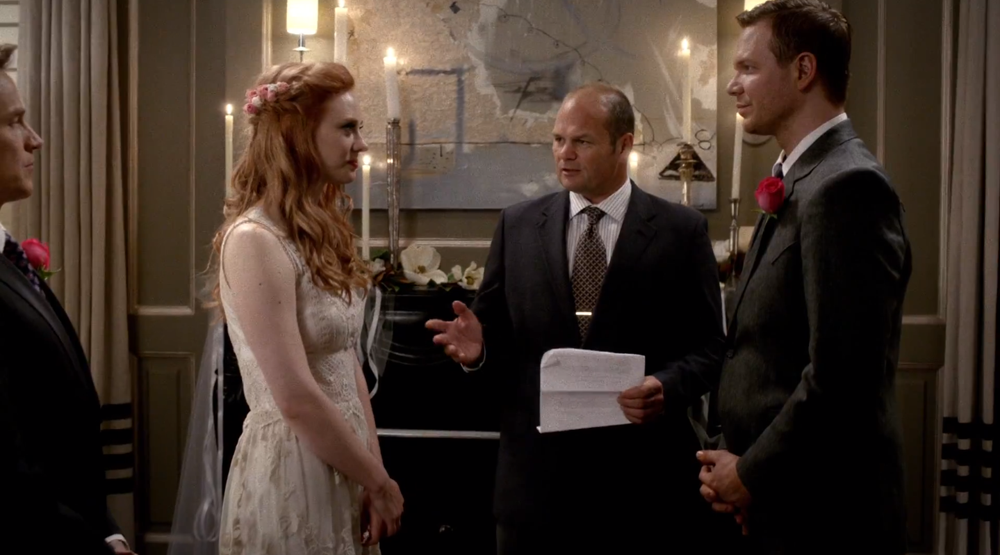 Jessica and Hoyt get married in a non-legally binding ceremony with Andy officiating. Bill walks Jessica down the aisle. It was sweet but seemed a little contrived. Sookie hears Bill's thoughts for the first time. He's thinking how much he loves her and wants to die.
Sookie gives Jason her blessing to see Bridget and urges him to sleep with her before she goes back to Alaska. "I ain't gonna be no girlfriend f*cker again." Sookie reminds Jason that Hoyt just got married.
Sookie visits Reverend Daniels with some existential questions. This was where I finally understood that if she killed Bill with her faerie light, she might be sucked of her powers. I found this part pretty dumb. Sookie gives the Reverend advice on what he should include in his sermon, and it's a reference to the end of the show. "Tell them help is on its way. Tell them it will all be over soon." Damnit.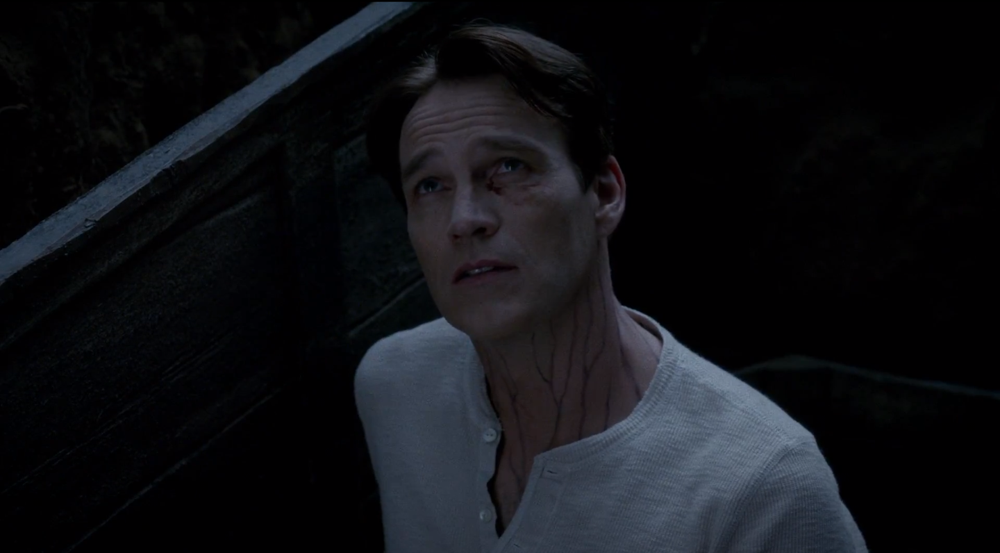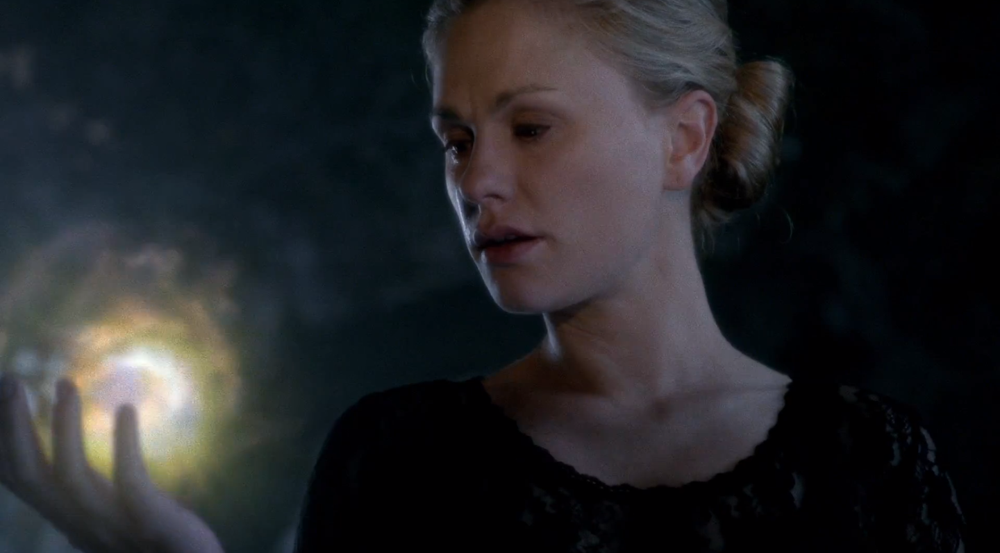 This is the scene that really, truly upset me. Sookie meets Bill at the cemetery at sundown, where his old Civil War era grave is sitting open and has a coffin in it. Bill goes into the grave and opens the coffin, finding a photo of him with his daughter taken just before he went to war. I kept expecting Sookie to save Bill, I kept expecting Eric and Pam to swoop in with Sarah and cure Bill. That didn't happen, instead Sookie played with her faerie light for a while and decided she couldn't part with it to kill Bill. Every part of this f*#ing scene was a total tease. Sookie said "This is who I am, it's part of my truth… You Bill, you're a part of me too and you always will be but I can't do this for you. I'm sorry."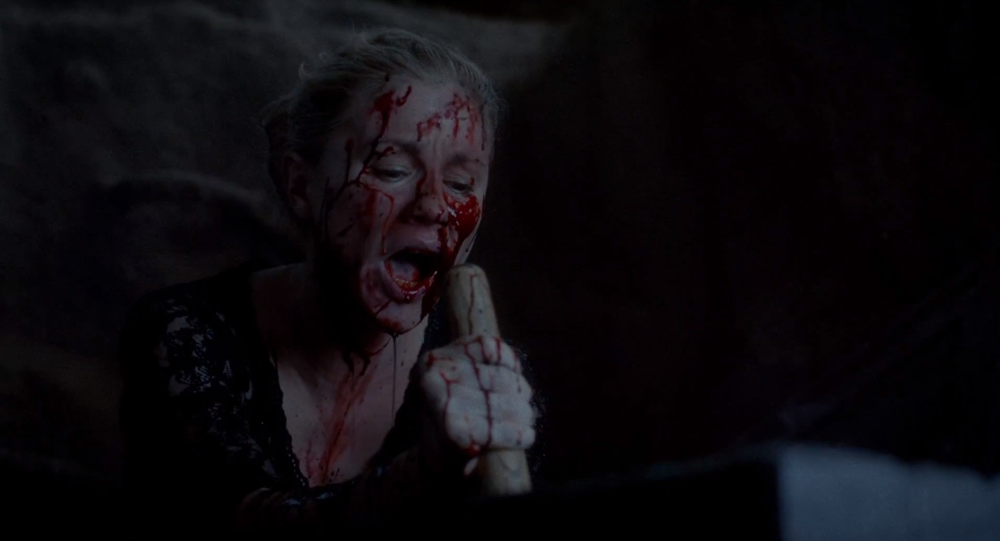 SO with that line I expected Sookie to tell Bill that she loved him, that she couldn't kill him, that she would be devastated if he met the true death but NO, she went and broke the handle off a shovel and crawled into the coffin, straddling Bill. She kissed him for the last time, hovered over his chest with the shovel handle and then he shoved it in, exploding all over Sookie. I kept thinking how sh*tty this must have been for Sookie, how she had lost so many people and this wasn't fair. She was covered in blood and crawling around like Carrie after the prom.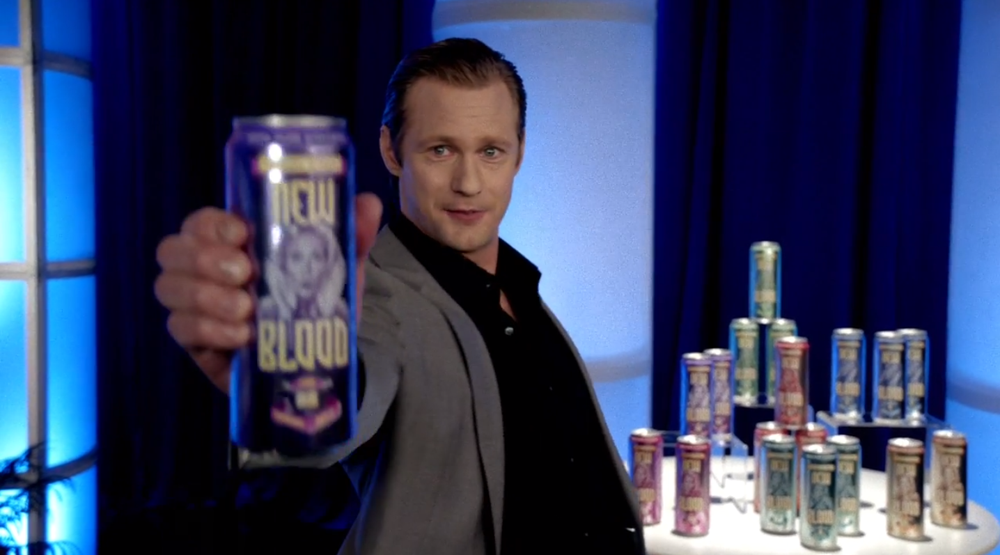 Then we saw an infomercial with Pam and Eric shilling New Blood. It was delightful and I would love it if producers could put out a more complete clip. The camera panned back to show author Charlaine Harris at the controls, which was a nice cameo.
We saw Pam and Eric working at Fangtasia (where was Ginger?!), with Sarah Newlin tied up in the basement. Too much time was spent with Sarah being haunted by her past. We don't care!
In the last scene we got to see Sookie having a huge Thanksgiving party. She was pregnant by some dude who wasn't shown except for the back of his head. Jason and Bridget had three kids, Sam and the activist had kids, Andy and Holly were still together, Lafayette and Drake were a couple, and Arlene was with that hot vampire, Keith. It was a sweet ending, if not a satisfying one, and I just kept wondering who was Sookie's new man. Will there be a movie, will we ever find out?! Why the hell didn't she end up with Eric?! I wanted her to end up with Eric. Now I'll have to finish the book series. This wasn't enough closure for me.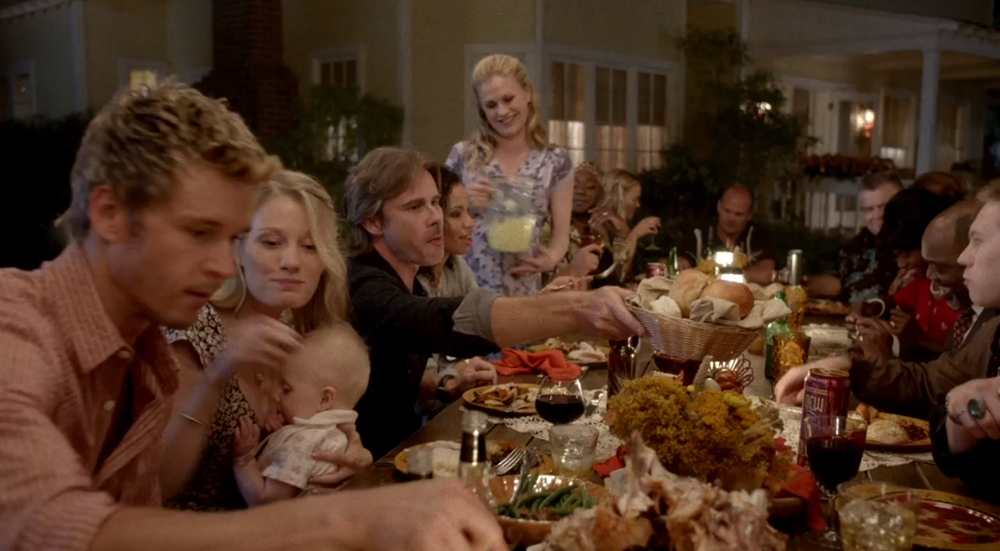 photos are screenshots from HBO