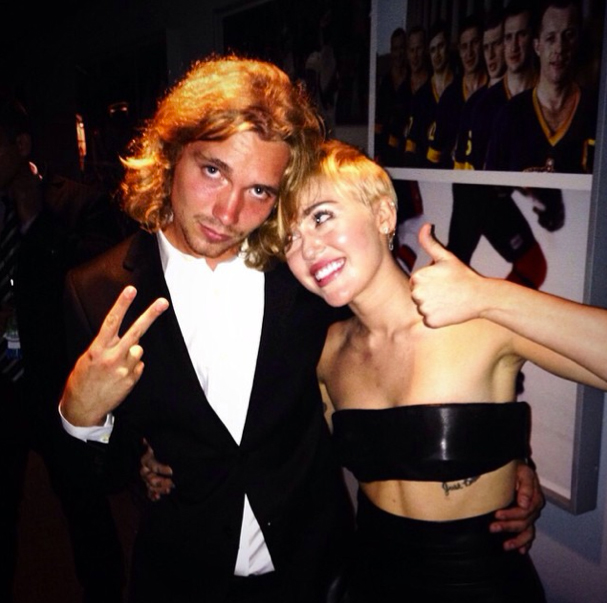 When Miley Cyrus won Best Video at the VMAs, her mysterious date accepted her award "on behalf of the 1.6 million runaways and homeless youth" on the streets of LA. This young man, only known as "Jesse," revealed his homeless plight to the world. He directed people to Miley's Facebook page where she talks about her new mission for My Friend's Place.
For once, Miley was using her platform for good instead of #twerk. Jesse also happened to be highly photogenic, so he attracted a lot of attention even before his speech. People were curious about Jesse and his history. The media started to dig, and it didn't take long before dirt surfaced. Jesse has a criminal record and a warrant out for his arrest:
Days after he appeared on national television, news surfaced that Helt is currently wanted in the state of Oregon.

According to the Polk County Circuit Court, Helt was arrested back in October 2010 for attempted burglary and criminal mischief in the third degree. He was convicted of criminal trespassing in the first degree and sentenced to one year of supervised probation, 88 hours of community service and ordered to complete and adjust class. Additionally, Helt was charged $572 in fines and $186 in restitution.

Helt was also charged with criminal mischief in the third degree and sentenced to 30 days in jail.

The following year, Helt was ordered back to court three times for failing to report to his probation officer, failing to submit urine sample, using controlled substances and neglecting to follow through on the terms of his probation. Helt had returned to court twice in April and August 2011, and was able to continue his probation. When a third motion to revoke his probation was filed in November 2011, Helt did not return to court. Today, a warrant is still active for his arrest.

Public records indicate that Helt — who received his GED from Salem, Oregon's Chemeketa Community College — moved to Los Angeles in early 2013. Helt's mother, Linda Helt, told The Oregonian that her son was looking to "make it on his own" in California. He was homeless at that time, she confirmed.

Linda Helt also revealed that Cyrus had given her 22-year-old son money to travel home to visit family after the VMAs. "He's going to be traveling to Oregon today," she said on Monday. Of meeting Cyrus, Linda Helt said "He was at the right place at the right time… He needs to be blessed."
[From ET Online]
It sounds like Jesse's criminal record happened before he came to LA and lived on the streets. Does it matter? Many homeless people are driven to commit property related crimes. This is a very complex issue and nothing that can be solved on the gossip pages. Unfortunately, it does distract from the charity issue that Miley is promoting. She should have properly researched Jesse's history before choosing him as a face for this issue.
Miley is upset that the media is focusing upon Jesse's legal issues instead of helping homeless youth. She's tweeting about it:
(1) People who are homeless have lived very hard lives. Jesse included.

(2) I hope that this can be the start of a national conversation about youth homelessness and how to end it.

(3) Does looking down upon the homeless help people excuse their inaction?

(4) The media never fails to disappoint. You've chosen to go after Jesse instead of covering the issue of youth homelessness 🙁
[From Miley Cyrus on Twitter]
I agree with Miley. Here are more photos of Jesse from Miley's Instagram. They went to In-N-Out Burger after the VMAs.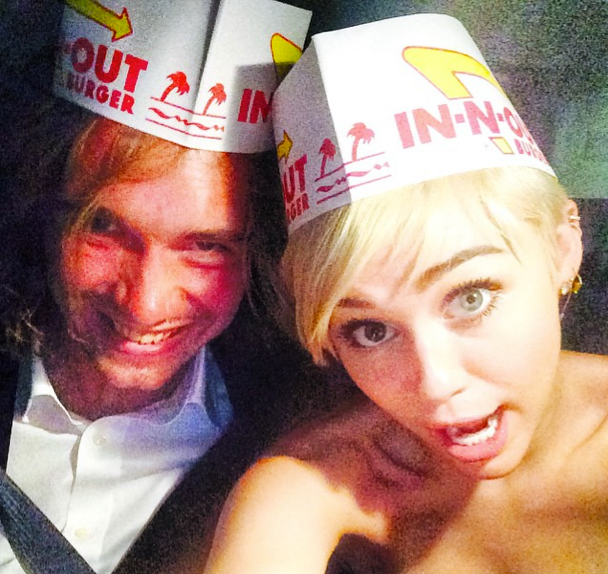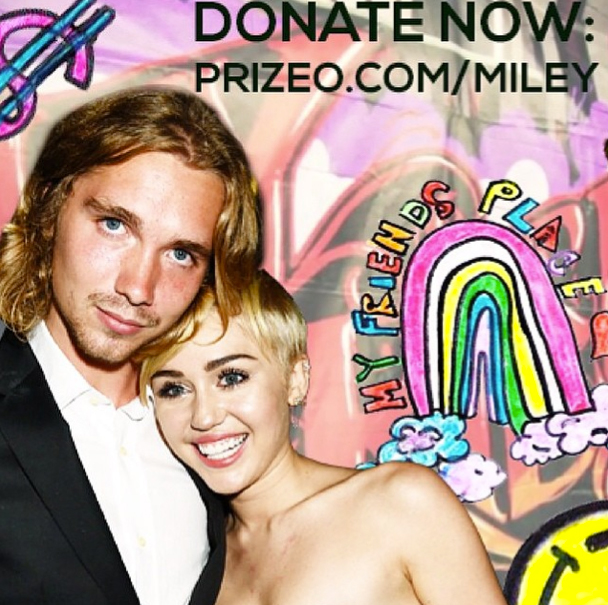 Photos courtesy of Amanda Cadenet, Miley Cyrus on Instagram & WENN