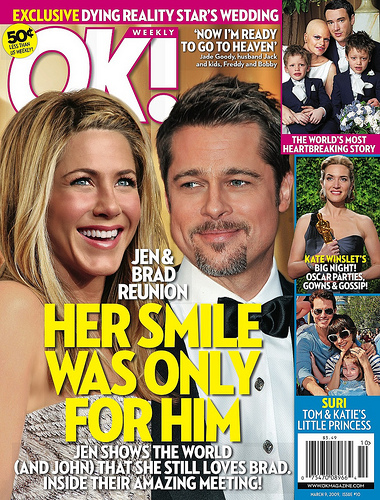 OK! Magazine has a very compelling exclusive this week with the photos from dying reality star Jade Goody's wedding. Jade's story has received a lot of attention in her native England, where she's well known. The 27 year-old mother is dying of cervical cancer which has spread throughout her body and doctors give her only months to live. She just married her younger partner, Jack Tweed, 21, who was recently released from prison after assault charges and is wearing an electronic monitoring device. Jade is publicizing her illness and letting cameras film part of her struggle, not her death, so that she can earn enough to leave a legacy for her two boys. Her story is a moving one that brings up many moral issues, and was covered in a recent profile in the NY Times.
Jade isn't as well known in America, though, and nothing quite sells magazines like the unholy trinity of Brad, Angelina and Aniston. OK! is featuring Aniston's presenting duties at the Oscars as some kind of huge event on their cover. It reads dramatically "Jen & Brad Reunion: Her Smile Was Only For Him." I think at one point I saw her smile in Brad's general direction and it's possible she was making eye contact with him, but it's also possible she was smiling at her boyfriend, John Mayer, just one row back and a few seats over. It doesn't matter, though, they'll focus on poor Jen and how she can't let Brad go:
After four years of daring comments, "uncool" quips and suggestive remarks, the long anticipated face-to-face meeting between A-list adversaries Angelina Jolie and Jennifer Aniston at the 81st Academy Awards was quietly anti-climatic — with good reason.

"Jen couldn't have cared less whether Angie was at the Oscars," an insider tells OK! of their Feb. 22 run-in. "Her mind was fixated on her ex-husband Brad Pitt."A radiant Jen seemed not to notice her so-called rival Angie, focusing instead on the man who has become a father of six since leaving her in 2005.

And although Jen, 40, appears to have found love again with John Mayer, 31, she is still troubled by the past. "Once her eyes met Brad's that night, it rekindled all the old feelings," the source tells OK!. "She has never stopped loving Brad."

And the feelings may be mutual! "Just because Brad was swept off his feet by Angelina, it didn't mean he stopped loving Jen," says the source. "He has this obsession with Angelina and he felt he had to explore a relationship with her."

However, the 45-year-old star of The Curious Case of Benjamin Button did not intend for his relationship with Angie to become so serious, so soon after his split from Jen.

"Things just seemed to snowball and the next thing Brad knew, he had six kids," the insider tells OK! of the shocking romance that blossomed on the set of the Jolie-Pitt action flick Mr. & Mrs. Smith in 2005. "There was no turning back."
[From OK! Magazine]
Maybe when these type of covers stop selling as well the tabloids will stop beating this long dead horse. Jen looked great, she was at the Oscars with her younger lover, who does seem serious about her despite any misgivings we may have about the guy due to his public persona, and everyone has moved on. Brad has a family and a long term partner and it's more than just an "obsession" with Angelina, the mother of his six kids. He's not trapped or anything and seems genuinely happy to have a family. It kind of makes your head spin to think of the ways that this whole thing has been blown out of proportion for years.
Both parties have continued it in their own way with their own quotes, though, and these stories about them continue to get plenty of interest and comments. We'll stop running them when you guys stop paying attention, so if you want us to quit just don't comment, stop those fingers from typing and don't hit "submit." It's hard to not interpret over a hundred comments as a key that people want to talk about this story. OK! gets that too.
Update: Thanks to Cover Awards for these covers from US Weekly and In Touch, which are all running variations of the same story this week. The National Enquirer, Star, and Life & Style are running Rihanna pregnancy stories and you can learn more about that on Cover Awards. Let us know if you'd like us to cover it. I have a feeling we'll learn more about that sad story very soon.