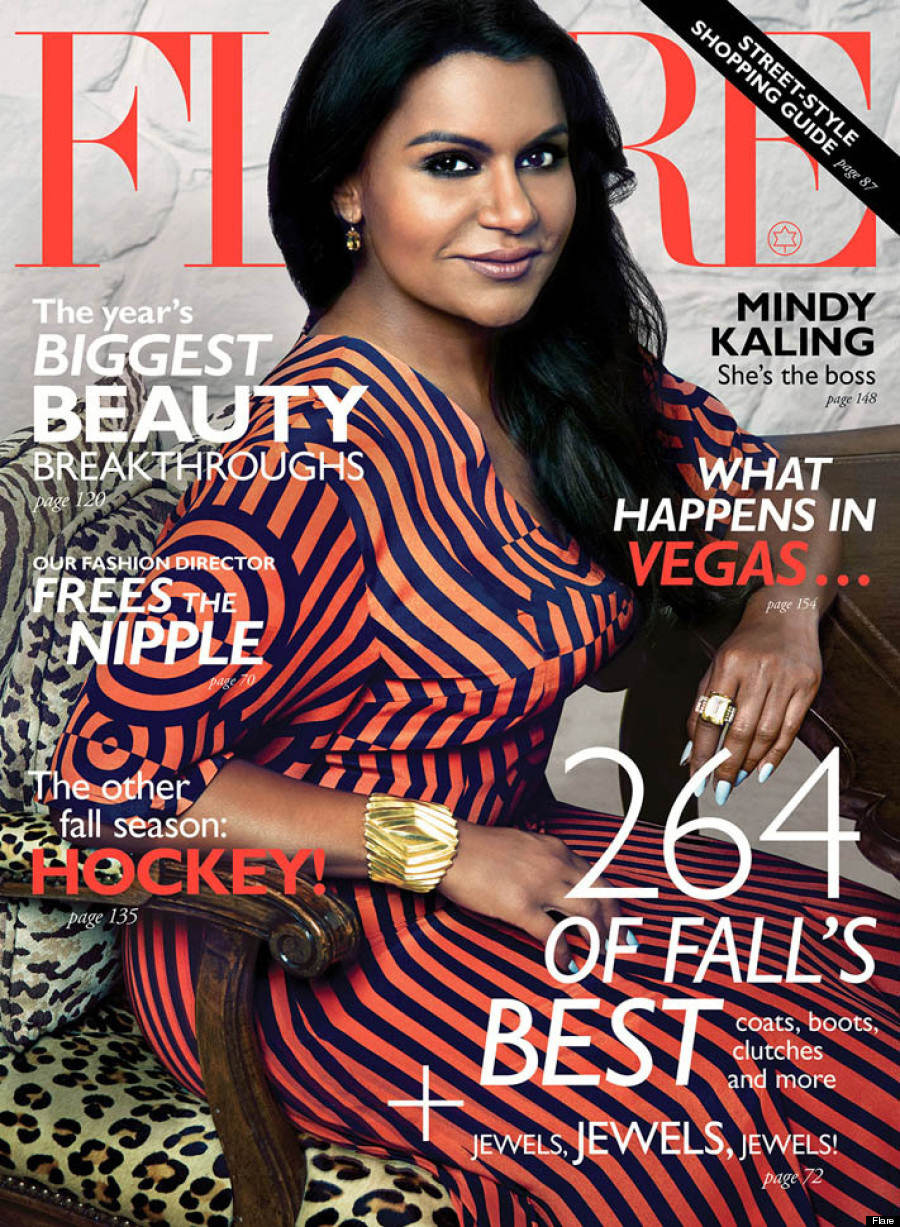 I am an unabashed fan of Mindy Kaling and The Mindy Project. TMP got really, really good in its second season, to the point where I stopped watching New Girl altogether just to focus on my love for TMP. Mindy covers the October issue of Flare to promote the third season of TMP, which starts two weeks from now. There were some concerns about whether Fox would order a third season, but in the end they did… they just ordered 15 episodes rather than a full season. But it's fine. I hope it will be fine, because I think TMP has some of the best and funniest writing in all of current television.
As for this Flare cover interview…I've noticed something weird about Mindy's profiles. It's like journalists try to "force" her to be political, to take stands and to talk about how she's a boss. Which is fine – she's a boss and she's one of the most powerful women in TV and she has political views and such. But I often feel like Mindy would rather be profiled in the traditional "fashion magazine" way, where she just gets to talk about clothes, makeup, exercise and all of that. Instead, she has to admit that she reads Politico and has opinions on abortion and sexism. You can read the full Flare piece here and here are some highlights:
She likes that The Mindy Project is "pretty": "I think sometimes our show is seen as breezier than it is, because it looks beautiful and the people are dressed really well. On a lot of shows, the aesthetic is kind of cruddy, which seems to equal really funny, which I don't think is correct. If you're looking for this vérité thing, watch a documentary."

Early TMP viewers thought the Mindy character was unlikeable: "I don't think about it a ton, but I was surprised by how much not just men but also women felt like they wanted her to be less selfish. Because the show has this romantic aspect to it, Mindy Lahiri can't be as edgy as I thought at the beginning."

She worries about ratings & lack of awards: "I come from a hit show, and I am competitive and I am a perfectionist. So for me, ratings do count. Wednesday mornings, I always check, and it affects my demeanour for a while."

TMP won't address abortion: "It would be demeaning to the topic to talk about it in a half-hour sitcom."

On the criticism that she's too confident: "Of course I'm riddled with doubts like every other creative, neurotic person, but if you don't display them all the time, you're seen as overconfident. I've worked in television for 10 years straight. If I were a man, it wouldn't be considered strange [to have confidence] at all."

She wishes her late mother could have seen the show: "She would love the clothes so much. I had zero rebellion against my mother. I was terrified of her, and I thought she was very glamorous, and I just wanted to emulate her all the time."

Turning 35: "Though this has been the first year I realized that if I want to have three kids, I need to get going."

Her job is her boyfriend: "In my 20s, I was not only boy crazy, but marriage and relationship crazy. Now it's almost the opposite. My work is so rewarding and I'm so self-centred about it that I'm kind of excited about not having to go home and ask someone about their day."
I've read Mindy's book, and I tend to think she's going to have a difficult time finding a cutesy guy to marry. I'm not throwing shade either, I just think Mindy only likes guys who are cutesy, boyish hipsters and those types of guys aren't looking to get married right away. But I like that she's basically saying that her job is her boyfriend, that her job fulfills her in a deep way that it's changed the way she looks at relationships – very few women will admit that publicly, you know?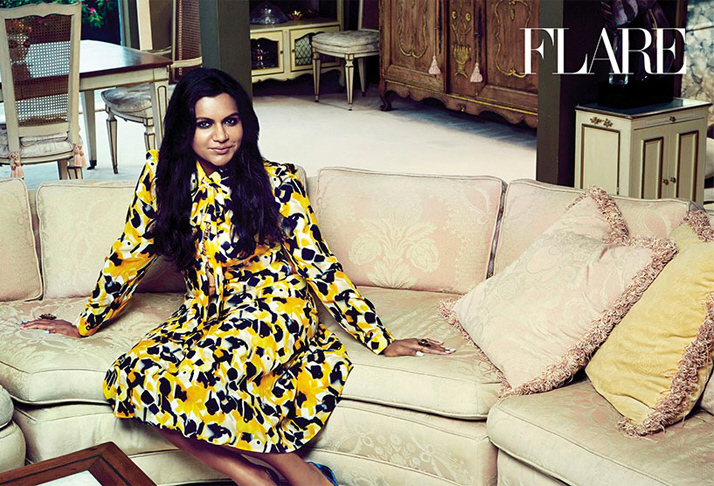 Photos courtesy of Flare.