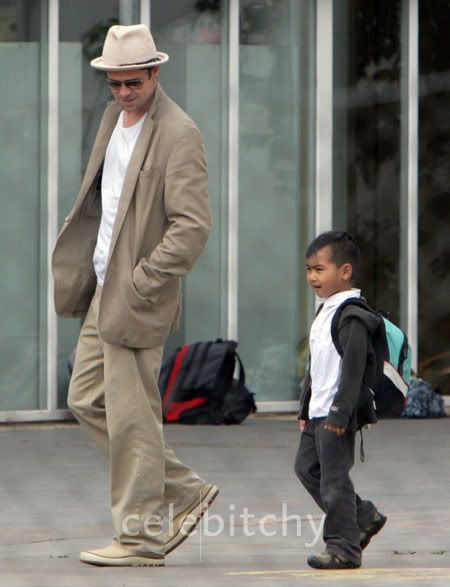 Brad Pitt and Maddox were photographed out for a walk in Prague, where they are staying while Angelina Jolie films her new thriller Wanted. Angelina has been rumored to be threatening to quit the movie as the throng of photographers surrounding the couple has been out of hand. One scaled the wall to get into the villa where they're staying.
In a new interview discussing his green housing development in Lousiana, Brad says that he can't understand why people are invading their privacy so zealously in the Czech capital. Their residence in Prague has even been added to tours of the city. He says his family is treated like everyday citizens in the French quarter of New Orleans, where they've lived off and on for the past few months:
"Let me tell you, we're in this house in Prague right now and there's about 12 cars of paparazzi outside and some tourists with video cameras," Pitt said Wednesday in a phone interview. "I can't describe why we're allowed to live a more normal life (in New Orleans)."

The thing he misses the most, he said, is bicycling through the streets of New Orleans at night.

"Living in the French Quarter is a thrill for us," he said. "We have some semblance of real family life. People have been very, very gracious with us. If we're on the front deck, people go by and say, 'Hi.' Then they go on their way, very friendly."
[From Nola.com via I'm Not Obsessed]
Pitt's green low-income housing project in New Orlean's 9th ward is underway. He donated $100k to fund a design contest for the project, and there was a ceremony today to announce that Home Depot has become a big contributor, pledging $9 million.
Brad went on to say that New Orleans is the "most unique city" in the US and that he loves it there and will be back. He says that the priority in New Orleans should be helping people get homes post-Katrina, and that they hope to have a single-family home up for the hurricane's second anniversary. The development will eventually have five houses, 18 apartments and a community center.
Thanks to SplashNews for these pictures of Brad and Maddox. Brad is said to be picking up Maddox from the "Lycee francais" school in Prague. Cambodian-born Maddox turns six in August.