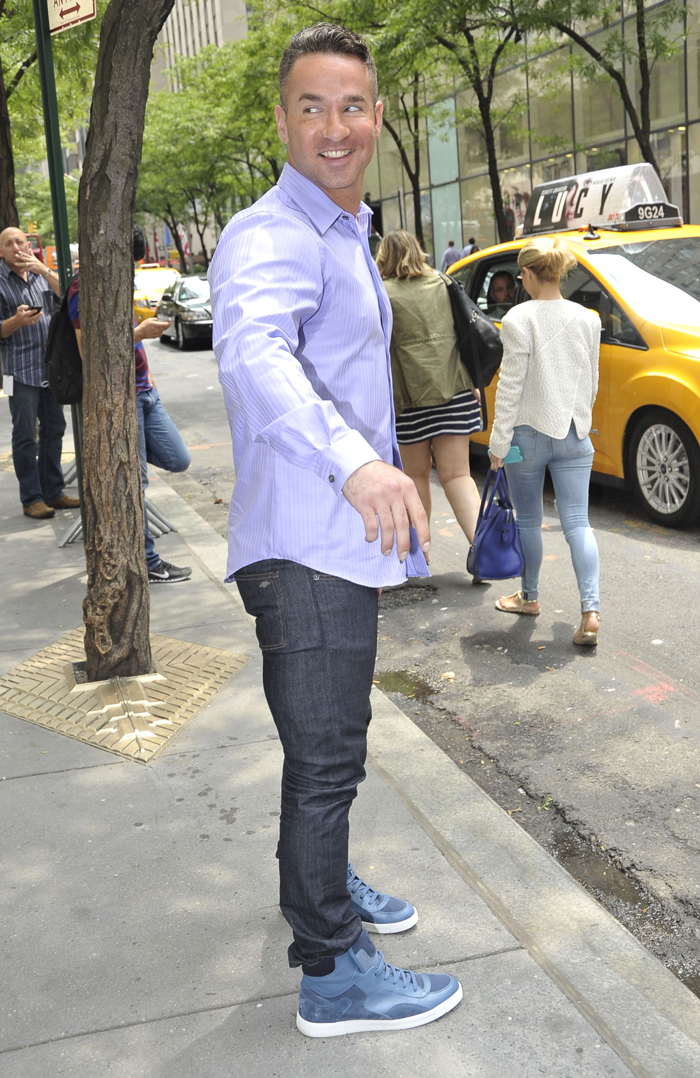 I never expected to write about Mike "The Situation" Sorrentino after the Jersey Shore stars fist-pumped their way into the 2012 sunset. Several of the other cast members (Pauly D, Vinnie, plus Snooki & J-Woww) scored their own MTV spinoff shows. The Sitch was such a pain in everyone's blowout that MTV left him out in the cold. The dude still makes occasional club hosting appearances. He also opened the Boca Tanning Salon (Middletown, NJ) with his family and was arrested in June after brawling with his brother, Frankie. Sitch was charged with assault and pled into a 12-week anger management program.
Sitch has found himself in more legal trouble. This time it's very serious because the government doesn't mess around with tax evasion. He and another brother, Michael, have been charged in a 7-count indictment. The charges include tax fraud conspiracy (for understating income and inflating expenses). Sitch also failed to file a tax return in 2011. None of this surprises me much because Sitch showed himself to be a massive liar during his Shore days. Here's the shocking part — Sitch somehow earned $9 million dollars. Really:
Former "Jersey Shore" cast member Mike Sorrentino pleaded not guilty today to failing to properly pay taxes on nearly $9 million in income, including cash payouts for a steady stream of appearances at nightclubs, bars and liquor stores, federal prosecutors said.

Sorrentino's attorney entered the not guilty plea on his client's behalf during a brief appearance in U.S. District Court before the star dubbed "The Situation" was released on an unsecured bond of $250,000.

Sorrentino, who arrived in court in a white BMW, left in a gray Kia driven by his attorney, Richard Sapinski.

"The situation will sort itself out," Sorrentino said.

Sporting a blue suit and white shirt opened at the collar, Sorrentino told Judge Steven Mannion that he understood the charges pending against him.

He faces up to 11 years in prison and fines totaling $600,000 for charges that include conspiring to defraud the U.S. by filing false income tax returns from 2010 to 2012, U.S. Attorney Paul Fishman said.

His brother, Marc, was charged in the same seven-count indictment and is facing up to 14 years in prison for the conspiracy charge as well as three counts of filing false tax returns.

Mike Sorrentino allegedly failed to file a tax return in 2011, a year in which he pulled in more than $1.95 million in income.

"Michael and Marc Sorrentino filed false tax returns that incorrectly reported millions made from promotions and appearances," Fishman said. "The brothers allegedly also claimed costly clothes and cars as business expenses and funneled company money into personal accounts. The law is absolutely clear: telling the truth to the IRS is not optional."

The pair allegedly conspired to fail to pay federal taxes on income generated by two companies controlled by the brothers: MPS Entertainment, LLC and Situation Nation Inc., Fishman said.
[From NJ.com]
Sitch could face up to 3 years in prison and up to $350,000 in fines for this mess. He was released on bond yesterday and awaits trial after pleading not guilty. The Mail has photos of him leaving court. I'm surprised he didn't flash his gross abs.
Is anyone else shocked that this dude has made so much money? We heard that he'd blown $10 million a few years ago. I assumed that was a made-up figure. Guess not. Soon he may be begging Abercrombie & Fitch to pay him to not wear their clothes. Can you imagine this guy in prison? I doubt they sell tanning lotion in commissary.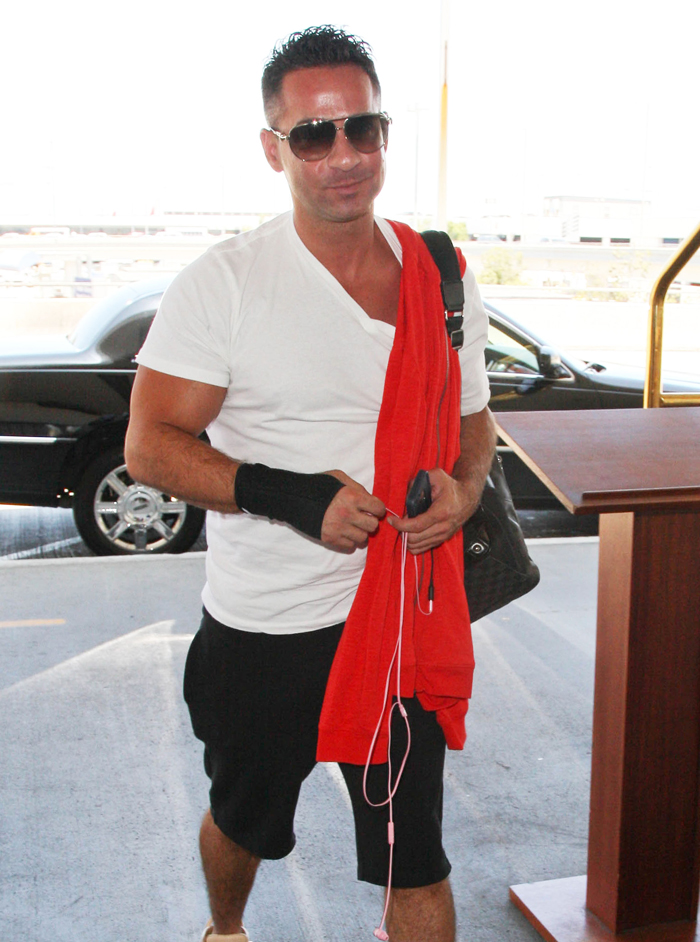 Photos courtesy of Fame/Flynet