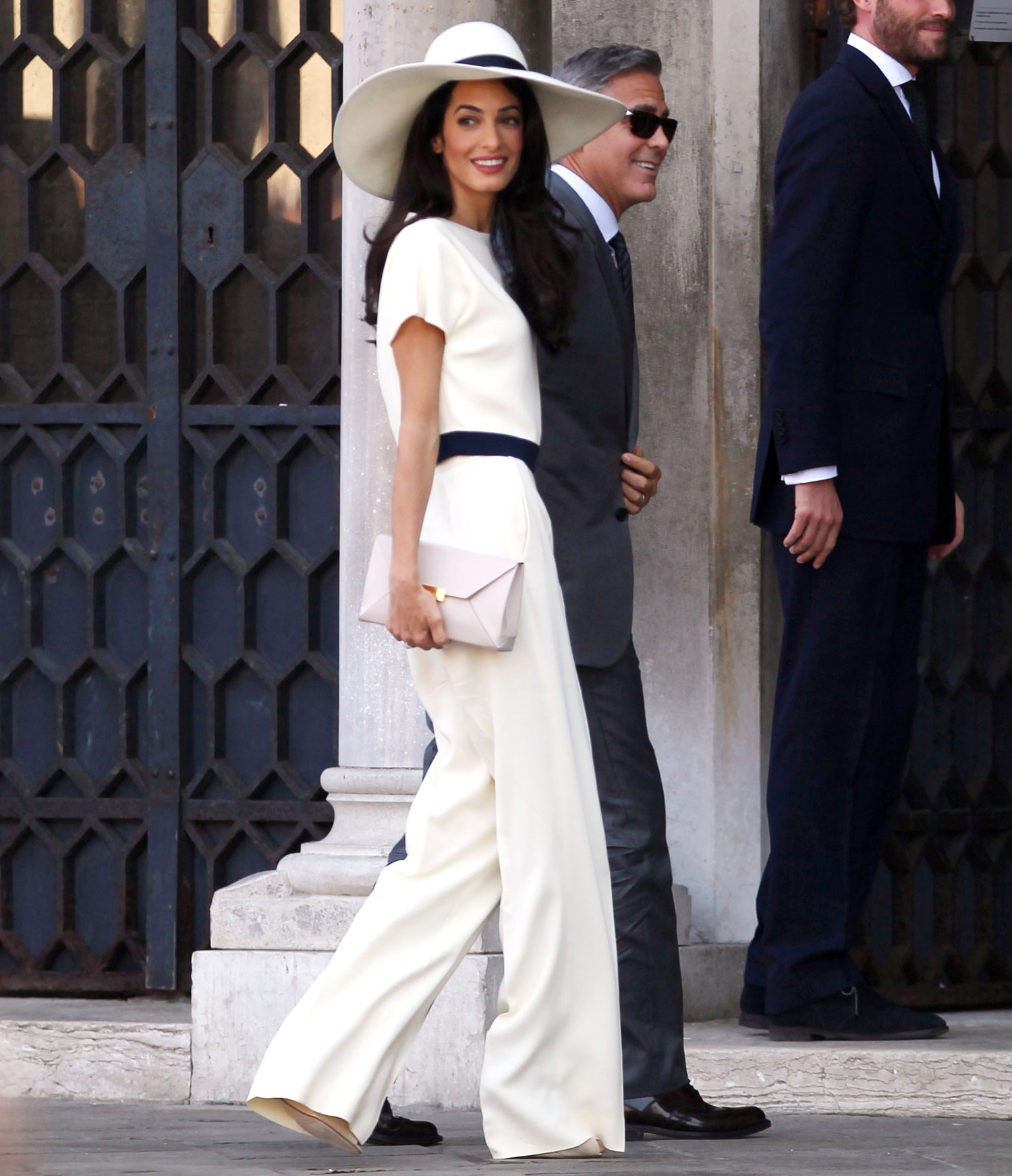 I'd just like to take a moment to thank photo agency Fame/Flynet for going above and beyond in the past four days to give us so many great photos of George Clooney and Amal Alamuddin in Venice. Seriously, this agency's photos are some of the best and most beautiful I've seen of the whole Alamooney Extravaganza. Anyway, these are photos of George and Amal today, just a few hours ago, at the final part of their extravaganza. They did their civil wedding thing today, stopping by Venice's town hall for a short ceremony. The bride wore cream and navy. A jazzy pantsuit and a magnificent hat. Hey, at least it wasn't another mullet dress.
With three rollicking days of wedding festivities behind them and all the tuxes, tequila and tagliolini a joyful memory, George Clooney and Amal Alamuddin had just one more loose end to tie up: Make their union official under Italian law.

So, on Monday, Sept. 29, the Oscar-winner and his barrister bride boated once more up Venice's Grand Canal – with the now-familiar throngs of waving well-wishers cheering them on – to Ca'Farsetti, a stunning 14th-century palazzo that houses Venice's town hall, and held a short civil ceremony.

Conducted by close friend and former Rome mayor Walter Veltroni, who also officiated at their wedding ceremony on Sept. 27, this event was markedly more low-key than the spirited celebrations surrounding the couple's three-day wedding weekend. Clooney's longtime Venetian boat driver, Alessandro Greco, joined them to serve as a witness.

So how does it feel to be married. "Nice!" Clooney, in a gray suit, told waiting fans as he walked out of Ca'Farsetti with Alamuddin, who wore a cream-colored pantsuit and hat. Chimed in the new Mrs. Clooney: "Amazing!"
So, is it over now? Probably not. George and Amal might go underground for their honeymoon (hopefully), but then they'll start popping up all over the place in a month or two. We're going to be using these wedding-weekend photos for a while. And then… maybe the cover of Vogue? Probably. Maybe the November issue.
Do you think there will be Alamooney babies in the future? I think there might be. Maybe one kid. THAT will be interesting.
PS… the boat is called "Amore". That made me roll my eyes. Too far, Clooney!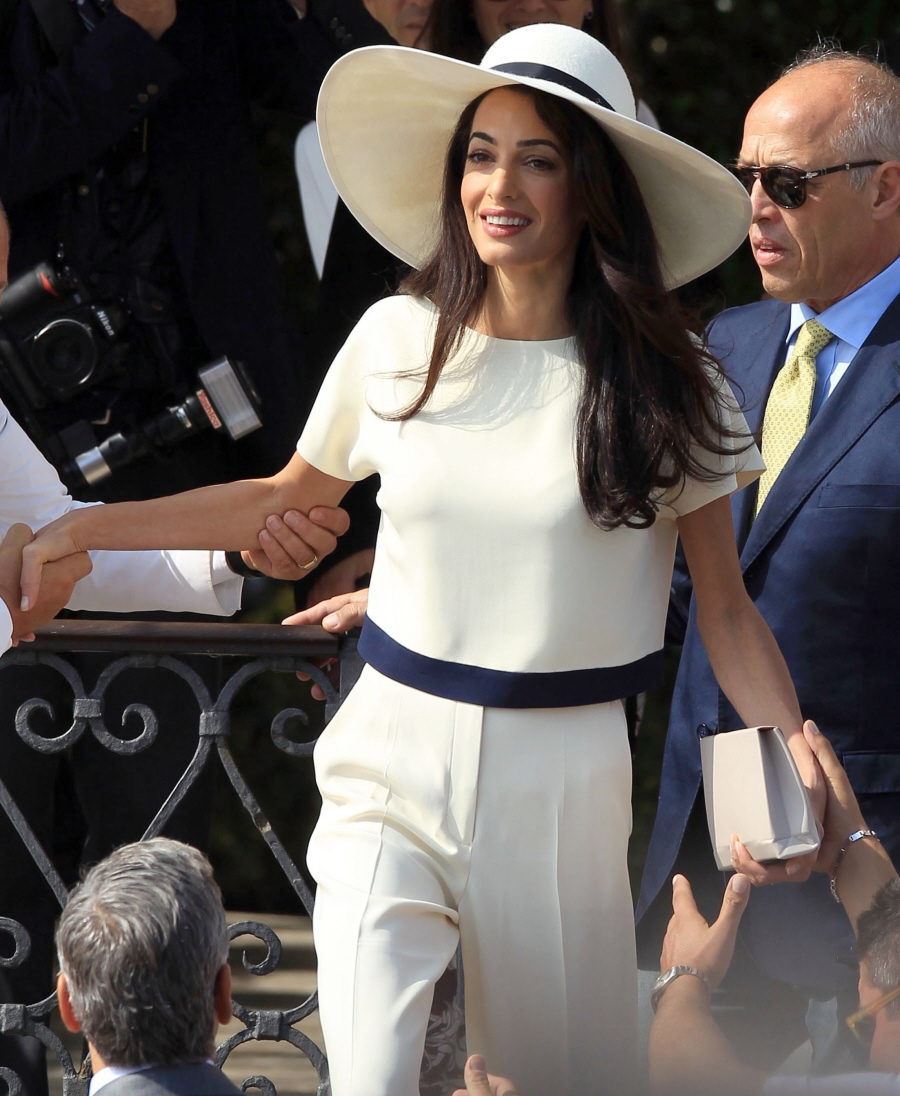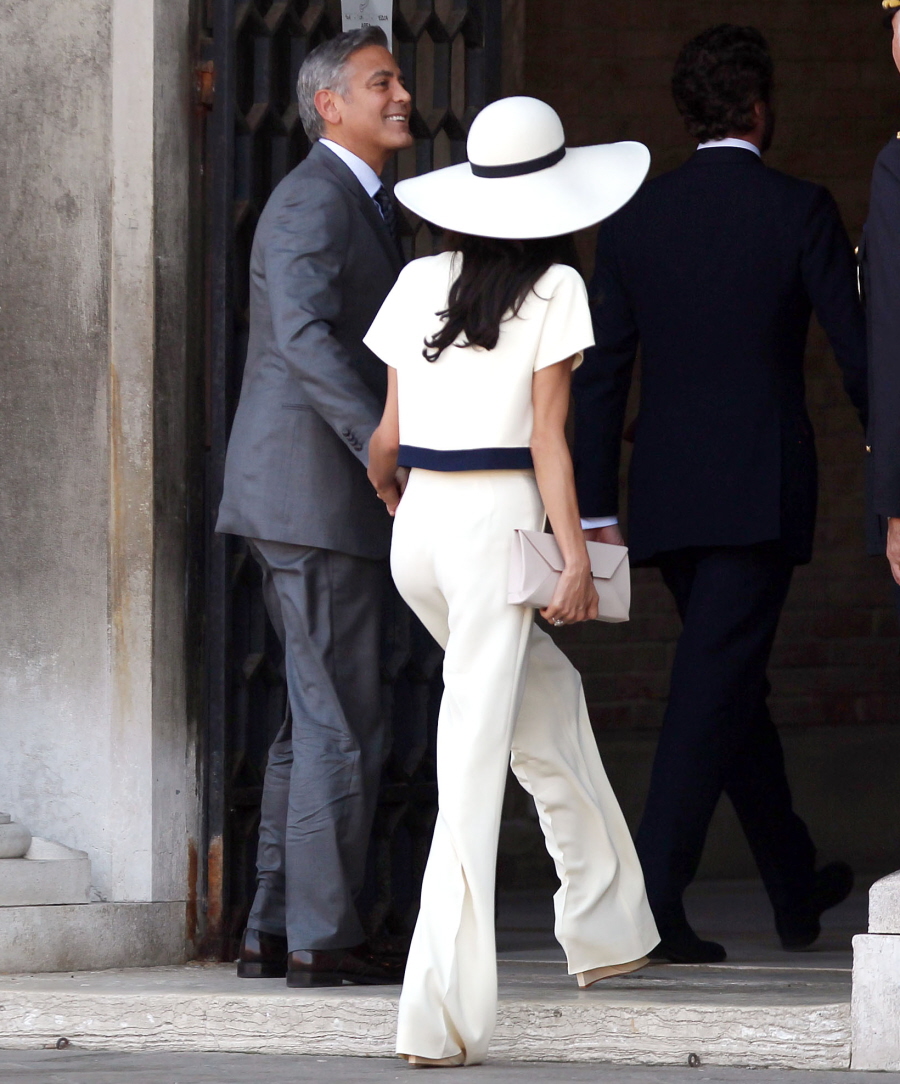 Photos courtesy of Fame/Flynet.