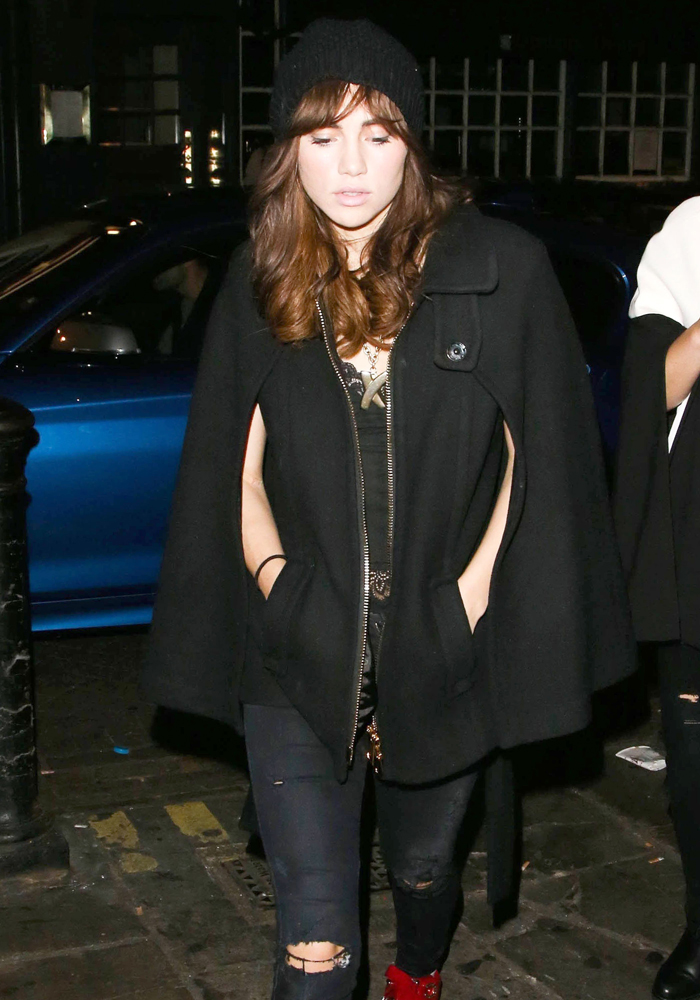 I wanted to write about Suki Waterhouse because she changed her hair color this weekend. She went from a dusty blonde to a deep brown. Her hairstylist spoke to the Mail about the double process that took her to "French brown." That's what the shade is called. The double process avoided a green-haired Suki. Have you heard of that problem? Sometimes if you cover blonde with brown (especially an ash tone), hair can turn green. (It happened to me in high school. The horror.) These are photos of Suki with Cara Delevigne outside of Jessie J's concert.
Outside of Suki's active nightlife, she's still Bradley Cooper's best girl and potential baby mama. I feel bad even writing "baby mama," but that's the vibe BCoop was putting out in his latest interview. Suki is focused on her career. She's a budding actress and is promoting her role as "the other girl" in Love, Rosie." Suki talked to the Guardian about the perks of dating BCoop. He's taken her to the Oscars, Met Gala, and White House State Dinner:
Her favorite Oscars moment: "The pizza and [host] Ellen DeGeneres. I was cracking up the whole time; my cheeks actually hurt. I didn't expect the Oscars to be that fun."

The transition from model to actress: "I am still making the move, but I think it's kind of natural. The way I see it, actors are taking all the modelling jobs; they are on all the magazines covers, get the best contracts and walk in the shows. I've acted my whole life pretty much, but then just got more into modelling. I was scared of picking it up again, because it's such a difficult, soul-baring thing to do compared with modelling, where you just close yourself off. But it's made me really happy. Being on set reminds me of being at summer camp."

Have you had an 'Oh my God, I've made it' moment?
No, and I think it's a misconception that anyone ever feels like that. Even when I'm doing well, I still have moments when I think, 'Ugh.' When I feel like that, I do the thing I heard Albert Einstein did: say thank you 100 times.

Her most glamorous moment: "The Met Ball was more glamorous than the Oscars. It's quite scary, because it's a last-minute thing, and everyone's dresses get made for them, so you get what you're given. But it turned out to be my favourite dress ever. It was by Burberry. I didn't get to keep it, but it was so large, it took up half the hotel room. When I called the bellboy to take it downstairs, he refused."

Her least glamorous moment: "Whenever I am left to my own devices with cleaning and washing. When I was filming in Atlanta this summer, my apartment was disgusting. I learned to use the washing machine, but I don't see the point in using detergent. I stored things in my dishwasher."

Her White House visit: "I didn't expect to see Obama bopping to Mary J Blige. He can really dance. I got a tour of the Oval Office, which was pretty cool, especially because I love the TV show Scandal."

Her iTunes collection: "I have a lot of Britney. We actually wanted to see her in Las Vegas, but she wasn't playing, so we ended up seeing Celine Dion, which was a bit of a disappointment."

Her biggest fashion faux-pas: "I am constantly faux pas-ing. I messed up at fashion week last year. I had five minutes to come home to change, and my mum was screaming at me that the taxi was waiting outside, so I just threw on the most hideous thing. I looked like I was wearing a jacket made of p-bes — and there was photographic evidence. My problem is that what I like changes from week to week. Even the stuff in my suitcase right now I don't like any more."

What makes her angry: "Preconceived judgments. I think we're all guilty of it. I judge other people even though I get judged myself. It's such a disease and gets spread so much through social media."

What makes her laugh: "People falling off treadmills. I YouTube that all the time."
[From The Guardian]
I need to know who the "we" is when Suki talks about wanting to see Britney in Vegas. Is she talking about Bradley Cooper? Please tell me it's true. I want to see BCoop shimmying to "Slave 4 U."
Suki seems disgruntled at how actors have replaced models on the covers of major fashion magazines. She can blame the disappearing supermodel. In the 1990s, models could move newsstand copy and shill for brands. Most models don't hold that power nowadays, so mags rely on actresses to do so. Suki's doing alright for herself without major covers. She's the new face of Burberry. Plus, there's the whole acting thing. Suki is 22 and a bit immature, but she'll be fine.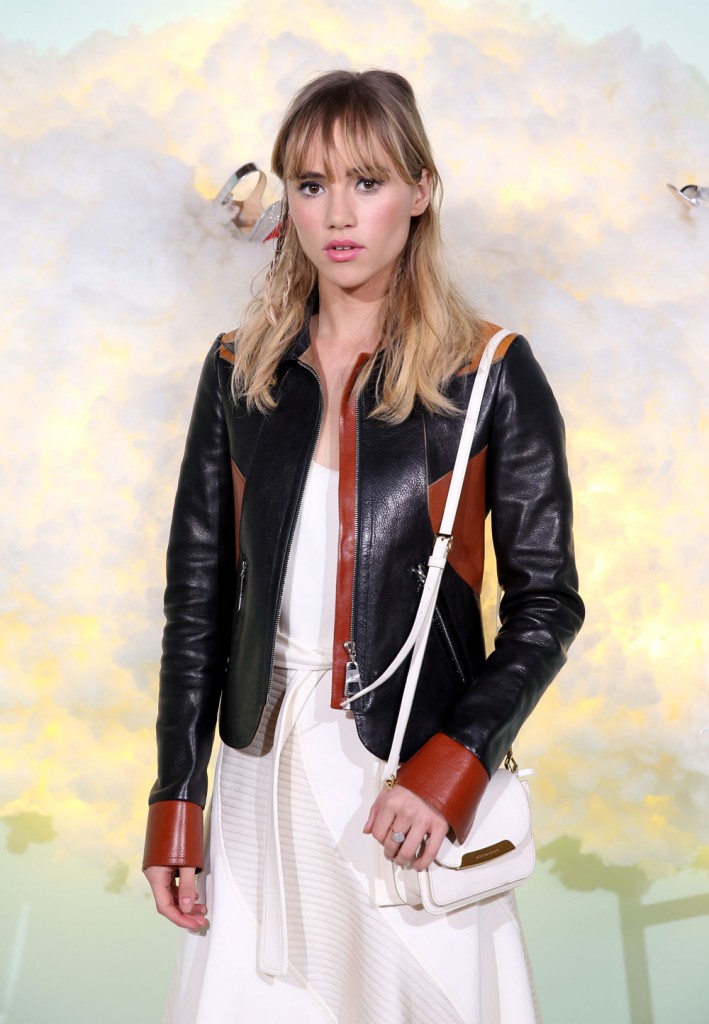 Photos courtesy of Fame/Flynet & WENN