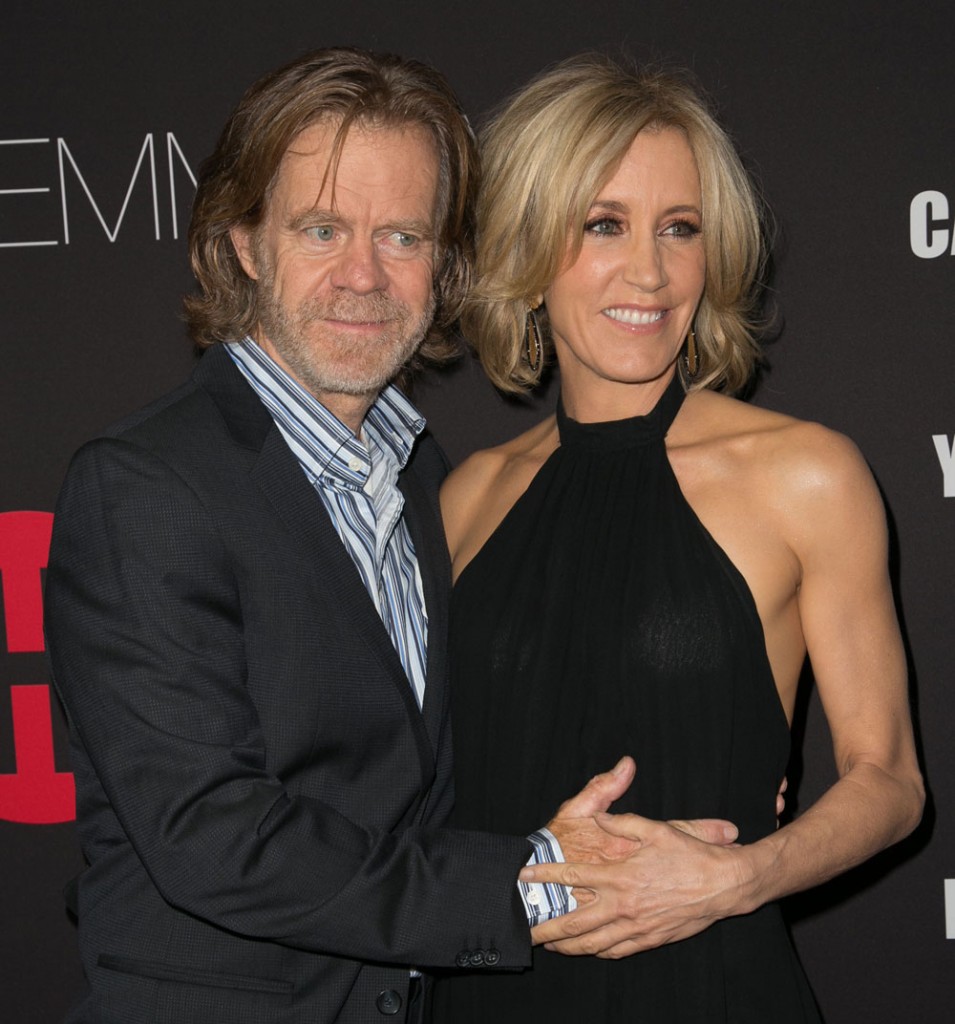 For all the flashy weddings and conspicuous oversharing in Hollywood, there are some couples who have quietly stayed together for years. Felicity Huffman, 51, and William H Macy, 64, have been married since 1997 and have two children together, daughters Sophia Grace, 14, and Georgia Grace, 12. (That's cute that they gave both their daughters the middle name Grace.) In a new interview with HuffPost Live, a fan asked Huffman about the secret to her successful marriage. She joked that her advice was to "marry William H Macy." That's sweet! Then she got serious and explained that they value communication in their relationship. She didn't just come out with platitudes, she explained a practical, simple thing that she and Bill do every week to make sure that they understand each other. She also gushed about him and you could see how happy she was to talk about her husband. You can see the video on Huffington Post and here's a partial transcript:
On how grateful she is for Bill
I'm not kidding when I say marrying Bill Macy was the smartest move I ever made. I just adore him. He walks in the room and I go 'it's Bill!'

On if she has rules for a successful marriage
We used to have those rules and then we had two children and it's gone out the window. I'm loathe to talk about this [and] give advice because I happened to luck out in marriage… but once a week we do sit down and make sure we take half an hour, each person gets 15 minutes, just to talk with no crosstalk. I talk, then you talk.

On how it works to just listen
You kind of just deeply check in with the other person. When you have 15 minutes to talk which is endless, by the way, and if you want to sit there in silence you can but when you have 15 minutes to talk, you kind of actually see what's going on with the other person without any talk-back.

On if they enjoying working together
I love it. We started off working together… so our work relationship is actually great… also I admire him so much so it's kind of like when you play tennis with someone who's better than you, the level of your game raises.

An old rule they gave up
We couldn't talk about acting in bed… A lot times you'd go "oh I have an idea for that," we'd get out of bed and talk about it. Now we're too old to get out of bed. We talk about acting and storytelling and movies and theater all the time.
I think I officially have a new favorite Hollywood couple. I've always loved William H Macy, he's an excellent actor, and it's so nice to hear that he's a great husband too. I'm sure that goes both ways. Look at how cute these two are together! All of these photos are from the past few months, and they're hanging all over each other.
I looked for interviews of William H Macy talking about Felicity and I found this gem from 2011 when he said that he had no idea why she likes him. "I don't understand it completely, but she adores me. She thinks I'm funny." He added that "She's my best friend; she's hysterically funny. I adore talking to her; she's a great confidante. She's really good at sorting things out. She's invaluable that way, when I don't know what to do."
It's rare to hear a couple married this long speak so adoringly about each other. Macy also told The Guardian that he was married before "to someone who didn't want what's best for me, as a matter of fact, she hated my guts." Macy's first wife isn't listed in his wiki or imdb biographies, and maybe that's for the best.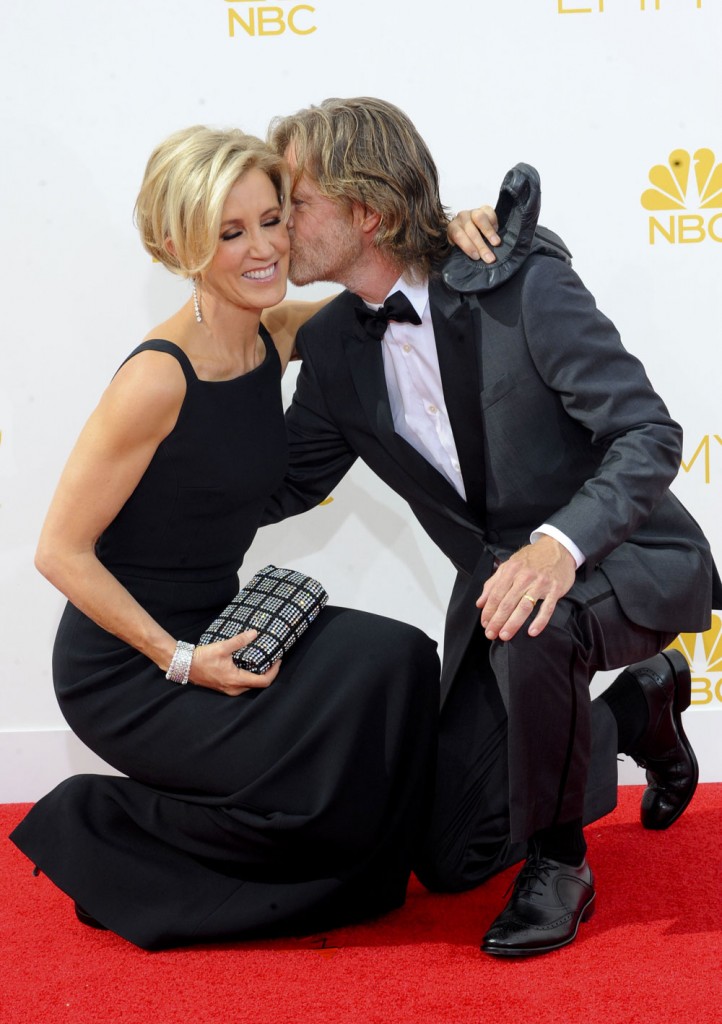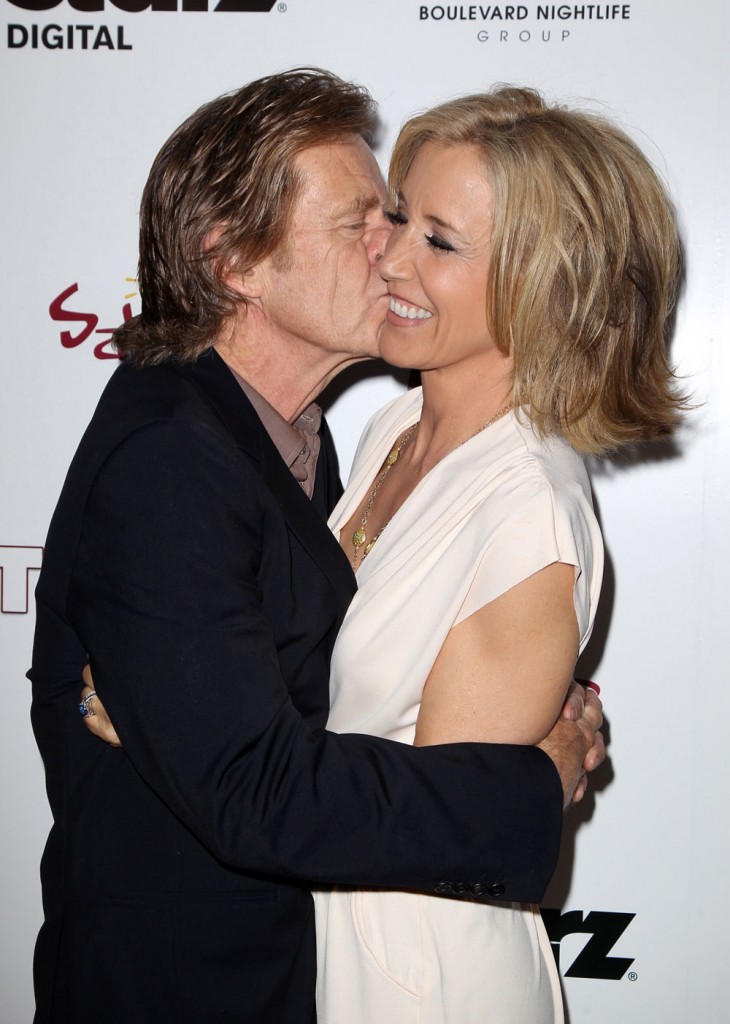 photo credit: WENN.com