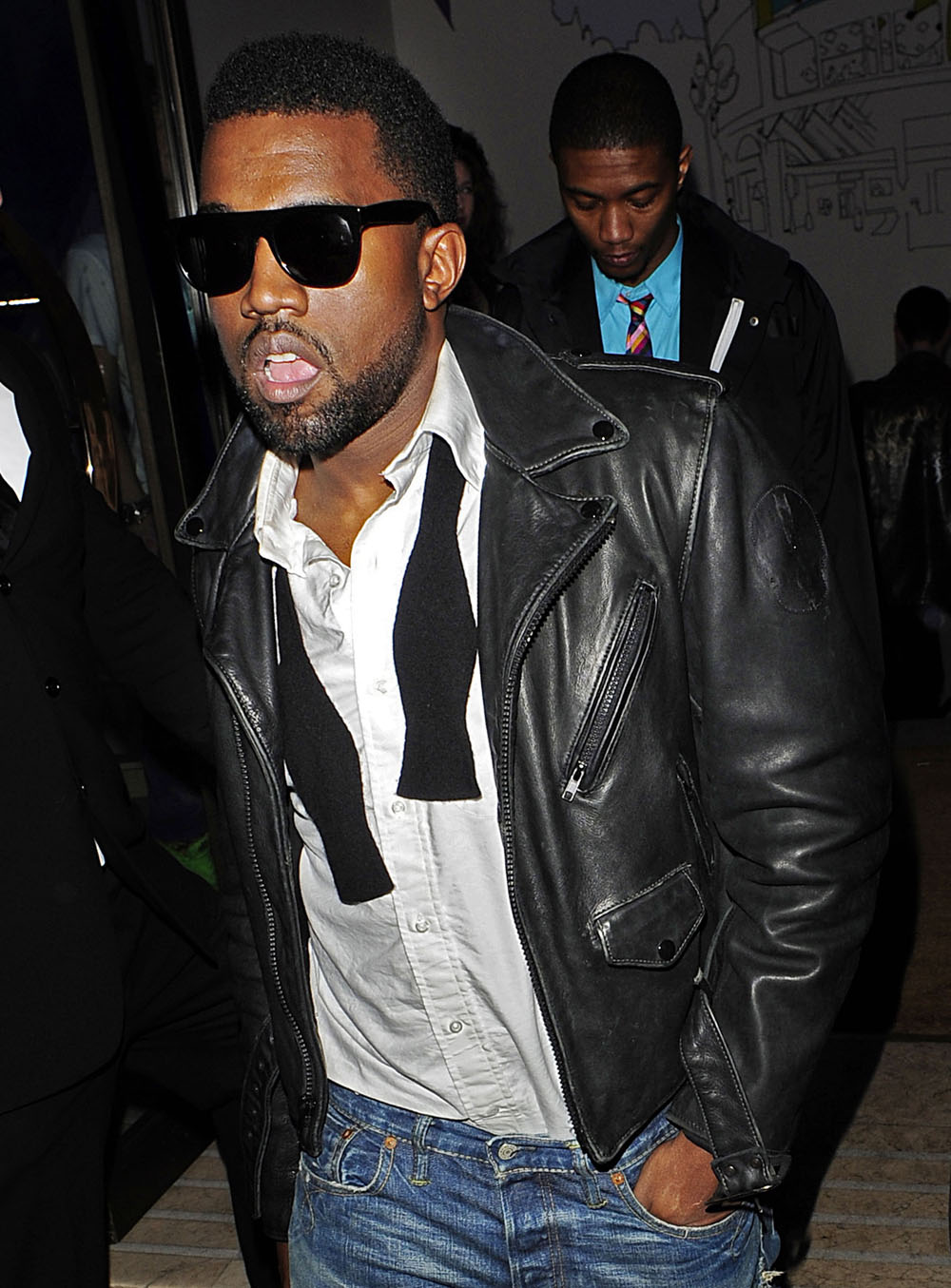 Kanye West is known for saying things that get him in trouble. I don't think he actually lacks that self-censoring device most of us have in our brains, he just continually chooses to ignore his. And I will give him credit – he gets a lot of attention for it, and that's got to be good for his career. But some unfortunate stuff slips out of his mouth on occasion. And by "on occasion," I mean more often than not.
During a February 13th taping of VH1's "Storytellers," Kanye talked about a feud with Radiohead, made supportive statements about Chris Brown… and even O.J. Simpson. Whoops.
Hip-hop star Kanye West trashed Radiohead and said the public should give Chris Brown "a break," during a recent taping of VH1's "Storytellers." But the comments will not make it to air when the episode premieres on the lifestyle cable network on Saturday.

The taping, which took place on February 13 at Sony Studios in Los Angeles, lasted three hours. The show's producers cut it to 90 minutes, after getting network approval to expand the episode from its usual one hour. The idea behind "Storytellers" is that VH1 encourages the artist "to just keep talking," and producers in turn will "eliminate any 'gotcha' moments" that don't work, Flanagan said.

During the taping, according to a Reuters reporter, West was aggrieved that Radiohead singer Thom Yorke had allegedly snubbed him backstage at the Grammys five days earlier. That hurt, West told the audience, because he idolizes the British band, and considers it one of his few creative rivals. "So when he performed at the Grammys, I sat the f— down," West said.

A little later, West asked the crowd, "Can't we give Chris a break? … I know I make mistakes in life." He was referring to R&B singer Chris Brown, who was arrested on the night of the Grammys on suspicion of beating his girlfriend Rihanna.

In the same context, West earned loud applause with his declaration: "Michael Jackson, amazing. Michael Phelps, amazing … He's a real f—in' person; he makes mistakes," referring to the champion swimmer's recent bong pipe brouhaha.

VH1 has cleaned up those comments a bit, and it also included West's less-popular follow-up observation: "O.J. Simpson, amazing. Is he not? What he did, when he did, what he did. Was he not amazing though?"
[From Reuters]
Um… um… don't know how to respond without getting into all sorts of trouble. First: no we cannot give Chris Brown a break. He doesn't deserve or need one. In fact, on February 10th – just three days before Kanye filmed the "Storytellers" piece, he said, "I was completely devastated by the concept of what I heard," and "All I want to say is, it's so devastating. Just as a person, I don't care how famous she is or even if she just worked at McDonald's … [abuse] should never happen. It should never come to that place." That was fairly carefully worded for Kanye, and I was a little surprised by it at the time. He's known for taking a very forceful position with his opinions. Now I guess we know why.
And O.J. Simpson – really? You really want people to nod along while you call him amazing? Obviously Kanye was talking about his football career, but you can't separate his career from his crimes when you talk about him anymore. They were so heinous and so divided the country. Kanye can't expect people to agree when he calls O.J. amazing. Even for him, I can't imagine how he thought he'd get away with that comment.
I really like Kanye's music but I hate his ego. And I hate that crap that often flies out of his mouth – when you know that if someone else were so free with negative opinions about him, Kanye wouldn't stand for it. But when he's the one spouting offensive crap, it's fine. I hope Rihanna refuses to be associated with him in the future. She deserves more support from someone who supposedly see her as like his "baby sis" – as Kanye himself put it.
Here's Kanye at London Fashion Week at the House of Holland Party on Tuesday. Images thanks to WENN.com and BauerGriffinOnline.