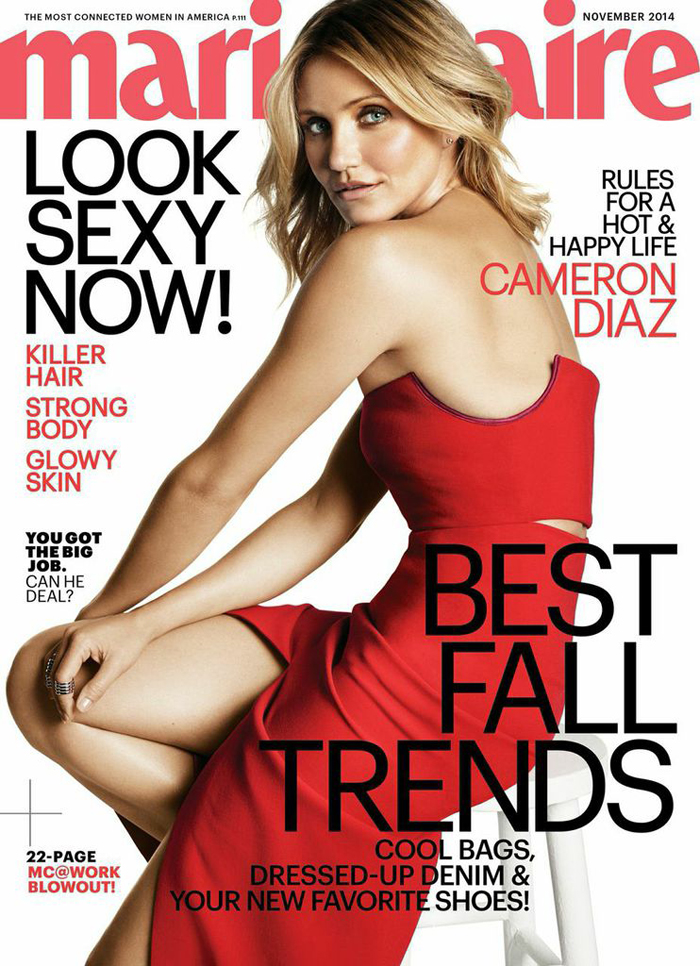 Cameron Diaz covers the November issue of Marie Claire. She sure doesn't rest for long. We've only just recovered from her extra talky press tour for The Other Woman and mostly ignored the S*x Tape promotion. Now Cam's promoting her role as Miss Hannigan in the Annie remake. Is anyone excited for this movie? I dig Jamie Foxx but still can't get worked up for this flick.
Cam looks lovely in this shoot even though the styling is uninspired. Some interview excerpts have been released, and … I don't know why journos continue to ask Cameron about marriage and babies. The tabloids really zero in on her too. She started dating Benji Madden in May, and Star knocked Cami up a month later. People (a publicist's best friend) had Cam and Benji talking about a wedding in July. E! Online made a big deal about Cameron wearing a ring on "that" finger last week. It didn't look like an engagement ring at all. Here's more from Cameron on how she doesn't care about marriage or kids:
On her role in Annie: "It's not very often you get to do a musical. Even though I was terrified of doing it, I kind of had to. The two things I'm most terrified of are heights and singing in front of people. I've jumped out of airplanes and scaled sides of cliffs — not to get over my fears, but to address them. I just felt like this is something that needed to be addressed. I cried uncontrollably. Everybody was so supportive and having fun with it because I was so pathetic, but the only way to get through scary things is to have a sense of humor about it."

On appearing fully nude for a film: "People have seen my butt. I've shown the top of my butt, the bottom of my butt. I'm not opposed to doing nudity, as long as it's part of the story. I'll do whatever has to get done if it's the right thing."

Will she marry Benji? "I'm not looking for a husband or marriage or not not looking for that stuff. I'm living, not thinking what I should or shouldn't be doing with my life."

On having children: "We live in a society where everyone has kids, so they want other people to have kids. There is this culture that says celebrities are supposed to be just like us, so people think, 'I have children, why doesn't she?' But I'm not going to do something because it's expected. If a family happens, then it happens. If children come to me, then I would do that, but I'm not someone who feels like she has to do something because it's expected."
[From Marie Claire]
Maybe Cameron will eventually marry Benji. Then again, maybe not. They still seem like an odd couple, but he's not a douchebag like most of her previous boyfriends. To paraphrase SATC, maybe his cab light is on, and he'll get super serious and propose. I think Cameron will have the upper hand in deciding if they ever go forward to the next step. She's in control of this relationship.
On the nudity topic, I hope Cameron picks a decent movie if she decides to take it all off. Her choice of projects these days hasn't been impressive.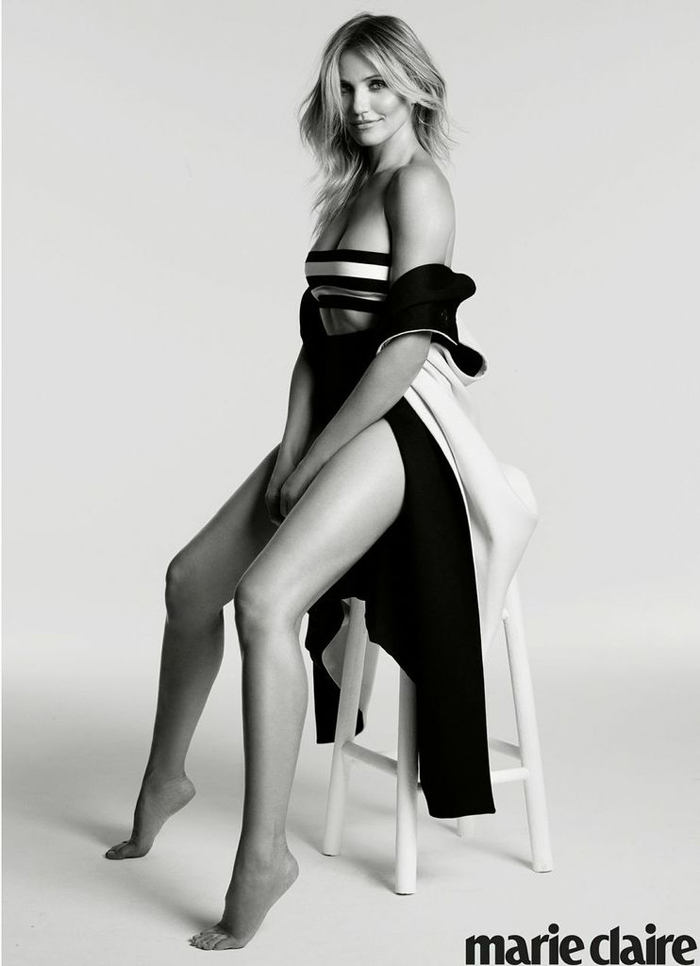 Photos courtesy of Michael Tompson/Marie Claire & WENN