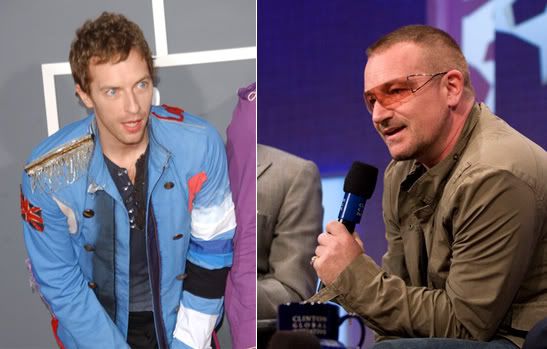 Before U2 performed at a "standstill" roof-top concert on Friday in London, Bono sat down with Radio 1 for a live interview. Apparently less than two minutes into the interview, Bono got a question about Chris Martin, something about did Bono think Martin was as good a musician as Sir Paul McCartney. Bono then called Martin a "wanker", then later in the interview he called Martin a "cretin". The radio host immediately asked Bono to apologize, because apparently "wanker" is one of those words that seems to get censored in England… I think. The Daily Mirror censored it with a "w****r" which seems like overkill. It's not like Bono called Chris Martin an a**face. E! Online has more:
Forget U2's new single "Get on Your Boots," Bono seems more interested in putting on his boxing gloves.

In a radio interview promoting U2's new CD, No Line on the Horizon, which drops this week, Bono also dropped a couple of verbal bombs on Coldplay frontman Chris Martin.

Asked by BBC Radio 1 deejay Jo Whiley if Martin was as talented as Paul McCartney, Bono seemed to rankle.

"I think he's that good a melodist, but he's a wanker," was Bono's reply.

Whiley reportedly asked Bono for an apology, but the singer responded, "I'm a reformed character, I don't any more."

And far from apologizing, Bono added that Martin was "obviously a completely dysfunctional character and a cretin, but he happens to be a great melodist and up there with Ray Davies, Noel Gallagher and Paul McCartney."

Later in the interview, Bono tried to paper over the damage a bit by saying, "I think [Coldplay] are a great band and, actually, it turns out [Martin's] a great soul as well. Sorry about that. I was just joking entirely."

If those are the jokes, Bono, please do not attempt to do standup comedy. We have a feeling there might be a wee bit of heckling coming from Chris Martin's direction.
From E! Online
Of course Bono was joking entirely. Because who would call Chris Martin a wanker and mean it? There's some on-going debate about whether Bono really did mean all of it, then simply thought better of it. The Daily Mirror reports that after the interview and Bono's forced apology, "A BBC spokesman said later: 'An on-air apology was made immediately for the language used during the live broadcast. We apologise for any offence caused.'" Now I'm totally stuck on this idea that calling someone a wanker is one of the dirtiest things you can call somebody. This is what censorship leads to – the forbidden fruit of "wanker".
As for the matter of whether or not Chris Martin really is a wanker, a cretin or a "completely dysfunctional character" (classy!), maybe he is. If Bono says it, it must be the truth. Thus speaketh The Gospel of Bono – yea, and call out all thee wankers.
photo credit: PRPhotos