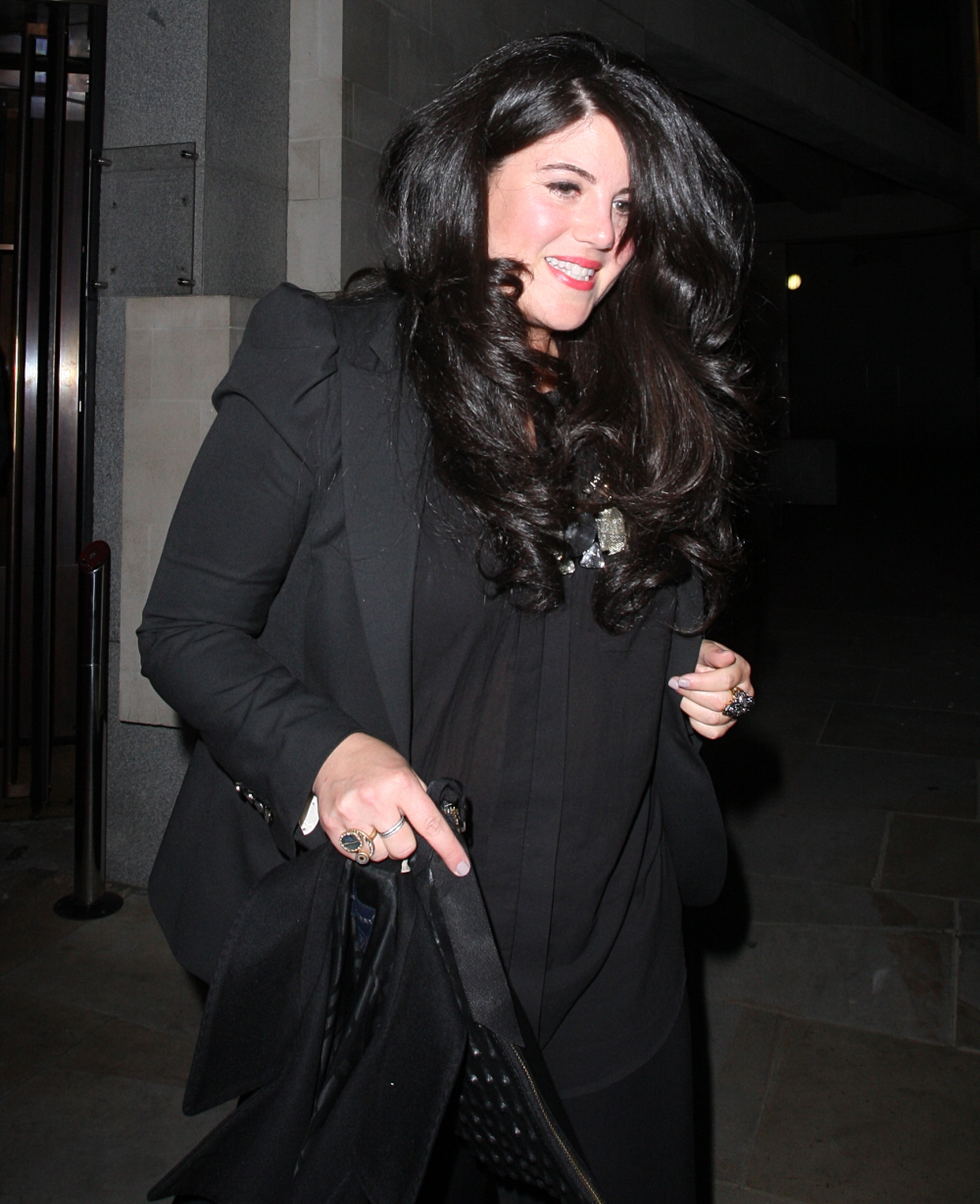 Back in May of this year, Vanity Fair sat down with Monica Lewinsky in what turned out to be a major exclusive. Monica was/is trying to rebrand herself, 16 years after her affair with then-president Bill Clinton. I covered parts of her Vanity Fair interview here and here. As I said at the time, I feel sorry for Monica, still, to this day. She made some mistakes when she was in her early 20s and she was treated miserably by Ken Starr, by the Clintons, by the press and by everyone else. Besides, it was President Clinton who was married. He was the one who broke his vows and then lied about it under oath (not that he should have been impeached over it, but Bubba was definitely the "grossest" one in this situation). Anyway, as Monica tries to rebrand herself, she's trying to become a spokesperson for some kind of anti-online bullying campaign.
#HereWeGo, alright! Monica Lewinsky recalled her historic '90s affair with former President Bill Clinton during a speech on Monday, Oct. 20, revealing that she was once in love with him. The former White House intern, 41, kicked off her first-ever public address by bringing up her story. "I fell in love with my boss," she said during Forbes' inaugural 30 under 30 Summit in Philadelphia. "Only, my boss was the President of the United States."

The theme in Lewinsky's speech, however, was about launching a "cultural revolution" against Internet shaming, which she experienced first-hand in the '90s following the news of her presidential affair.

"I was Patient Zero," Lewinsky said, according to the magazine. "The first person to have their reputation completely destroyed worldwide via the Internet. There was no Facebook, Twitter or Instagram back then, but there were gossip, news and entertainment websites replete with comment sections and emails which could be forwarded. Of course, it was all done on the excruciatingly slow dial up. Yet around the world this story went. A viral phenomenon that, you could argue, was the first moment of truly 'social media.'"

According to Forbes, which recapped the presentation, Lewinsky got emotional while discussing her life in the wake of the political scandal. "Staring at the computer screen, I spent the day shouting, 'Oh my God!' and 'I can't believe they put that in. That's so out of context,'" she said of the infamous Starr Report, which was released online in 1998. "And those were the only thoughts that interrupted a relentless mantra in my head: 'I want to die.'"

Lewinsky, as she first wrote in an essay for the June 2014 issue of Vanity Fair, explained that the tragic death of Tyler Clementi was what moved her to break her silence. (Clementi, a gay Rutgers University student, committed suicide in 2010 after being publicly humiliated by classmates on the Internet.) "The tragedy is one of the principal reasons I am standing up here today," Lewinsky said Monday. "While it touched us both, my mother was unusually upset by the story, and I wondered why. Eventually it dawned on me: She was back in 1998, but to a time when I was periodically suicidal; when she might very easily have lost me; when I, too, might have been humiliated to death."

After his death, Lewinsky met with Clementi's parents. Lewinsky said she wanted to use her past and experiences to help other victims — especially youth — who have been exposed to cyberbullying and harassment. "Having survived myself, what I want to do now is help other victims of the shame game survive too," Lewinsky continued in her speech. "I want to put my suffering to good use and give purpose to my past."
Monica has also joined Twitter – go here to see her brand new Twitter feed. My take: good on Monica for talking about this kind of thing, and online bullying, harassment and stalking are issues that need to be addressed more comprehensively these days. Monica might have been "Patient Zero" but these days, it's about #YesAllWomen, Anita Sakeesian and Zoe Quinn (two of the biggest victims of this #GamerGate fiasco). There is a need to discuss how women are targeted online and if Monica wants to take this up, she should. Plus, I just like the fact that Monica isn't in hiding these days. I'm sure the media will link Monica to Hillary Clinton's possible/probable 2016 presidential run, but what is Monica supposed to do? Just curl up in a ball and wait out yet another campaign cycle?
Photos courtesy of WENN, Getty.