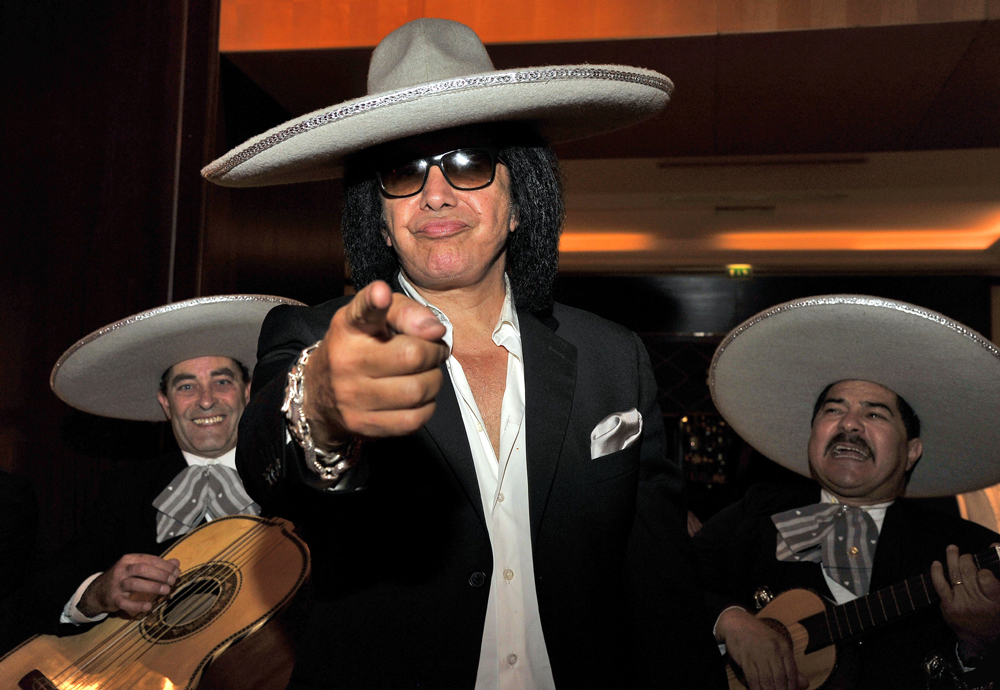 This is a photo of Gene Simmons in Germany earlier this month. He wore a sombrero and pretended to be a mariachi band frontman.
Gene is promoting his new book, Me, Inc.: Build an Army of One, Unleash Your Inner Rock God, Win in Life and Business. The book is inspired by Sun Tzu's The Art of War and talks about how he and Paul Stanley fashioned KISS as a business strategy (rather than merely a rock band). I can only imagine those discussions: "Dude, we're gonna wear full-face makeup. I'm gonna stick my tongue out like this. Then the dollars and babes will roll in." Well … it worked. Isn't it a bit misleading for Gene to claim to be "an army of one" when KISS was clearly a group effort? Paul Stanley recently told Oprah how his first meeting with Simmons was was "insulting." They worked it out and are still together 40 years later.
Gene visited Fox News to shill his book. He doled out some advice for women:
In an interview with Andrea Tantaros Friday, Simmons went as far as to say women should assume men will abandon them and thus devote their early lives to making money to support themselves.

"This is a very complex and difficult question to answer so I'm going to put it as simply as possible. Women: Stop depending on men. It's as simple as that. Imagine there are no men in life," Simmons said. "Find out that thing that you're good for that makes the money and then get married and or have children from a position of strength."

Tantaros pressed Simmons about his wife Shannon Tweed, who the rocker married in 2011 after 28 years together.

"You had the blessing of a woman who stuck by you, who raised your children," Tantaros said. "I read this and I thought, wait a minute, he's telling me to be selfish and put myself first but at the same time, he regrets those decisions to be selfish."

Simmons said he regrets not marrying Tweed sooner. "It is a massive failing for me that I didn't recognize the purity and sanctity of love," Simmons said. "Why I didn't marry Shannon when I first met her and dropped head over heels with her is the stupidity and arrogance and selfishness of man."
[From Fox News]
Gene's words make sense (in these quotes), but it's up to any couple to decide their own money issues. If one side is happy being supported by the other (and vice versa), that's fine. If a couple feels better about both sides contributing equally, that's perfectly cool too. There is always a risk involved with being supported by a spouse. Divorce happens. That's life.
My problem with this: Gene believes he's dispensing wisdom to the masses, and I find him untrustworthy. He gets quoted all the time (mostly stuff from his Sex Money Kiss book) on various MRA discussion boards. I won't link any of the sites because, ugh. A few quotes from Gene's 2006 wisdom: "If you put a woman on a pedestal and try to protect her from the rat race you're a male chauvinist pig." Another one: "If you get a promotion ahead of her, it's favoritism. If she gets a job ahead of you, it's equal opportunity." Plus "If you make a decision without consulting her, you're a chauvinist. If she makes a decision without consulting you, she's a liberated woman."
Yep. Gene Simmons influences the MRA groups who wreak havoc on the internet. These guys think all women are trying to suck men dry financially. These guys also believe that women shouldn't try to advance their own role in society. They hack into celebrities' iPhones because they hate women. If Gamergate gets mentioned, they'll dox any woman who dares to speak against them. Is Gene responsible for the actions of MRA trolls? No, but he's made his share of misogynistic statements.
Unrelated: Gene Simmons ate a hamburger at LAX on 9/29.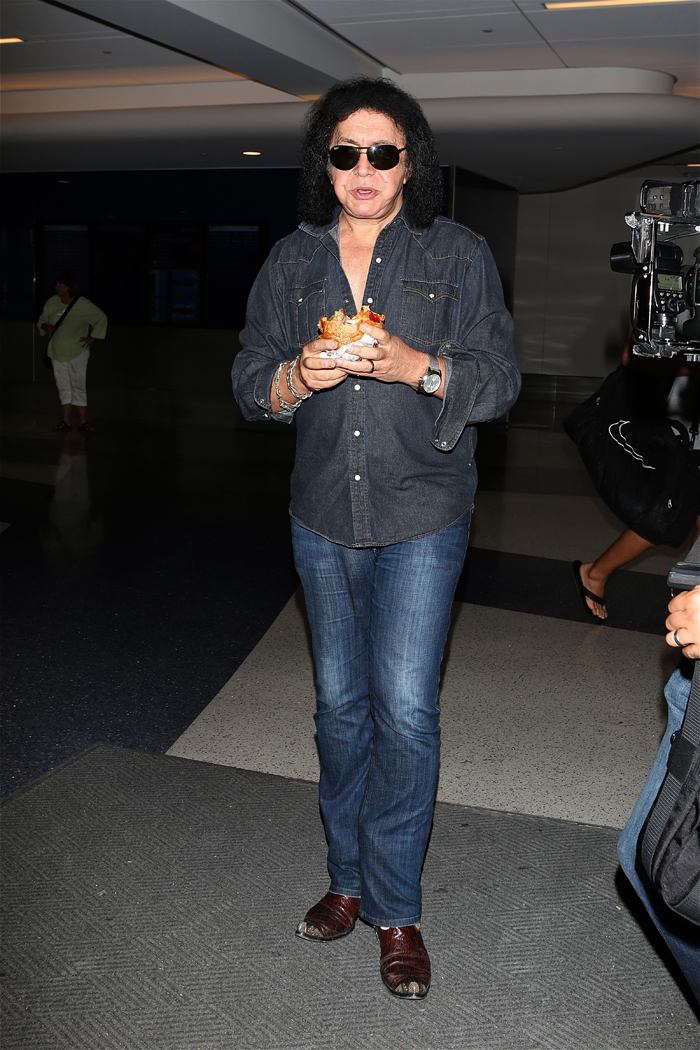 Photos courtesy of WENN