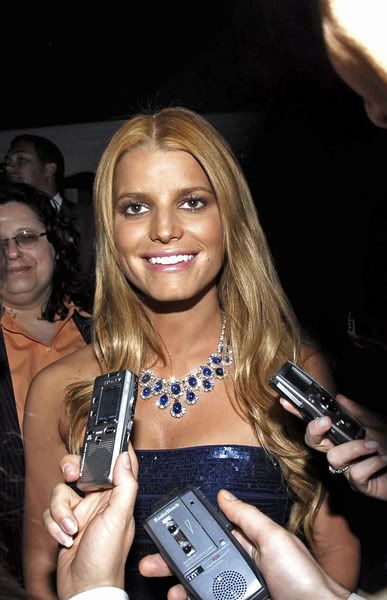 Jessica Simpson says she's doing great thank you very much, but she wouldn't comment about her split with fellow singer John Mayer when asked about it. Shejust said she was "very happy" when asked.
Asked by PEOPLE about the split at the Cannes Film Festival on Friday, Simpson replied: "I am very happy, but I don't really want to talk about my personal life tonight because it's not what it's about. But I am very happy. I will let you know that."

The singer-actress officially announced her newest film project, Major Movie Star, at the festival Friday.

Simpson, wearing an off-the-shoulder sequined dress, arrived at the Budweiser Select yacht at 10:15 p.m. in Cannes to help promote her new role in the upcoming military caper, which starts shooting in July in Louisiana.
It's about time Simpson split up with that other man in her life, Ken Paves. She was seen out with copper-colored hair. At least she's no longer a brunette, but coupled with the smokey eyes that look just falls flat.
She wore her new hair down at the party for her new film, Major Moviestar on the Budweiser yacht on Friday night. On Sunday she wisely pulled it back for the In the Hands of God party, but she had on a questionable outfit as usual. She wore huge sparkly silver earrings and a frilly black blouse paired with a black skirt.
Meanwhile John Mayer is doing his best to get over her. He was seen out hitting on several women, and the NY Daily News reports with glee that they were all particularly skinny. Maybe that's all that was around that night.
The News also says that Mayer has been seeing another woman through his on-off relationship with Jessica, an L.A.-based model named Caroline. Do you think it's that chick Caroline D'Amore that used to hang out with Paris Hilton all the time? I suppose if it was someone semi-famous like that they would have mentioned her full name, but we'll have to see.
Thanks to Photorazzi for these pictures of Jessica at Cannes.