Chris Rock visited his old stomping grounds to host this weekend's episode of Saturday Night Live. Sometimes I forget that he's not simply the guy who voices a zebra in the Madagascar movies. His SNL monologue reminded me that he's a devastating comedian. There were no musical numbers in Rock's monologue. No cute little guitar. This was simply Rock doing some old-fashioned, stand-up comedy.
Dustin Rowles of Pajiba says the rest of the episode wasn't great, so this monologue was one of the highlights. Rock covers a lot of ground in these 8 minutes. He touches on the terrorist bombings at the 2013 Boston Marathon, the 9/11 attacks, and the Freedom Tower. Some of what he says is shocking, but his point revolves around the inevitable commercialism of anniversaries and holidays. Rock starts out by mentioning Sunday's NYC marathon. Then this happened:
"That Boston Marathon was scary, because I love Boston. I love the people there, but that was probably the most frightening, sadistic terrorist attack ever. Just think about it – 26 miles! 26 miles is a long drive. People jogging for 26 miles, their knees are hurting, their feet are killing them, if you're a woman, there's blood coming out your t—ies. You've been training for a year, you finally get to the finish line, and somebody screams, 'RUN!'

"The good people of Boston bounced back, and New York will bounce back. We had our own terrorist attack. Now we've got the Freedom Tower. They should change the name from the Freedom Tower to the 'Never Going in There Tower,' 'cause I'm never going in there. There is no circumstance that will ever get me in that building. Does this building duck? What are they thinking? Who's the corporate sponsor, Target? Stop it. They put another skyscraper in the same spot? What kind of arrogant, Floyd Mayweather crap is this? What businesses are they going to put in the Freedom Tower? They better put some mandatory stuff in there. If they put a Sunglass Hut in there, it's gonna be empty. I got robbed on 48th and 8th about 20 years ago, I have not been back to 48th and 8th. I am never going in the Freedom Tower. I don't care if Scarlett Johannson is butt-naked on the 89th floor in a plate of ribs."

"Hey, hey I'm not joking about 9/11, but we live in America and in America there are no sacred days because we commercialize everything. We're only 5 years away from 9/11 sales. You're gonna hear it on the radio: 'Come on down to Red Lobster. These shrimp are $9.11.' It doesn't matter what the holiday is. Martin Luther King Day. It's gonna be the same like, "These Toyotas are free at last, free at last!' 'It's MLK birthday. Madea's got a dream!' We commercialize everything. Look at Christmas. Jesus' birthday. Now I don't know Jesus, but from what I've heard, Jesus is the least materialistic person to ever roam the Earth. No bling on Jesus. Jesus kept a low profile, and we turned his birthday into the most materialistic day of the year. It's a whole season of materialism. And at the end, we have the nerve to have an economist come on tv and tell us how horrible the Jesus birthday season was this year."
[From NBC – Saturday Night Live]
Rock moved onto the topic of gun control and celebrity involvement in charity. That part wasn't too funny, but the rest? Rock's routine reminded me of the late, great Richard Pryor. Yes, it was surprising that Rock mentioned these topics, but he didn't say anything disrespectful towards victims. He intended to hold up a mirror to our society's holiday commercialism, and that's what he did.
Cast member Pete Davidson, whose firefighter father died on 9/11, tweeted his approval of Rock's monologue.
Chris Rocks monologue was brilliant!! I'm not offended at all. Funny is funny!!

— Pete Davidson (@petedavidson) November 2, 2014
Oh, and here's Prince's performance. He played for eight minutes with his newish band, 3RDEYEGIRL.
Here's a backstage pic of Chris Rock jamming to Prince tunes before the show.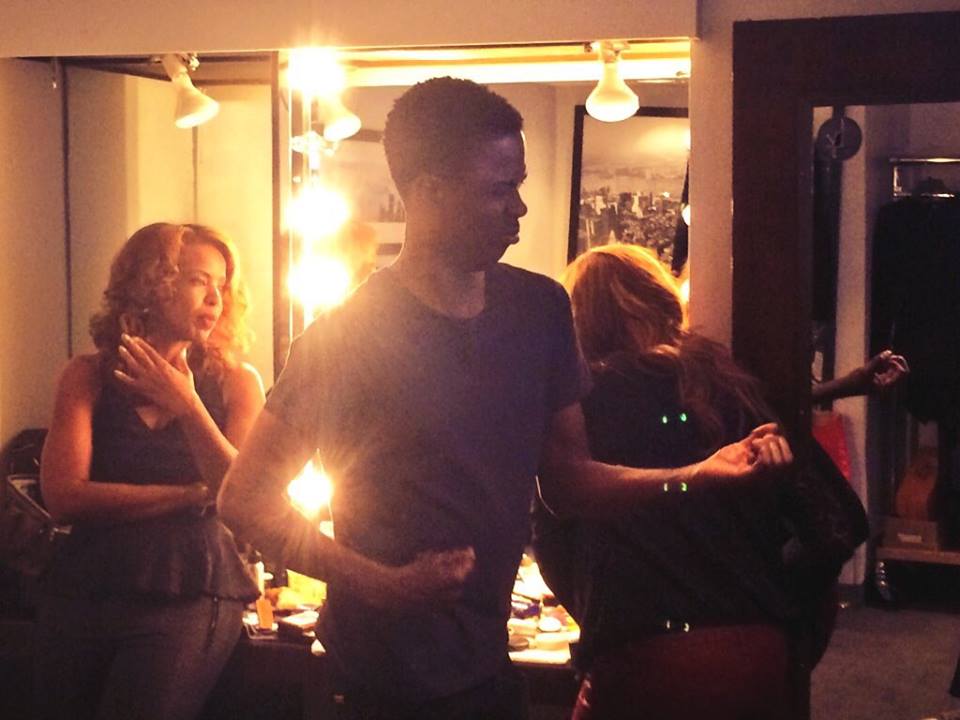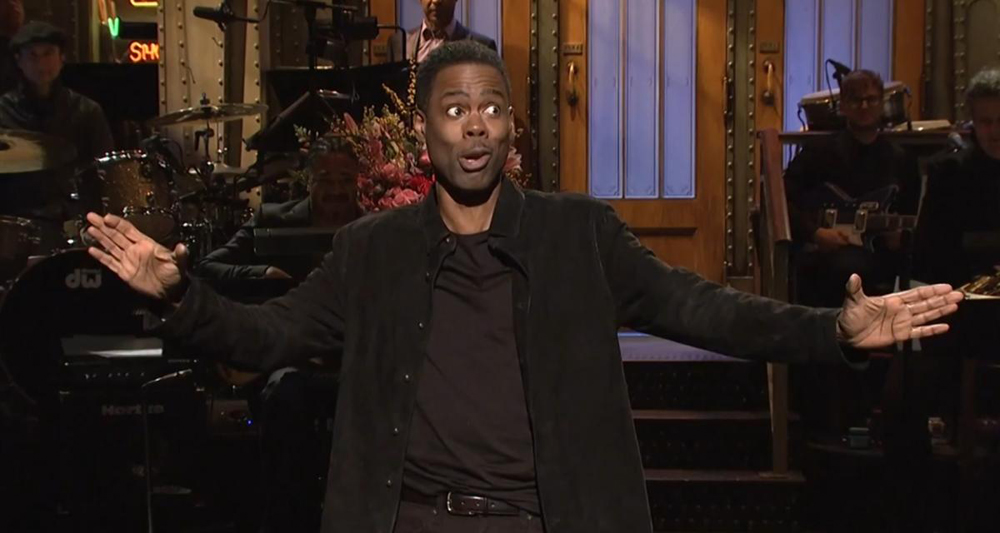 Photos courtesy of NBC, Chris Rock on Facebook & WENN