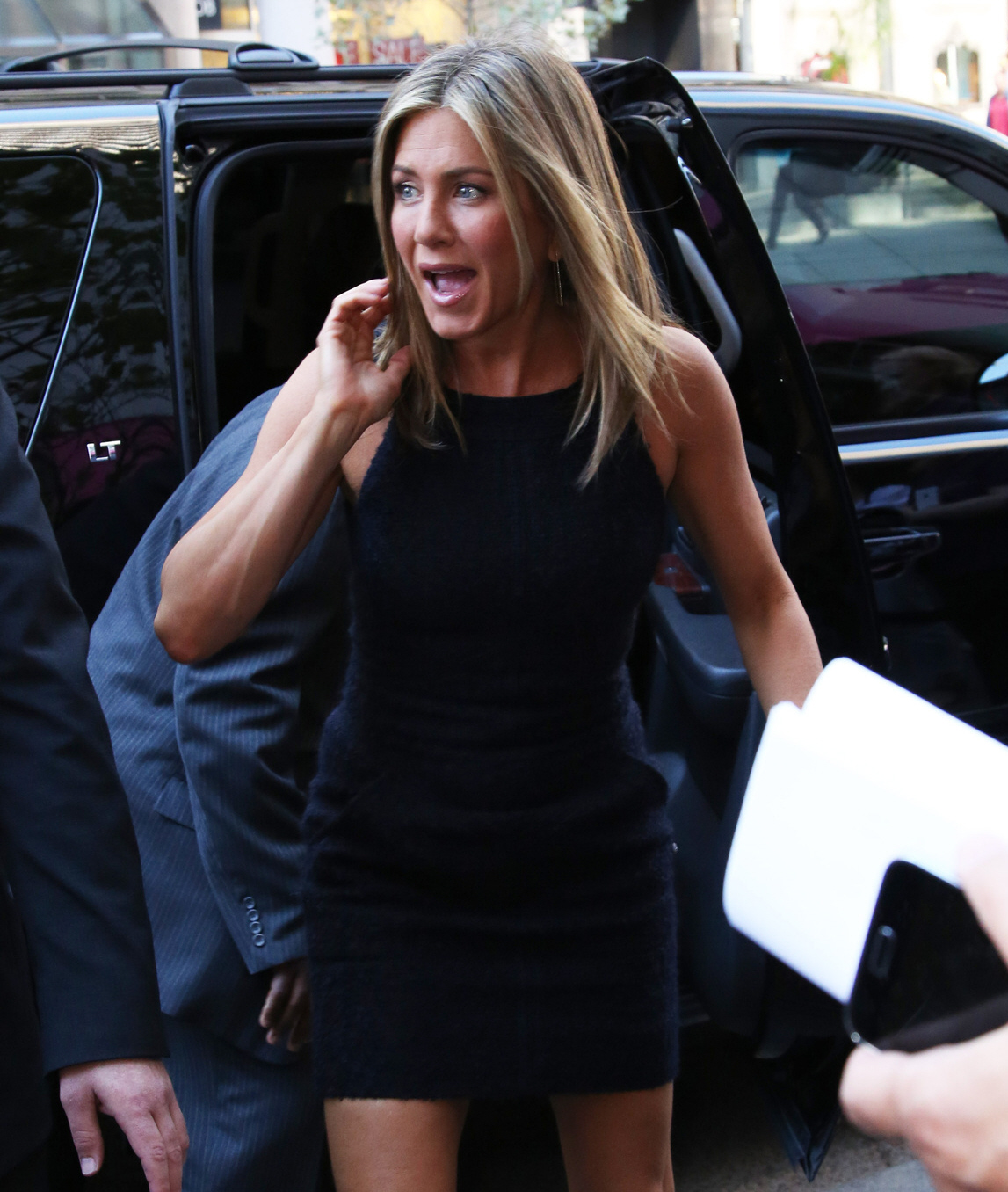 For the past few years, there's been a really weird dichotomy between what Jennifer Aniston's publicist wants us to think about Aniston's career and what's actually happening in her career. To hear Aniston's PR, Life of Crime was one of Jennifer's most amazing performances ever and it would totally change the way everyone thought of her. Except that they couldn't even get a wide theatrical release and it was quietly offered on DirectTV a few months ago. I don't know what's happening with She's Funny That Way either, but I suspect it's going to be the same kind of direct-to-cable or direct-to-DVD kind of thing.
There's no shame in making films that don't even get real theatrical releases (okay, it's bad but it's not the worst thing ever). But it's a good thing to come to discussions of Aniston's career with this simple fact in mind: she's buying buzz and the purchased buzz rarely lines up with what people actually think of the films she's making. So, now Aniston is promoting Cake. The "buzz" says that Aniston is aiming for an Oscar nomination. Except that the film couldn't find a distributor so a distribution arm had to be created from Cake's production company. And now Jennifer managed to take part in Deadline's "The Contenders" series over the weekend… as in, contending for an Oscar.
She's used to sitting in a make-up chair most working days of her life. But Jennifer Aniston didn't have to wear even a smidge of lipstick in her latest indie movie, Cake – and she loved it.

'It was so fabulous, and so dreamy and so empowering and liberating,' the 45-year-old said at a Q&A during Deadline's The Contenders series at the DGA Theater in Los Angeles, on Saturday. The star, best known for her turn as Rachel in long-running hit comedy Friends, said the only time she had to wear face paint for her downbeat role during the 25-day shoot in Los Angeles was when they 'put scars on my face.'

In fact Jennifer didn't appear to have much make-up on for the Q&A, allowing her natural beauty to shine through. The beautiful actress looked the image of casual chic in a black baggy jumper with a V-neck, blue skinny jeans and boots. Her hair has been lightened since her brunette Rachel days to a honey blonde but the style is very similar.

Jennifer was a surprise extra guest at Deadline's event, turning up with Cake director Daniel Barnz and screenwriter Patrick Tobin.

'It's our little love project, she said. 'When I read the script, I was ready to disappear.'

She plays Claire, who becomes fascinated by the suicide of a woman in her chronic pain support group. As she uncovers the details of Nina's suicide and develops a relationship with dead woman's husband, she is haunted by Nina's ghost and grapples with her own personal tragedy, according to IMDB. Barnz discovered the script while judging a screenplay contest.

The Emmy and Golden Globe winner also made a plea to keep film production in California: 'This is our industry, we should be able to make our movies here.'
I'm including some photos of the appearance below. She did look nice and casual. Like she was walking on the beach and just decided to drop by an Oscar-contenders Q&A session at the last minute. Don't get me wrong, I never fault a celebrity for hustling and Jennifer has every right to promote her work. But every time I read some piece about how she's going to be nominated for an Oscar, I roll my eyes.
Photos courtesy of Pacific Coast News, Getty.