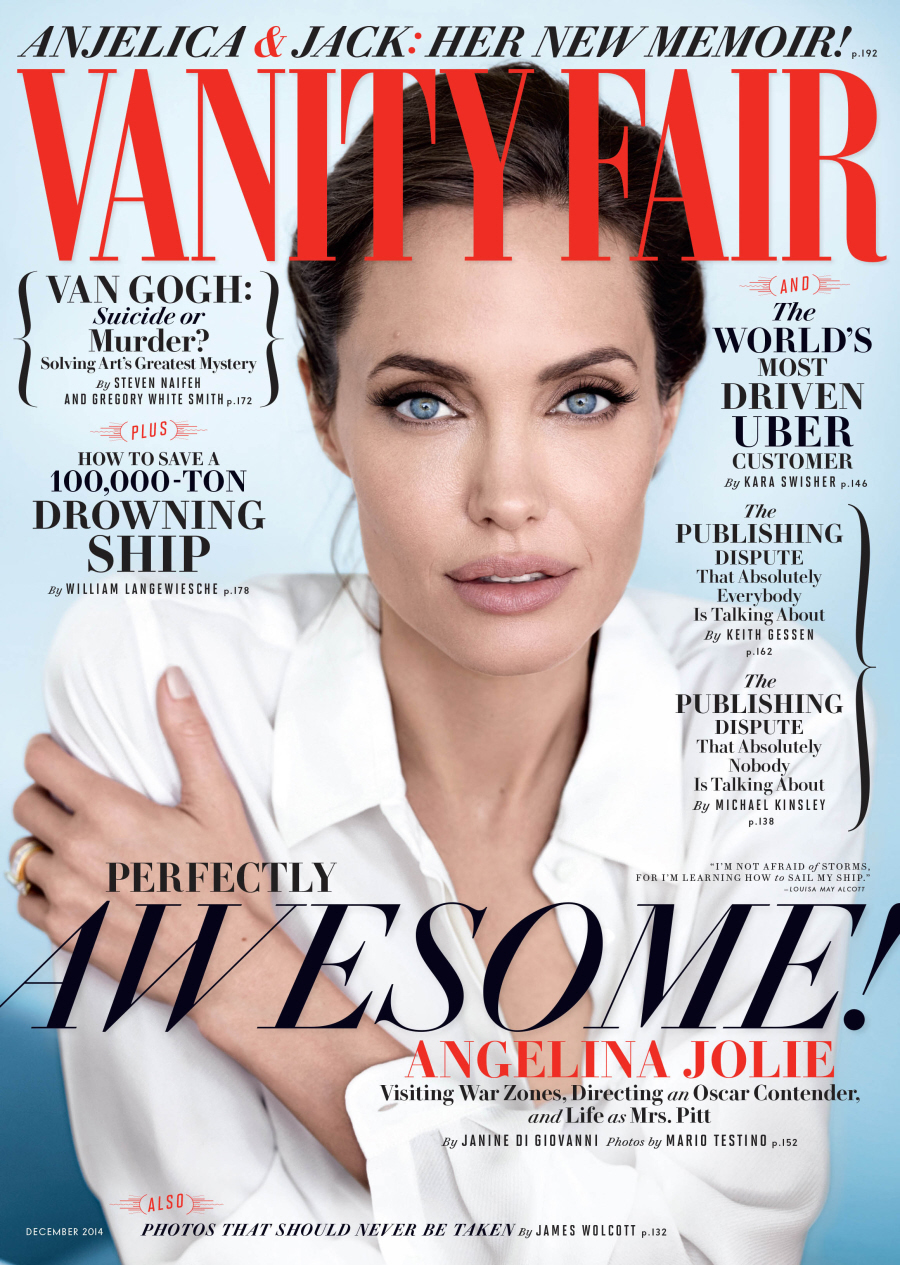 I can't even tell you how much I hoped this would happen! Angelina Jolie covers the December issue of Vanity Fair. I was kind of hoping for a Vogue cover too – Jolie is promoting Unbroken, which comes out on Christmas Day – but maybe the other major mag covers will come for the January issues. This is Angelina's first major magazine interview since marrying Brad Pitt in August. So… she has some stuff to say about her wedding, plus she talks about whether or not she would run for office (yay for this coming out on Election Day!). You can see VF's exclusive here. Some highlights:
Her married life: "It does feel different. It feels nice to be husband and wife."

Directing her new husband: "A few friends asked if we were crazy . . . [A film about] a married couple going through some difficulties . . . and I'm directing him."

The vows the kids wrote for them: "They did not expect us never to fight, but they made us promise to always say, 'Sorry,' if we do. So they said, 'Do you?,' and we said, 'We do!' "

The cake: "There was no cake, so Pax made a cake," she said, referring to their second-oldest son. "The kids made little pillows for the rings, and Knox practiced [being a ringbearer] with an acorn that kept falling off the pillow. Brad's mom went and picked some flowers and tied them up."

She might run for office: "When you work as a humanitarian, you are conscious that politics have to be considered. Because if you really want to make an extreme change, then you have a responsibility." Jolie then catches herself. "But I honestly don't know in what role I would be more useful—I am conscious of what I do for a living, and that [could] make it less possible." In di Giovanni's last meeting with Jolie, however, Jolie's opinion seems to have shifted. When directly asked if she sees herself pursuing a life in politics, diplomacy, or public service, Jolie says, "I am open."

Showing the film to Louis Zamperini: Jolie was at Zamperini's bedside for some of the last days of his life, and managed to show him an early cut of the film. "It was an extremely moving experience," she tells di Giovanni, in tears, "to watch someone watching their own life . . . someone so physically strong . . . and they are at the stage where their body is giving up." She continues, "And yet we laughed together, and talked about his mom. And being a man of such faith, he talked about all the people he believed he would be seeing on the other side. And that it would bring him peace. After a life of fighting, he could rest."

Zamperini's last days: At one point, Jolie recalls, Zamperini seemed to be failing. Then, as if from some deep reservoir of resolve, he rebounded. "[The doctors] said he was training to breathe on his own. And that's what he always told me—you train, you fight harder than those other guys, and you win. You can take it. You make it." At this point, Jolie grows more emotional, then collects herself. "Poetically, he stayed 40 days and 40 nights." And then he passed on.
I have mixed feelings about the possibility that Angelina could run for political office, or that she would take on a more politicized role. At this point, 13 years into her work with the UNHCR, Angelina has done an admirable job of keeping her personal political views close to the vest in order to be a more effective advocate for refugees. I think she has a lot of dirt in her past which would be used against her in a campaign… but I also think Angelina is very bright and she would run a fascinating political campaign. All that being said, not every politician campaigns for office. It's possible that Angelina would rather have some kind of appointment as an ambassador or maybe some bureaucratic position high in the UN.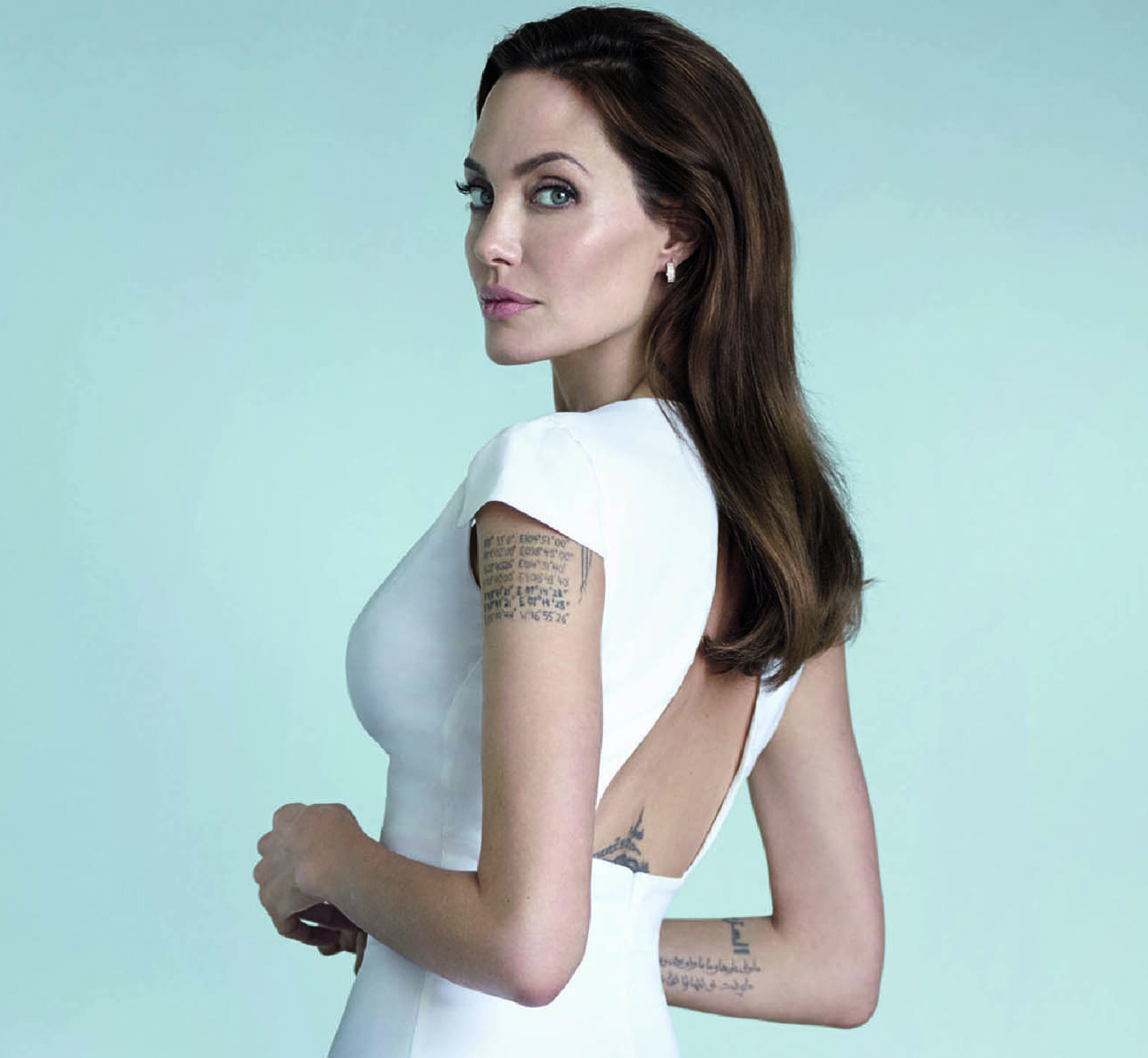 Photos courtesy of Mario Testino/Vanity Fair.