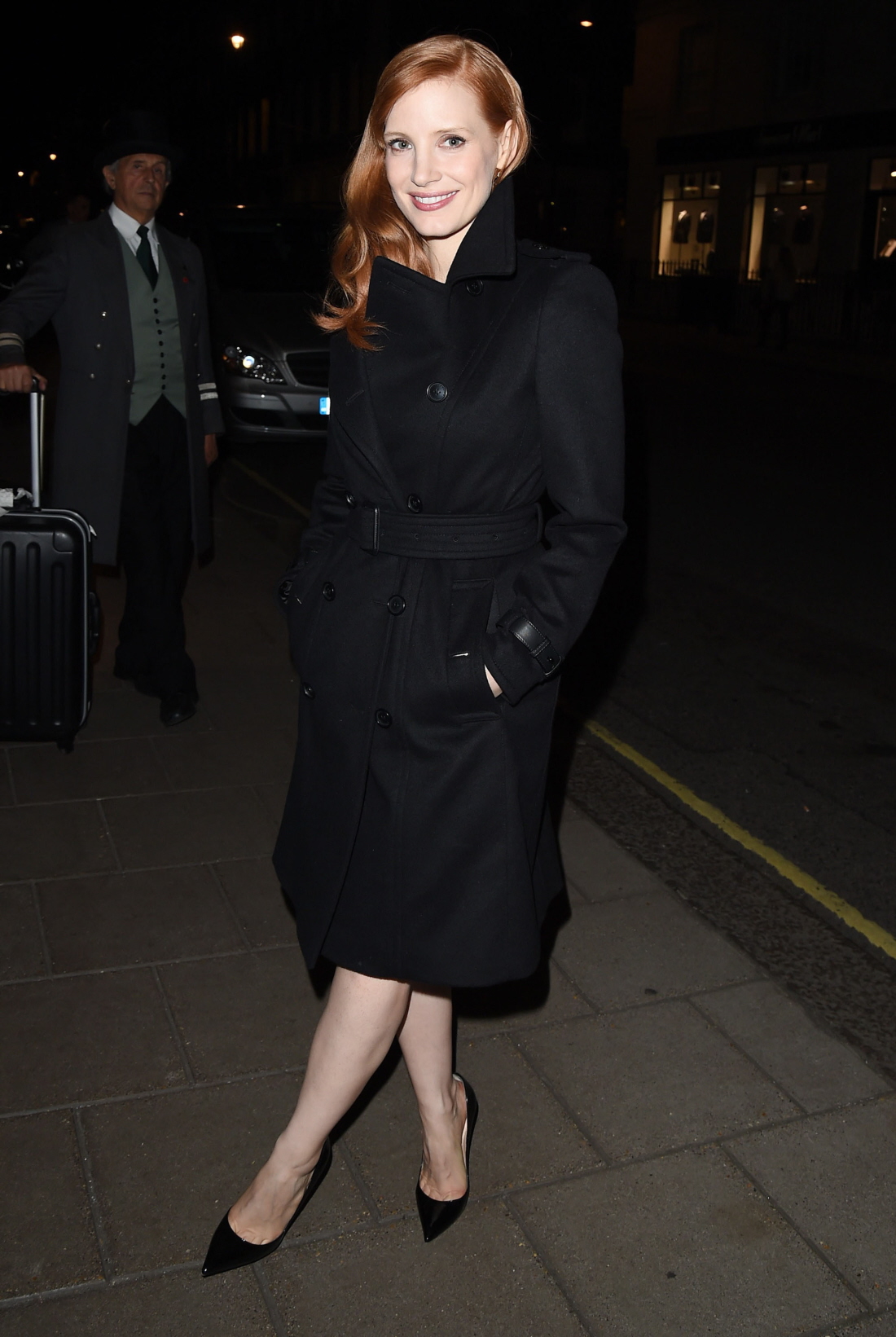 I go back and forth on how much coverage we should give to Jessica Chastain. On one side, she's a beautiful, accomplished and acclaimed actress and that's always interesting. On the other side, she says doesn't want to be "famous" and I kind of believe her. She's not giving "look at me!" quotes in interviews. She gets photographed a lot when she's promoting a movie, but otherwise… she lives a quiet life. So, should we talk about her more… or less? Honk or whatever, just give me some insight. Jessica has been on the whirlwind Interstellar promotional trail for the past few weeks, and I'm including some photos of Jessica out and about in NYC from this week. She's got a new interview with The Telegraph too – go here to read the full piece. Again, she's smart and lovely. But is that newsworthy or notable?
She's not into fame: "I'm a shadow whisperer, I hide in the shadows. And I tend to avoid places where I might get photographed and end up with my picture in the press. I just don't think of myself as a movie star – I'm an actress."

She took seven months off after filming Crimson Peak with Hiddleston: "That part was the hardest thing I have ever done. I gave so much and went to some very dark places. When I'd finished I felt like I didn't want to act anymore. And I do love acting. But I realised that, if I didn't take a break, it was going to take too much of a toll on me."

She won't date another actor: "It just puts a magnifying glass on you. If you want to be really famous, then date another famous person. But the fame is not the part of my life that I am excited about." She concedes, however, that potential partners do have to appreciate the nature of the business. "I think you have to date someone who understands some aspects of the film industry. I mean, I'm going to be in Northern Ireland kissing Colin Farrell, so I have to date a guy who is really confident in himself and isn't insecure about all of that."

She's the first college-educated woman in her family: "The majority of women in my family started having children when they were teenagers – I was the first not to do that too. Everyone in my family has a beautiful, wonderful life and incredible children, but I just knew that I wanted to do something else, and that always pushed me forward."

She does want children: "But when I have kids I want to make my kids my priority, not my work. I can't be working like I have been recently."

Women in film: "I think there is a huge problem in American cinema: stories about women aren't nurtured or celebrated or brought to the screen as often as stories about men. There's a real inequality and it can't be justified. You can't assume that a male-led movie will make more money than a female-led movie… clearly people are interested in films starring women. I'm feeling a sea change coming in movies, though. I hope I get to partake in it, but, if not, that's fine. Anything I can do to help the women that are coming after me, that would be great too."
That's interesting that she was drained after Crimson Peak. My takeaway: Tom Hiddleston is just as exhausting as we think. Sure, he's a great actor but acting opposite Lord Dragonfly for months on end is enough to drive Jessica into an extended hiatus. And once again, she dismisses the idea of dating another actor. So stop trying to put her with Tom Hiddleston or Benedict Cumberbatch! She's not into actors.
I think we can safely say Jessica isn't going to get an Oscar nomination for Interstellar, but what about her role in A Most Violent Year? I haven't heard that much about it, but I just watched the trailer and…wow. I think Chastain plays some kind of Lady Macbeth-esque mobster's wife. This looks really good!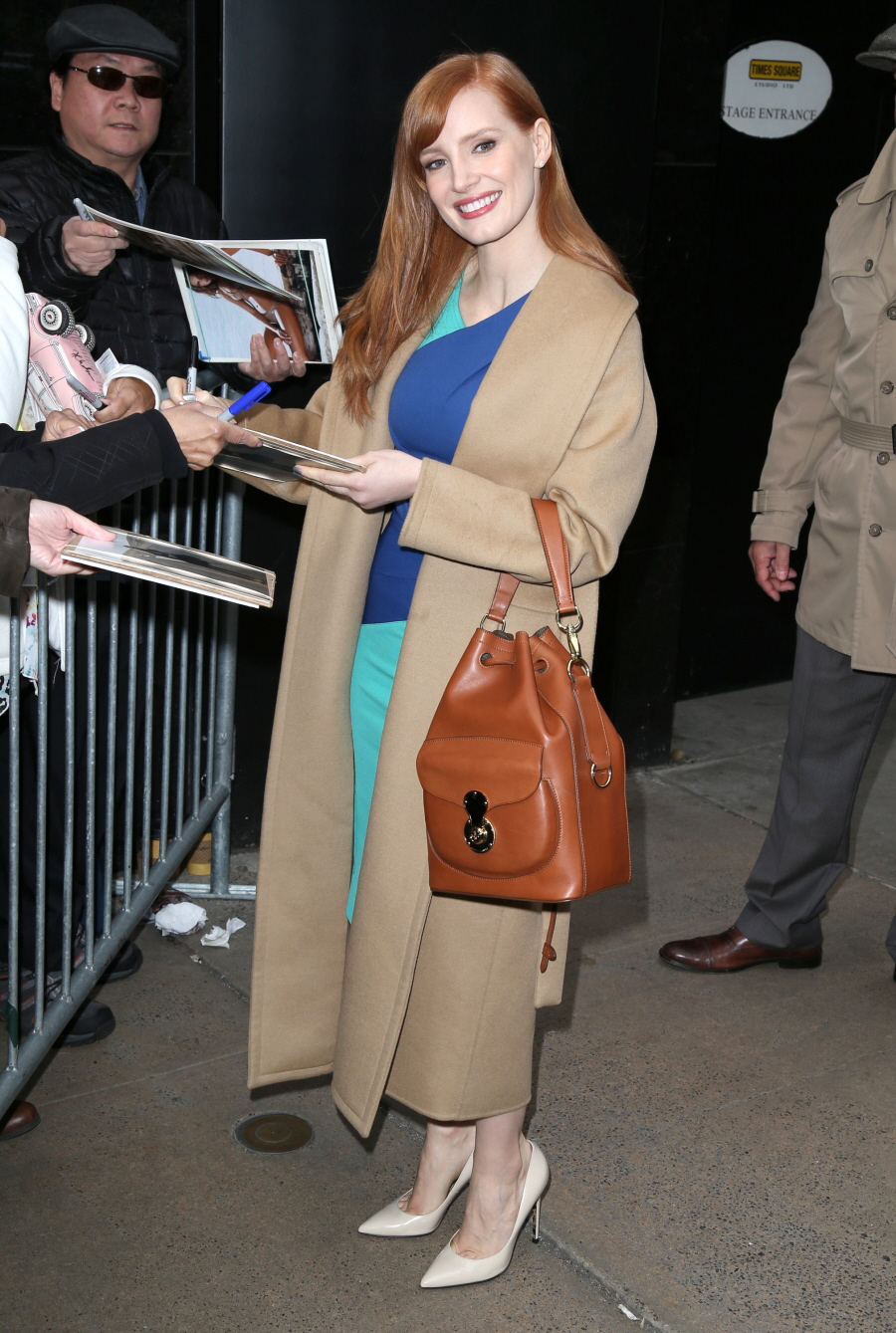 Photos courtesy of Fame/Flynet.