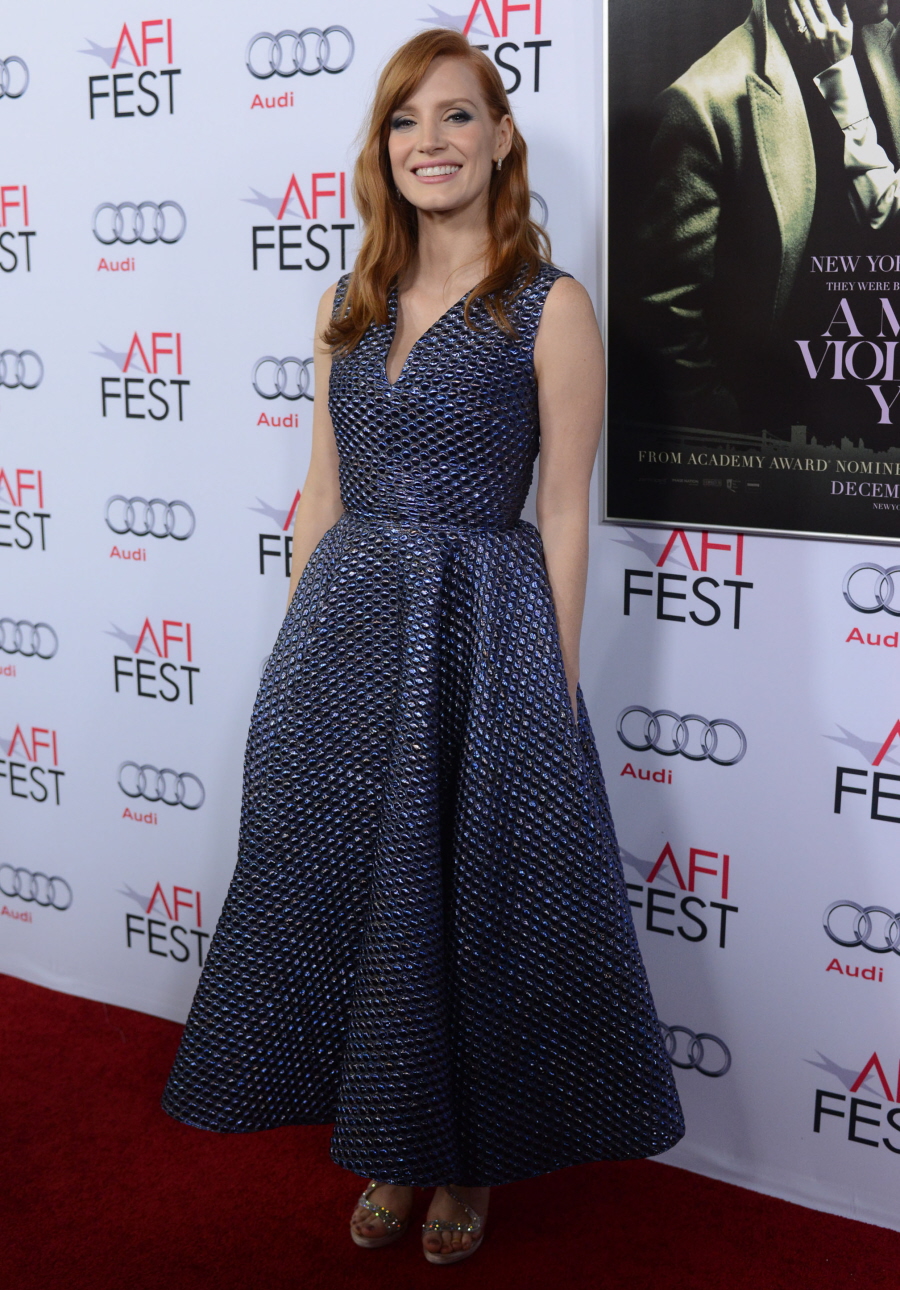 Here are some photos of Jessica Chastin and Oscar Isaac opening up the AFI Film Fest with their Oscar-baity offering, A Most Violent Year. Jessica looked pretty, but I think we just have to get used to the idea that she's never going to be some fashion icon. I think she enjoys fashion and all of that, but she's always going to be a better actress than fashion-plate. This dress is Roksanda Resort 2015 and it's perfectly adequate. Her makeup looks particularly good here. And just FYI: this is one of the few times we're going to see Chastain promote this film this year!
I wanted to point out this New York Times article that made the rounds yesterday – the NYT spoke to sources close to Chastain and sources close to Christopher Nolan and the people putting out Interstellar. The basic gist is that Nolan and Interstellar's publicity people have outright blocked Chastain from promoting A Most Violent Year simultaneously along with Interstellar. This is really odd, especially considering the fact that more and more often, an actor promotes some smaller film or side project along with their bigger studio fare – it's very common practice these days. I think this Chastain situation is a little bit different because Nolan thinks the Interstellar cast could possibly be up for awards nominations and Nolan would rather Chastain go up for Interstellar rather than her showy, Oscar-baity role in A Most Violent Year:
Take a good look when Jessica Chastain walks the red carpet at a Hollywood premiere for J. C. Chandor's "A Most Violent Year" on Thursday night. It will be one of the rare times she can promote the film, an indie crime drama, through the hottest weeks of this year's awards season — at least if the makers of "Interstellar" have their way. In a behind-the-scenes scuffle that pits a very big movie, Christopher Nolan's "Interstellar," against a very small one, "A Most Violent Year," Ms. Chastain, a co-star in both, is being blocked from promoting her eye-catching performance as a mob princess in the smaller film.

That is because Mr. Nolan and others, for the most part, are enforcing an agreement that says she cannot campaign for any film but Mr. Nolan's from early October through early December, with the exception of her appearance at the premiere on Thursday, according to people briefed on the dispute. They spoke on condition of anonymity because of the sensitivity of the subject for both sides. Speaking on Wednesday from Washington, Ms. Chastain declined to talk specifically about the blackout. "I never comment about my contracts or my salary," she said. But she noted that Mr. Nolan had personally helped her get out of an appearance on "The Late Show With David Letterman" so she could attend the premiere for "A Most Violent Year."

"We all put our heads together and do what we can," she said.

The current conflict, according to those who described it, escalated as it became apparent that Ms. Chastain, who plays a scientist struggling to save humanity in "Interstellar," might also be an awards contender for her performance in "A Most Violent Year." In Mr. Chandor's film, a tale of corruption set in 1981 New York, she plays the ferocious, mob-connected wife of a struggling heating oil entrepreneur played by Oscar Isaac. Under a deal struck long ago with the makers of "Interstellar," Ms. Chastain, who has often juggled films in the past — in 2011 she had six, including "The Help" and "The Tree of Life" — is supposed to focus on only the Nolan film for another month.

For stars, hitting the publicity trail is a decades-old practice, and for studios it is a standard, and essential, piece of marketing strategy. Initially, Mr. Chandor and his backers — Participant Media and the independent distributor A24 — believed that Ms. Chastain, while blocked from media appearances, would be allowed to attend the screenings and get-togethers that are de rigueur for those seeking Golden Globes and other prizes that pave the way to the Oscars. On that assumption, they arranged to release "A Most Violent Year" in a small number of theaters on Dec. 31, to qualify it for awards in 2015, with a wider opening to follow. But Mr. Nolan and his backers have insisted that Ms. Chastain's contract forbids even those semiprivate encounters and have not given in to pleas from Mr. Chandor, A24 and others for a waiver. Next week, however, she will be permitted to attend a private tastemakers' screening at the Creative Artists Agency here.
The NYT notes that Chastain has been talking about A Most Violent Year during some of her appearances on behalf of Interstellar, but for the most part, she's been staying on-message. Considering Interstellar comes out today and Chastain has already spent weeks promoting the film in LA, NYC and London, I have to wonder what else they really want her to do? I mean, sure, they could send her on a European tour but that could be completed in a week. And the Asian premieres probably won't happen for months. So… Jessica is going to have nothing to promote by contractual design for a good month. That's so stupid and unprofessional. Stupid of Nolan and Paramount (Interstellar's distributor). I mean, what is really stopping Jessica from saying "f—k this" and going out to promote A Most Violent Year starting Monday? What will Nolan do to her? I mean, really!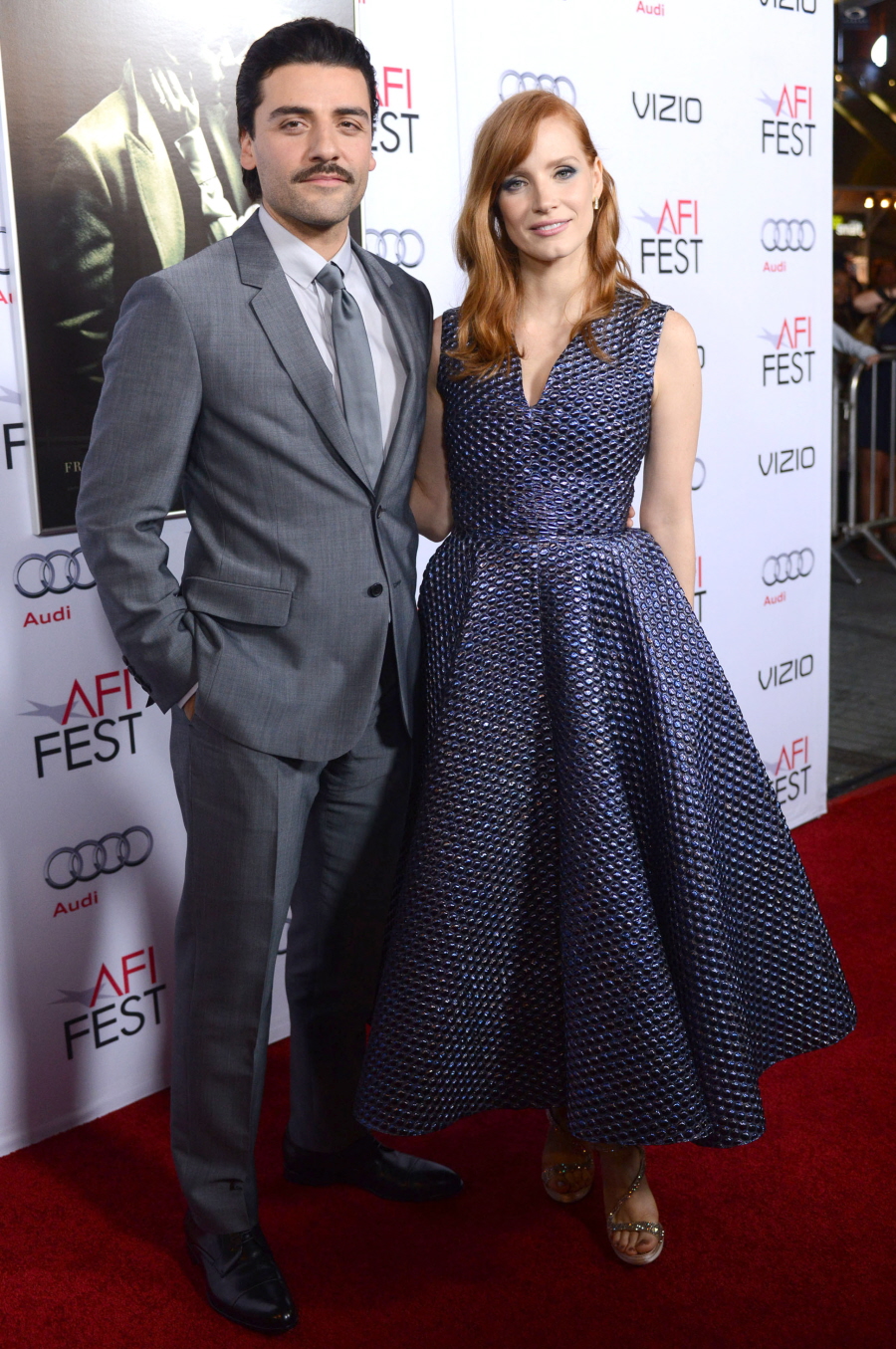 Photos courtesy of Fame/Flynet.