These are photos of Eminem in an unusual public moment. We don't see Em too often unless he's rapping onstage. Even then, he's often cloaked in a hoodie like when he toured with Rihanna this summer. This was different though. Em was speaking in support of Dr. Dre and Jimmy Iovine at the Wall Street Journal's Innovator Of The Year awards.
It takes a lot to pull Eminem out of Detroit; he has to think something's really special to leave his three daughters and voluntarily fly to NYC. He'll do that for Dr. Dre and Jimmy Iovine though. These two discovered him. The official story goes that Dre never, ever found anything in a demo tape until Jimmy (CEO of Interscope) played Em's tape. Dre was so impressed that he simply declared, "Find him." Em had looked up to Dre since the early days of N.W.A. Their first meeting was nearly 15 years ago. Em's seventh album, The Marshal Mathers LP, was one of only a few smashes in 2013. Em scored the 2nd biggest debut on the Billboard charts behind Justin Timberlake (and his douchey record).
Em made light of his reclusive nature onstage. In this Instagram video, Em said, "Dre and Jimmy are like a force of nature. As an example of how powerful they are, they had me fly here all the way from Detroit to speak publicly, and I really hate public speaking." Funny how someone as controversial as Eminem, who can tear it up onstage, dislikes public speaking so much. Em has been though a lot. He's 42 now! He's battled many demons including prescription drug addiction and overexercising syndrome. We probably won't see him again until it's time to promote another record. That's the way he rolls.
Just for kicks, here's a picture of Eminem at the 2004 EMAs. Look at that babyface!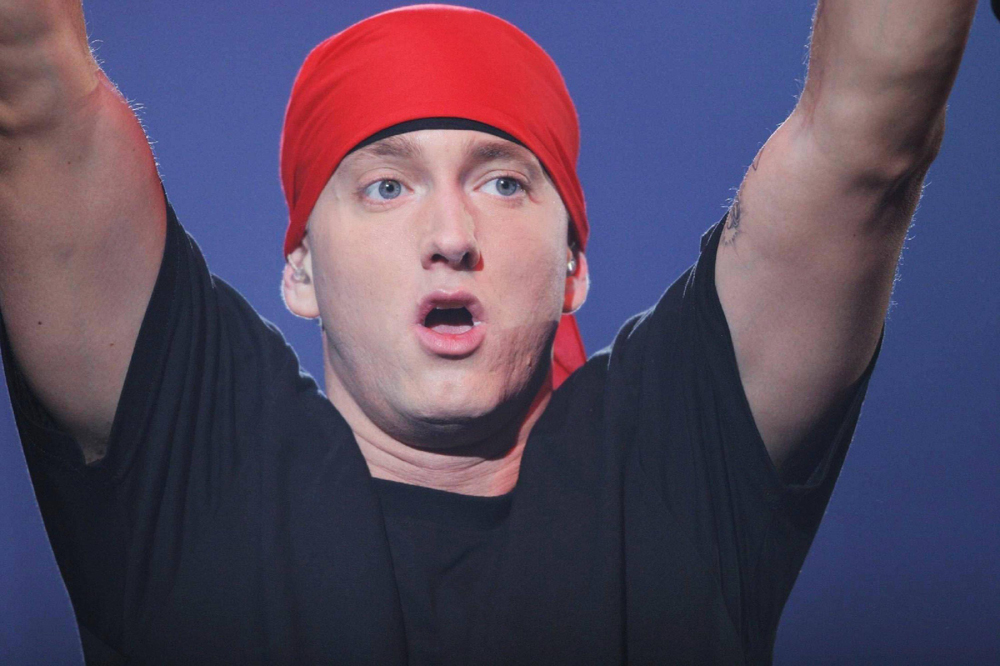 Photos courtesy of Getty & WENN