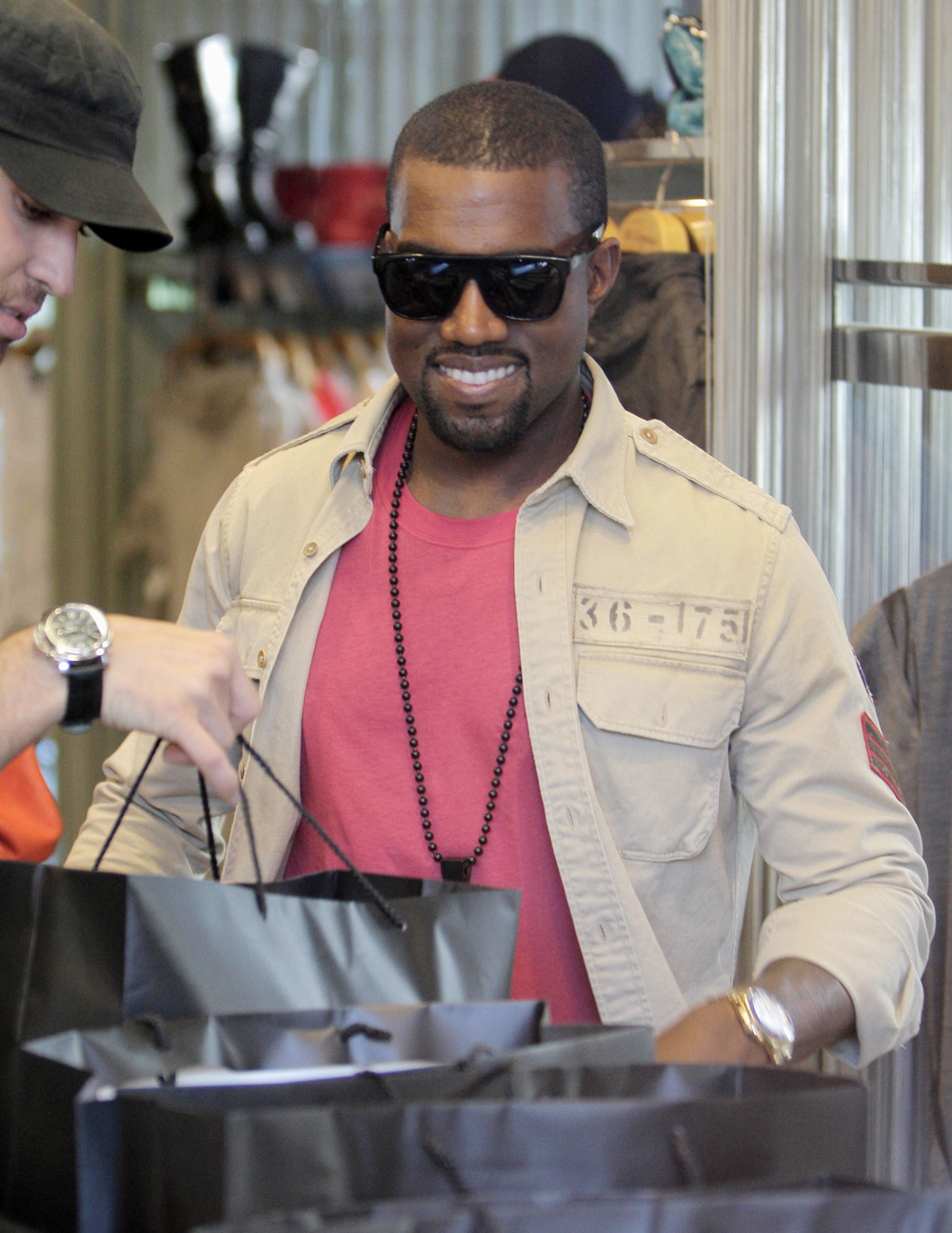 Epic tomes have been written about Kanye West's ego. In fact if you were to print out everything that's been written on the internet about his ego, it would cause a decent-sized office building to cave right in. Just from the weight of the paper. I'm not even going to tell you what that'd do to the environment. But it's badness, all around.
So just when I get to thinking there's nothing left to say about Kanye's ego and we can finally let it die, he gives some great new quote about his amazingly awesome perfection. In this case, it's how he's so incredible to watch perform. And since no one's greater, it really bums Kanye out that he'll never be able to witness his greatness performing live. In fact, he calls this the greatest pain of his life. Damn.
Kanye West's "greatest pain in life" is not being able to watch himself perform because he is "God's vessel".

The 'Stronger' rapper believes he has been chosen to have such superior musical ability and his only regret is being unable to see himself on stage.

He said: "God chose me. He made a path for me. I am God's vessel.

"But my greatest pain in life is that I will never be able to see myself perform live."

The 31-year-old star acknowledges he has a big ego, but doesn't believe he should be criticised because he always praises himself rather than slams rivals.

He explained: "I do have an ego and rightfully so. I think people should have an ego.

"Think about it – I don't offend people, I don't put anyone down. Do I name names or bring people down? That's not my thing. But I give myself big-ups. I feel good about the music I make."
[From FemaleFirst]
I was all ready to call Kanye out for saying he doesn't put anyone else down. Because I remembered him saying something about Radiohead's Tom Yorke last week. But then when I double checked, all he said was that Yorke snubbed him and it hurt his feelings. He didn't bash him. Then I remembered that feud he had with 50 Cent, when they both released their albums on the same day in September 2007. But it turns out it was 50 who started it, claiming he'd retire from rap if his album didn't outsell Kanye's (it didn't… and as far as I can tell, 50 didn't retire).
Even when Kanye' s been a sore loser at awards shows, he's mostly talked about how he should have won because he's so great, not because he thought the winner sucked. I'd never noticed it because the ego so grated on my nerves, but I can't find any specific instances of Kanye talking shit about other people. That doesn't mean his ego tripping is endearing. In fact it's not much more appealing than if he did just slam other people. But he's got a point.
Pity about not being able to see himself perform live though. I'm sure that can be remedied by hanging a giant mirror in front of him at his concerts. Considering all the narcissism, I'm surprised Kanye doesn't already have one.
Here's Kanye shopping at H Lorenzo boutique in Los Angeles on Sunday. Images thanks to WENN.com.